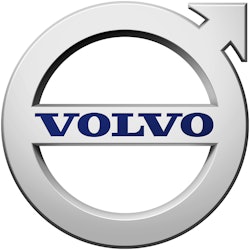 Volvo Trucks announces that all model year 2014 Volvo engines will offer fuel efficiency improvements as a result of optimized and enhanced engine componentry. Customers purchasing a Volvo truck equipped with a 2014 Volvo D11, D13 or D16 engine will see an increase in fuel efficiency ranging from 0.5 to 2%, offering a significant return on investment for fleets and owner-operators choosing Volvo power and further solidifying Volvo Trucks' fuel efficiency leadership.
"Volvo Trucks is committed to designing and engineering fuel-efficient technology that offers our customers solutions to reduce their fuel consumption and positively affect their bottom lines," says Goran Nyberg, President of Volvo Trucks North American Sales & Marketing. "Volvo trucks equipped with 2014 engine technology will deliver substantial fuel efficiency benefits, while also providing the power and performance customers expect from a Volvo powertrain."
Integral to the enhanced fuel efficiency benefits are multiple optimized or new engine components. Low-friction cylinder improvements, including a redesigned piston and liner developed with smoother surfaces, and a clutched air compressor, which completely disengages the clutch from the engine, have been introduced in the 2014 engine models. The advanced combustion technology of a new seven-hole injector offers better fuel atomization for a more even distribution of fuel within the cylinder, maximizing fuel efficiency and offering a greater savings for customers. A new crankcase ventilation system filters more oil from blowby gases before they leave the engine and at the same time improves engine backpressure for better performance.
Along with fuel efficiency improvements, design changes have been made to improve serviceability, such as the two-piece valve cover, which reduces repair time and is easier to handle than previous covers. Volvo removed lead from the valvetrain of its 2014 engines to reduce its environmental impact.
The 2014 Volvo engines are just the most recent powertrain improvements that have resulted in fuel efficiency benefits for customers. The introduction of advanced aerodynamic components – redesigned mirror heads with aerodynamic shrouds and arms, redesigned hood mirrors that also increase visibility, and additional ground effect features below the bumper and side fairings – for Volvo VN model highway trucks further improved the already efficient truck design.
In addition to fuel efficiency improvements of up to 5% or more with the introduction of EPA '10 engines with SCR technology, Volvo Trucks delivers additional fuel efficiency through its XE – exceptional efficiency – powertrain package. Available on Volvo-powered VN highway tractors, the XE package boosts fuel efficiency by about 3% by lowering engine rpm at a given vehicle speed, a concept Volvo calls "downspeeding." Possible through the combination of Volvo's I-Shift automated manual transmission and a Volvo engine with modified software, XE allows the engine to cruise about 200 rpm less than the average truck sold today.
Fuel efficiency improves by about 1.5% for every 100 rpm of downspeeding, so customers spec'ing the XE package can expect up to a 3% improvement when compared with another overdrive transmission in a similar operation.
Volvo Trucks North America's operations and products are guided by the company's three core values: Quality, Safety and Environmental Care. The Volvo VNM, VNL, VNX, VHD and VAH trucks are assembled in the United States at the New River Valley Plant in Dublin, VA, while Volvo engines for North America are assembled in Hagerstown, MD. The New River Valley Plant is certified to ISO50001 energy standards. Both plants are certified to ISO14001 environmental and ISO9001 quality standards.