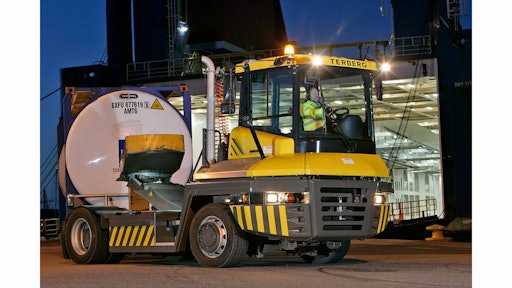 Volvo Penta has announced the continuation of its long-term relationship with Dutch manufacturer Terberg. Beginning in early 2015, Volvo will provide the company with Stage IV/Tier 4 Final and Stage IIIA/Tier 3 8 liter diesel engines ranging from 160 to 235 kW. The engines will power Terberg's YT222 yard tractors and its RT223, RT283 and RT323 roro (roll on/roll off) tractors.
The relationship between Volvo Penta and Terberg has been a lengthy one, with Volvo Penta supplying engines to the company since the 1970s. Not only does Terberg use Volvo engines but Volvo Penta also distributes Volvo Trucks parts and axles to the company. Terberg's relationship with the Volvo Group goes even deeper: in addition to working with Volvo Penta, it also modifies standard Volvo trucks by adding driven and non-driven axles to the drivelines.
"For Terberg, Volvo Penta isn't just an engine supplier — we supply them with full systems," says Johan Carlström, Business Development Manager at Volvo Penta. "It's a way for us to differentiate ourselves from the competition, and create and maintain strong relationships with our customers, particularly long-time partners like Terberg."
Quality counts
Volvo Penta has been extensively testing its Stage IV/Tier 4 Final engines in material handling applications at ports in Felixstowe, UK, and Gothenburg, Sweden, where feedback from operators has been positive regarding noise levels, drivability and fuel consumption. Terberg took this information into account in choosing Volvo Penta for its Stage IV engines.
"Terberg is convinced of the quality of the new engine generation from Volvo Penta," says George Terberg, Director of the company. "The long-lasting relationship with Volvo goes back to the early 70s and it is built on trust, quality and support. We expect that with this new deal our relationship will strengthen."
Terberg is a Dutch producer of material handling equipment used in ports, logistics, railroads, construction and airports; subsidiaries of the company also manufacture a number of other products including waste handling equipment, fire engines and fire trucks, forklifts, and control and solutions.