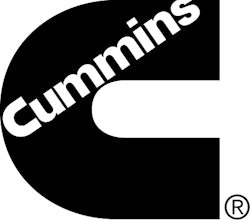 Cummins Inc. will extend the QSF engine lineup at INTERMAT (Paris, April 20 to 25) with new configurations focused on simplified installation packages intended for rental equipment applications across the 49 to 74 hp (37 to 55 kW) power range meeting EU and EPA low-emissions regulations. New QSF2.8 ratings will be introduced without Charge Air Cooling (CAC) to offer a cost-effective power solution for space-constrained installations. The QSF3.8 will be available at a lower 74 hp (55 kW) rating with the "fit and forget" Cummins Diesel Oxidation Catalyst (DOC) to bring the same service-free aftertreatment advantage provided by the smaller QSF2.8 engine.
"By adding these new configurations to the QSF2.8 and QSF3.8 engine range, we are anticipating a strong preference from rental companies to specify compact equipment that can offer the simplest solution and lowest cost of operation as they transition their fleets to meet lower emissions," comments Brian Wilson, Cummins General Manager – Global Compact Business.
The simplified non-CAC version of the 2.8 liter QSF is made possible by an upgraded fuel injection and combustion formula able to retain the necessary torque and power delivery without the need for higher-density airflow. Removing the CAC system reduces cooling load on the equipment, freeing up space and simplifying the engine installation.
The QSF2.8 without CAC is available at 49 and 65 hp (37 and 48 kW) ratings for both 2,200 rpm and 2,500 rpm applications. The non-CAC ratings join the existing QSF2.8 line-up with CAC from 49 to 74 hp (37 to 55 kW) at 2,500 rpm configured for applications with more demanding duty cycles.
The QSF3.8 will move down to a 74 hp (55 kW) rating, bringing the benefit of the smaller, "fit and forget" Cummins DOC-only to a broader range of rental equipment applications. This aftertreatment downsizing will allow equipment positioned in the 75 to 90 hp (56 to 67 kW) category to eliminate the need for a more complex Selective Catalytic Reduction (SCR) or Diesel Particulate Filter (DPF) system. The 3.8 liter displacement ensures that machine capacity and low-end torque performance are retained at the lower 74 hp (55 kW) rating.
The Cummins DOC offers a simpler aftertreatment solution for compact equipment, as it functions as a flow through, filter-free device able to reduce emissions from the exhaust without the need for regeneration or any service cleaning. Compared to an SCR system, the Cummins DOC reduces the aftertreatment space claim by more than 50%, as well as eliminating the on-board urea tank and the associated cost to refill the fluid.
The 74 hp (55 kW) rated QSF3.8 also provides an opportunity for compact equipment using a 2.5 to 3 liter engine with 65 to 74 hp (48 to 55 kW) output to upgrade their operating capacity and improve low-end torque by moving to the larger displacement, 3.8 liter QSF with a DOC – and so avoid the additional complexity and cost of SCR or DPF aftertreatment.
"We listened to compact equipment manufacturers to understand how we can help them overcome the installation challenges presented by EPA Tier 4 Final and EU Stage IIIB, particularly with regard to aftertreatment. That's why we have expanded our QSF product portfolio to include naturally aspirated, turbocharged and non-CAC configurations across the 49 to 74 hp (37 to 55 kW) low emissions category – all with the benefit of using Cummins DOC technology," says Wilson.
"The Cummins DOC is transparent technology that requires no operator education or intervention, making it ideally suited for rental equipment. Not only does the DOC offer more uptime availability, but it will enhance the residual value of equipment, as it is designed by Cummins to last the life of the engine," adds Wilson.
With the addition of the 74 hp (55 kW) rating, the QSF3.8 output now extends up to 130 hp (97 kW). Together, the QSF2.8 and QSF3.8 offer an ideal step up in displacement and incremental performance to align with a very wide range of compact equipment matched to increasing capacity, size and weight.
QSF Strength Redefines Compact Power
Designed with deep structural strength, the QSF engine is capable of the same peak cylinder pressure as Cummins larger 4.5 liter QSB4.5 engine. As a result, the QSF engine redefines compact power by bringing the capability to handle high load factors with relaxed operation for applications including skid-steers, forklifts, compact excavators and loaders, telehandlers, air compressors and more.
Naturally aspirated versions of the QSF2.8 are available up to 60 hp (45 kW) output. Ratings up to 74 hp (55 kW) feature a small, high-efficiency wastegate turbocharger specifically developed by Cummins Turbo Technologies for the QSF engine platform to provide higher boost at all engine speeds.
A light-flow, cooled Exhaust Gas Recirculation (EGR) system is incorporated on the QSF engine, sized to fit within the existing envelope. The EGR system works with the High Pressure Common Rail (HPCR) fuel system to achieve clean combustion and minimize fuel consumption under all operating conditions. High-precision fuel injection enables a rapid response to load demands at all engine speeds.
The DOC aftertreatment is designed and manufactured by Cummins Emission Solutions as an integrated system with the QSF engine, and is available in multiple orientations to fit varying installation needs.
The Electronic Control Module (ECM) is installed remote from the engine, providing a further degree of installation flexibility. Cummins smart electronic management system provides instant plug-in diagnostics capability and is compatible with telematics connectivity.