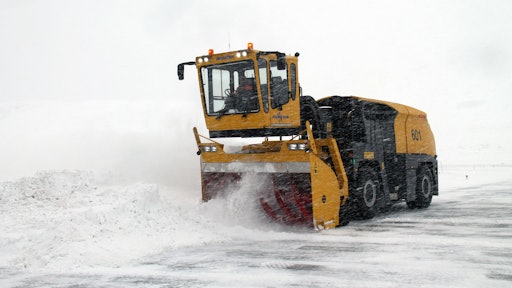 Volvo Penta engines are found throughout the world powering everything from groomers on the ski slopes of the French Alps to water pumps working in the Saudi Arabian desert. Now, due to a collaboration with Øveraasen, Volvo Penta will power snow blowers at some of the world's coldest airports.
Øveraasen, a Norway-based leading manufacturer of snow removal systems, began using Volvo Penta engines in its TV 1000 Performance Line. Unlike many snow blowers, the TV 1000 is purpose-built for professional snow clearing at airports. Its swiveling "flying cab" can be placed in front of or behind the blower chute, providing the operator with maximum visibility when working, and its all-wheel steering makes the TV 1000 highly maneuverable. The heavy-duty snow blower can handle snow depths of 1 cm to 2 meters. The machines can travel at speeds of up to 60 km/h.
The snow blowers are equipped with D16 engines (565 kW/768 hp) powering the blower. The chassis is installed with D7 engines (225 kW/306 hp), and Øveraasen is in the process of switching to Volvo Penta's next-generation D8 (235 kW/320 hp) engines; two D8-equipped units are already at work in Amsterdam Airport Schiphol. With the TV 1000's newly redesigned engine cover and spacious engine compartment, access to engine and service points is excellent.
Øveraasen has been pleased with Volvo Penta's service thus far, noting Volvo Penta's responsiveness to its queries and its strong global support network. There are around 10 TV1000 models in use today at airports and air bases across Europe. One such machine is currently working at the Danish Defense Command's Station Nord in the north of Greenland. There the Volvo Penta engines prove their worth, working to clear the air base runway, even though temperatures rarely climb higher than 6 C (43 F) — and frequently plummet to -32 C (-26 F) in the middle of winter. "If you want proof of how robust these engines are, just look at the TV 1000 at Station Nord in the Arctic Circle," says Øveraasen Technical Manager Jan Ivar Thorsrud.
"It's exciting to work with one of the world's leaders in snow removal equipment," says Andreas Hansson, Key Account Manager at Volvo Penta. "We're proud to be part of this cutting-edge product, and we look forward to a close collaboration with Øveraasen."
Øveraasen displayed the Volvo Penta-equipped TV 1000 at its outdoor stand (D20) at Inter Airport, which took place October 6 to 9 in Munich.