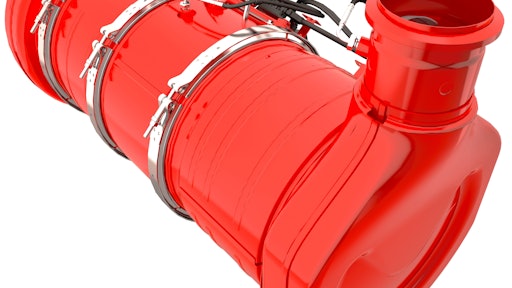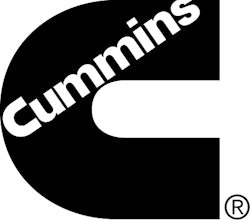 Cummins Emission Solutions, a segment of the Components Business at Cummins Inc., is announcing the use of the Single Module for midrange engine customers looking to meet Stage V emissions regulations. Compared to current product offerings in this market, this new innovation is delivering an aftertreatment solution that offers up to a 30% reduction in weight and up to 50% reduction in size.
The single cylinder design of the Single Module is enabled by advanced catalyst technologies, offering improved PM and NOx reduction capabilities. The diesel particulate filter's passive regeneration events minimize the need for preventative cleaning and maintenance, therefore ensuring the end user spends less time servicing and more time operating the application. The selective catalytic reduction system is coupled with the UL2 Urea Dosing System, capable of delivering a fine mist of urea.
A critical enabler of the Single Module's reduced weight and size is the Compact Mixer, a helical urea decomposition chamber developed in conjunction with partner company, Faurecia Emissions Control Technologies. The Compact Mixer enables optimal urea mixing while minimizing the risk of urea deposits, ensuring the system remains as efficient as possible in NOx conversion.
"We are very excited to announce the development of the Single Module to our customers in this market," says Marina Savelli, General Manager of the Off-Highway Business for Cummins Emission Solutions. "As the requirement to meet the emission levels set for Stage V becomes ever nearer our customers are looking for an innovative solution to meet their needs. With the Single Module we have a product that not only does this but also delivers on the diverse engine and application needs of the customer with a number of options to choose from."
The Single Module product platform was designed to be adaptable for different customer applications. Various length options gives the customer the opportunity to select the right aftertreatment system sized appropriately for their engine output needs. Recognizing the unique and diverse needs across the off-highway markets, Cummins Emission Solutions is continuing to develop flexible Single Module products to fit into more challenging space claims.
The full line up of aftertreatment to meet Stage V, including the Single Module and variations of this product platform for multiple engine ranges, will be revealed at the Cummins booth Hall A4, Stand 325 on the opening day of bauma 2016.