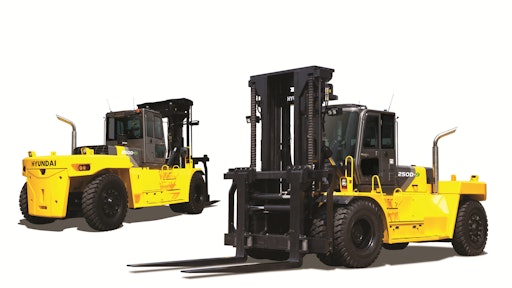 The Hyundai 250D-9 25 tonne (25,000 kg) forklift is the largest in the company's forklift range and incorporates power and efficiency combined with durability and safety – all the necessary qualities for completing the job at hand. The 250D-9 model is capable of handling even the toughest of applications in a wide range of industries including container handling, wind turbine, marble, concrete, ports and the steel industry.
The 250D-9 is Hyundai's 'flagship' diesel forklift model weighing in at 25 tonnes with a load center of 1,200 mm. The four-wheel heavy-duty counter balance truck provides every operator a smooth running, efficient and comfortable machine with improved productivity and easy maintenance.
Hyundai's 250D-9 will be on display at bauma 2016.
Optimal performance
The 250D-9 forklift is powered by a 275 hp (204 kW) Cummins QSL Stage IV engine. The 6-cylinder, turbo-charged engine is built for power, reliability and economy. Hyundai has opted for high-end suppliers for this new range of trucks with the combination of a Cummins engine, ZF gearbox, Kessler front axle and Bosh Rexroth pumps. The model offers fast and smooth shifting combined with precise drive control.
The hydraulic pumps optimize the hydraulic flow by using a load sensing system. When there is no mast movement the flow of the pump is reduced to avoid loss of engine power and the fuel consumption of the truck is reduced.
The mast movements are very precisely controlled by the small hydraulic levers because the hydraulic system is controlled by a remote control valve (hydraulic pilot system). These points together offer fast and precise hydraulic movements with minimum fuel consumption.
A fully automatic transmission offers operators easy, convenient handling and soft, smooth shifting. An improved torque converter with stator free wheel provides better fuel efficiency compared with older models.
A large capacity hydraulic system reacts quickly during operation and a low noise control valve increases both efficiency and durability. Operators can quickly lower and raise the mast, as well as tilt it forward and backward, providing the best operational conditions during unloading. When the truck is fully loaded, mast lowering speed is carefully controlled to ensure safety by the down control valve. The powerful, high-output Cummins engine provides greater acceleration, better gradeability and faster travel speed on any tough terrain or slope.
Operator comfort
In addition to providing power and fuel efficiency, Hyundai's 250D-9 offers comfort and ease of use. The newly designed ultra-strong cabin was designed with more space and greater visibility for the operator and ensures maximum protection for the driver without losing all-round visibility.
When the doors are closed on the machine the cabin is always lightly pressurized to keep all dust and dirt out of the cabin.
The machine is equipped with operator-friendly gauges and a water-resistant monitor panel, as well as an easily adjustable suspension seat for superior comfort and safety. Other standard features to maximize ease of use and comfort are a centralized instrument switch panel, MP3/CD player and remote control, an automatic heating/air conditioning system, quick response operating control levers, ergonomically positioned pedals and an adjustable steering column.
All the machine's information is clearly shown on the digital color display - the service menu on the digital display not only offers a clear overview for the service of the truck, it also allows fast and easy trouble shooting without tools or laptop because all of the main parameters and signals can be checked through the display.
Safety and durability
Safety and durability was a top priority for the 250D-9. This highly durable machine has a carriage manufactured entirely with rugged, high tensile structural steel. This machine also features an operator presence sensing system (OPSS), which allows mast tilting, lifting and lowering only when the operator is in the normal position for added safety.
An optional load indicator displays the load weight on the LCD monitor.  The load sensor reduces the time to check the loaded weight and an alarm alerts the driver if the machine is overloaded.
Working at night has also been made safe with lights in various positions - two on the front fender, four on the mast as well as two on the cab.  A footboard and handle make access and exit into the truck safe too. The rear view camera makes the operation easier and more convenient and it supports four camera channels.
A speed limiter, a wheel position indicator and the inclusion of a rear view camera – means that safety is ensured at all times.
Easy serviceability – fast and simple maintenance - minimizing downtime
To minimize downtime and ensure easy access and convenient maintenance, the 250D-9 forklift features a centralized design with easy access to critical machine components. The cabin tilting automatic system makes servicing of all power train components quick and easy too. 
The large engine hood in combination with the electro/hydraulic tilting cabin allows fast and easy access which means the engine is simple to reach.  The model is equipped with an easy change air filter with sensor alerts for clogging, a cabin air fresh filter, a compact fuse box for easy inspection, an automatic self-locking gas spring, a large tool box, a pressure gauge port and an easy maintenance oil check, all of which make maintenance quick and easy.
The truck is available with lift heights from 3.5-7 m which allows use of this truck in a wide diversity of applications. To quickly change forks or mount an attachment to the truck a Terminal west carriage is also available.