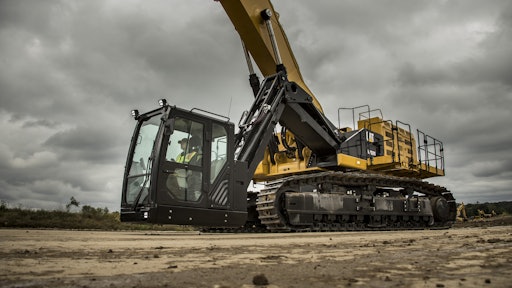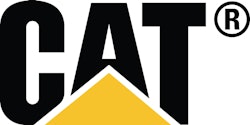 Designed specifically for bulk material handling and scrap recycling applications, the new Cat MH3295 Material Handler is designed for high production, with an operating weight in its heaviest configuration of 219,056 lbs. (99,362 kg) and developing 533 net-flywheel horsepower (397 kW). The impressively built mainframes and track-roller frames combine with a choice of two heavy-duty front linkages (barge and scrap) to ensure reliable performance and long-term durability. The MH3295's powerful hydraulic system is designed for precise, responsive control, and the hydraulic cab-to-ground riser provides optimum safety for the operator.
Structures
The foundation of the MH3295, the carbody—the structure joining the upper to the track roller frames—is both wider and fabricated with thicker plates, compared with similarly sized conventional excavators, resulting in increased load capacity. In like manner, the upper frame uses thicker sections and higher-strength material, with the boom tower featuring double-plate construction to handle increased side loading.
High tensile strength steel is used throughout the MH3295's undercarriage, which features sealed/grease-lubricated chains that incorporate the Cat Positive Pin Retention system to ensure consistent fit between track pins and links. Specially designed track idlers and raised final drives enhance lifting performance and overall stability. Lift capacity is equal over the front and sides when track frames are positioned at full extension, adding 31 in. (787 mm) to the MH3295's lateral stance.
The MH3295 offers a choice of two front lengths: 56.5 ft. (17.2 m) for barge applications and 71.4 ft. (22 m) for scrap applications. Both fronts feature welded box-section designs for optimum strength and for dissipating working forces. A standard close-proximity stick limiter allows operators to set the stopping distance of the stick in front of the cab, enhancing safety.
Operator environment
The patented cab-to-ground hydraulic cab riser allows lowering the cab to the ground in any position in the machine's 360-degree rotation for safe, convenient entry/exit. In the MH3295's spacious cab is a full-color, graphic and video-ready monitor which displays high-resolution images from the standard rearview camera. Special roof lining and cab sealing ensure a clean, quiet environment.
The seat features both heating and ventilation along with air suspension, and an automatic climate control system maintains consistent temperatures. Both joystick control levers can be adjusted for gain (lever stroke in relation to cylinder speed) and for response (the interval between lever movement and full cylinder speed), tailoring machine performance to individual preferences.
Engine and hydraulics
The 18.1 L Cat C18 ACERT engine meets Tier 4 Final/Stage IV emission standards and uses aftertreatment systems that function without interrupting work cycles. Building on the fuel efficient C18 ACERT, the MH3295 also incorporates features to reduce fuel burn such as automatic engine speed control (lowers engine speed when loads are lighter) and automatic engine idle shutdown (stops the engine after a present idling interval).
The shutdown feature not only lowers fuel consumption, but also reduces hour accumulation, resulting in extended service intervals, full-term warranty, and increased resale value. A choice of two power modes, high and economy, allows managing fuel and hydraulic pump flow to match the work at hand. Collectively, these fuel-saving features result in reduced exhaust and sound emissions, reduced repair/maintenance costs, and increased engine life.
Hydraulic controllability is an essential design feature for the MH3295, and at the center of the hydraulic system the Cat Adaptive Control System (ACS) valve. This Caterpillar patented valve intelligently manages restrictions and flows for optimum hydraulic response and smooth operation. In addition, the valve's automatic oil-warm-up function puts the MH3295 to work more quickly in cold weather, and the auxiliary-hydraulic system provides tool versatility. In the event bio oil is required, the MH3295's hydraulic system is fully compatible.
Serviceability and technology
The MH3295's side-by-side cooling system, separated from the engine compartment, provides optimum engine and hydraulic temperatures. The cooling system features easy-to-clean cores and a variable-speed fan that reverses to blow out debris. Filters and fluid taps are safely and conveniently reached via slip-resistant catwalks. A fuel-tank drain facilitates removing water and sediment, and a fuel-level indicator reduces the possibility of over-filling.
The Cat Product Link telematics system wirelessly connects the MH3295 to the VisionLink website user interface, providing data such as machine location, hours, fuel consumption, productivity, idle time and diagnostic codes—allowing timely, fact-based decisions that improve productivity and lower operating costs.
In addition, Cat Connect offers the technology and services to improve overall job-site efficiency, using data from technology-equipped machines to monitor production, optimize uptime and enhance safety.