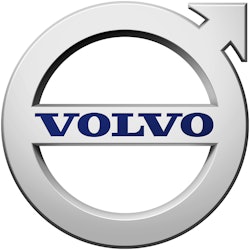 Volvo Trucks North America recently launched a new one-box design for its Exhaust Aftertreatment System (EATS), resulting in increased flexibility, increased fuel capacity and a more aerodynamic vehicle. Standard with Volvo D11- and Volvo D13-equipped vehicles, the one-box EATS offers greater flexibility with the vehicle.
The smaller packaging benefits Volvo's on-highway lineup – VNM, VNL and VAH models – with increased frame rail space for additional fuel capacity or to mount APUs or any other frame-mounted accessories. On the vocational side, the one-box system provides the Volvo VHD better back-of-cab clearance and up to 12 in. of frame rail space to provide body builders greater flexibility for equipment installation.
Now with a shorter wheelbase capability, the fifth wheel can be positioned closer to the cab reducing trailer gap for improved aerodynamics and increased fuel efficiency.
"Volvo has long been a leader in innovative design, and the single package EATS offers yet another opportunity for our customers to spec their vehicles for the best return-on-investment," says Gӧran Nyberg, President of Volvo Trucks North America. "The smaller one-box package improves the space available for equipment packaging."
The one-box EATS encases the diesel particulate filter (DPF), selective catalytic reduction (SCR) system and diesel exhaust fluid (DEF) injector into one package. With the new design, the DPF is easier to access and lighter compared with the two-box version, allowing for quicker serviceability.
Volvo's one-box EATS features better thermal encasing of exhaust energy for improved muffler efficiency. Specialty coatings improve low temperature NOx conversion. The Volvo one-box EATS is available with Volvo models equipped with Volvo D11 and Volvo D13 engines, including VNM and VNL daycab and sleeper models, VHD and VAH models. Customers choosing Volvo D16 power in the VNX model will still have a two-box EATS.