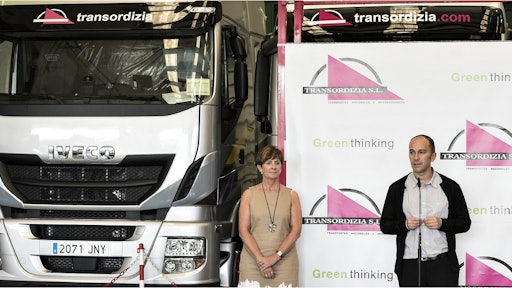 Transordizia, a Spanish firm that specializes in transporting industrial vehicles internationally, has become the first European company to use an LNG vehicle to cross the continent, harnessing the power of Iveco's Stralis LNG heavy truck. The Stralis LNG, which is powered by liquefied natural gas, is Europe's first heavy commercial vehicle to run on this type of fuel.
Transordizia's Stralis LNG, which travels between Madrid and Hamburg, is part of a fleet operated by the Basque-based company, and is the latest step in a process of innovation the company launched in 2013.
Until now, while Transordizia's trucks completed journeys using LNG as an alternative to diesel, it was over much shorter distances – to northern Italy, France, Holland and Belgium. This is the first time the company has used an LNG-powered truck to complete a journey as far as Germany, stopping at LNG stations in Madrid, Olaberría (Guipuzkoa, Spain) and Amberes (Belgium).
Furthermore, Transordizia has set itself the target of relying on a fleet running solely on LNG, and has entrusted Iveco to provide the company with the technology.
Iveco is a pioneer in the production and commercialization of vehicles with natural gas engines. As a result, Transordizia intends to acquire more than 20 of the newly-launched New Stralis NP, equipped with a Hi-Way cab. The vehicles are driven by an Iveco Cursor 9 natural gas Euro VI 8.7-L engine, which generates an output of 400 hp and a maximum torque of 1,700 Nm. The engine is the first model in its category to generate the same output as its diesel equivalent.
The New Stralis NP is also the first natural gas-powered truck to feature a 12-speed automated gearbox, thanks to a Eurotronic transmission that guarantees lower fuel consumption and increased driving comfort. Fuel tanks with a larger capacity increase the range of the LNG-only version, which can now cover distances of 1,500 km.
Iveco's leadership in the production and commercialization of alternative natural gas engines is the result of more than 20 years of experience, during which time the company has produced more than 15,000 vehicles, and 29,000 engines of this kind. Since its launch
in 2011, Iveco has sold 560 Stralis LNG trucks.
Improvements made to the New Stralis NP contribute to its Total Cost of Ownership, falling to 3% in comparison with the previous model, whose fuel consumption was already 40% lower than its diesel equivalent. Furthermore, the New Stralis NP offers 17% more output
and 6% more torque than its closest rival.
There are currently 43 public compressed natural gas (CNG) refuelling stations and 19 LNG stations in Spain, making the nation home to Europe's biggest network of LNG fueling stations. A further nine mixed CNG/LNG stations are currently under construction.
Transordizia was able to acquire the New Stralis NP fleet thanks to support from the Ente Vasco de la Energía (EVE, Basque Energy Entity), which, on the basis of the Investment Aid Programme for Efficient Transport and Mobility 2016, promotes the use of LNG as a substitute fuel for diesel. The project at the Basque company will create between 30 and 40 jobs.