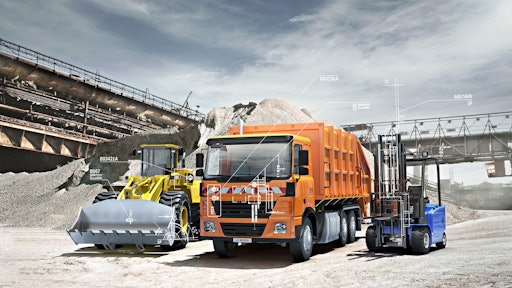 As the top management of Bosch thought long and hard about new strategic business fields, the field of commercial vehicle and off-road (CVO) was still no more than a promising idea. Market studies showed that it was more than that. In this segment, encompassing trucks and 4,000 hp construction machines, forklifts and harvesters, there is a potential for growth in the billions of euros in countries with increasingly strict environmental and safety regulations, as well as in emerging regions with cities whose populations are rapidly exceeding the one million mark.
To date, Bosch has not been able to tap the full potential of the market because of its organizational structure. Left to their own devices, most of the divisions struggled to offer CVO customers tailored solutions. At the beginning of this year, a stand-alone, effective unit was created for the commercial and off-road vehicle field.
The associates are not only focusing on major customers, but also paying attention to the entire spectrum of customers in the area, including small providers.
"We are not a division and are not comparable to any other known structure from the Mobility Solutions business sector," says Johannes-Jörg Rüger, head of the organization. The new unit is rather a "sales organization with integrated system development" that closely cooperates with all the divisions.
Marketing Director Anton Beer sees the following advantages: As a cross-divisional organization, CVO can offer the customer "big-picture solutions." "If the customer wants to increase their efficiency, we don't just look at the injection system," Beer explains. "We consider all the applications. That requires the support of multiple divisions," such as replacing a rear-view mirror with a camera system and display.
A contact for every customer
It's no longer enough to provide agricultural machine manufacturers with diesel injection systems – they also need color displays or sensors to assist drivers. That's why there will be one specific contact person per Bosch customer in the future – for the whole Bosch product range. That's already the case in the passenger car sector – manufacturers such as Daimler or VW have always had their own salespeople.
Nevertheless, CVO is not simply a sales organization; it is also active in system development. "This could include products in the passenger car sector, such as a stereo video camera tailored to suit the commercial vehicle market with the help of the other divisions. But it could also include our own products," Beer says. In particular, the topics of networking and automated driving are promising areas for synergies with the passenger car sector, which could potentially spark significant sales growth.
In light of the lower quantities in the off-road business, this sector can occasionally appear to be less attractive at first glance than the passenger car business, Rüger notes. "However, our projects tend to run longer – so it's worth taking a second look."