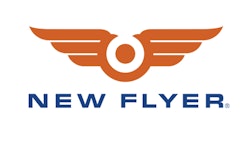 New Flyer of America Inc., a subsidiary of New Flyer Industries Inc., the largest heavy-duty transit bus and motor coach manufacturer and parts distributor in North America, announced a major addition to its industry leading clean air propulsion options for the New Flyer Xcelsior bus family.
New Flyer is the first transit manufacturer to offer the industry's cleanest certified engine and will deliver the first original equipment manufacturer (OEM) installation of a 2016 Cummins Westport ISL G Near Zero (ISL G NZ) engine in the third quarter of 2016.
The ISL G NZ compressed natural gas (CNG) engine will be used to power a New Flyer Xcelsior XN40 bus for the Los Angeles County Metropolitan Transportation Authority (LA Metro). LA Metro operates the largest natural gas engine transit vehicle fleet in North America.
The ISL G NZ NOx natural gas engine has been developed by Cummins Westport Inc. and is the first mid-range engine in North America to receive certification to meet the 0.02 g/bhp-hr. optional Near Zero NOx Emissions standards from both U.S. Environmental Protection Agency (EPA) and the Air Resources Board (ARB) in California. Cummins Westport states that this certification represents a 10-fold emissions reduction below current EPA nitrogen oxide (NOx) emissions standards, making it the cleanest engine in the industry. Cummins Westport also describes the engine as operating 90% below the particulate matter (PM) standard, and 16% below the CO2 emissions standard. In addition to the dramatic reduction in NOx, the ISL G NZ features Closed Crankcase Ventilation, stated to reduce engine related methane emissions by 70%, thereby enhancing its greenhouse gas benefits.
Wayne Joseph, New Flyer Executive Vice President, Bus, notes the significance of this Near-Zero natural gas engine achievement. "We are proud to be the first OEM to factory install and deliver this industry-leading clean engine to a transit customer. New Flyer has delivered over 6,000 natural gas transit buses that operate to ranges of over 350 miles without refueling. The advancements of Cummins Westport in compressed natural gas internal combustion and after-treatment technology has helped our customers meet stringent clean air requirements, powered by low cost natural gas."
According to Paul Smith, New Flyer's Executive Vice President, Sales and Marketing, "We continue to see growing demand for natural gas powered buses. New CNG infrastructure is being deployed by our customers as natural gas becomes more abundant, with the United States now being the number-one natural gas producer in the world." Smith also notes the growing customer interest in renewable natural gas (RNG), also known as biomethane. RNG is chemically identical to fossil natural gas, and yields far fewer greenhouse emissions during the production process.
Chris Stoddart, New Flyer's Vice President, Engineering and Customer Services adds, "RNG is a pipeline-quality gas that's fully interchangeable with conventional natural gas, yet can be produced by reusing waste products. It can be produced from landfills, livestock operations and wastewater treatment. Combining this renewable energy source with the Cummins Westport ISL G NZ engine provides a powerful tool to significantly improve urban air quality, while, at the same time, also reducing greenhouse gas emissions. Transit agencies now have more clean air, low greenhouse gas options than ever from New Flyer and can select from an array of propulsion systems that collectively meets their operational needs, all of which are available on the lightweight, industry proven, and reliable Xcelsior platform."
In addition to CNG propulsion, New Flyer has the most comprehensive experience with electric propulsion in the industry, with over 6,000 buses delivered using electric propulsion, ranging from electric-trolley, electric-hybrid, battery-electric and fuel cell-electric systems.
Companies in this article