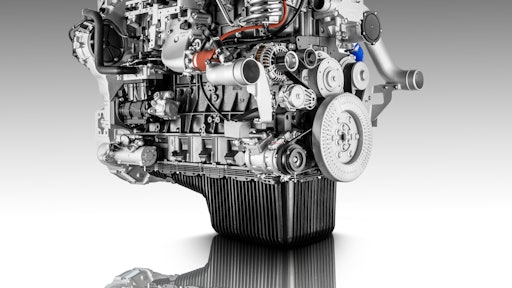 FPT Industrial has the most long-lasting experience in Natural Gas (NG) engine technologies for industrial applications, certified by more than 30,000 NG engines sold all over the world in the last 20 years.
A history full of successes and innovations started in 1997, when FPT Industrial presented its first two NG engines (respectively a 9.5 and a 2.8 L of displacement). After this beginning, in 2004 FPT Industrial realized the first NG engine from the renowned NEF family, the N60 NG, capable nowadays of 204 hp of max power and 750 Nm of maximum torque.
The first NG product for Light Commercial Vehicles was produced in 2006: the F1C NG, which is nowadays the best-selling NG engine for commercial transport. It has been re-engineered in 2017 and now it is produced with characteristics of the original with the addition of a great technical innovation, the 8-speed automatic.
In 2016, FPT Industrial enlarged its lineup with the creation of the Cursor 9 Natural Gas. It was the first alternative-fuel specifically designed for industrial transportation. Finally, with the unveiling of Cursor 13 NG, the most powerful FPT Industrial NG engine, the brand has now the most complete Natural Gas lineup for on-road applications in the market.
NEW CURSOR 13 NATURAL GAS
100% Natural Gas: FPT Industrial has unveiled its newest and most powerful NG engine. The Cursor 13 Natural Gas was presented at the FPT Tech Day 2017 event held in Turin. It is the most powerful 100% Natural Gas engine available on the market and the first NG engine on the market specially developed for long-haul missions. Cursor 13 NG thus allows FPT Industrial broaden and strengthen its leadership in 100% Natural Gas engines segment.
Leveraging FPT Industrial's cutting-edge technologies and reliability, proven by more than 30,000 NG engines sold worldwide in the last 20 years, the Cursor 13 NG delivers power up to 460 hp at 1,900 rpm and torque up to 2,000 Nm at 1,100 rpm, thus offering up to 15% more power and 18% more torque than FPT Industrial's 9 L NG engine. Cursor 13 NG is a mono-fuel 100% Natural Gas easy-to-use for end-users product, since it can run with CNG (Compressed Natural Gas), LNG (Liquefied Natural Gas) and bio- methane. The bio-methane solution is capable of reducing the CO2 emission levels near to zero.
CURSOR 9 NATURAL GAS
The Cursor 9 NG offers power up to 400 hp at 2,000 rpm, and torque up to 1,700 Nm at 1,200 rpm, while at the same time having emissions lower than Euro VI limits. The six-cylinder engine, the ideal solution for applications such as heavy haulage, garbage collection, city and intercity transportation, is powered by Natural Gas, in its compressed (CNG), liquefied (LNG) or renewable form (bio-methane).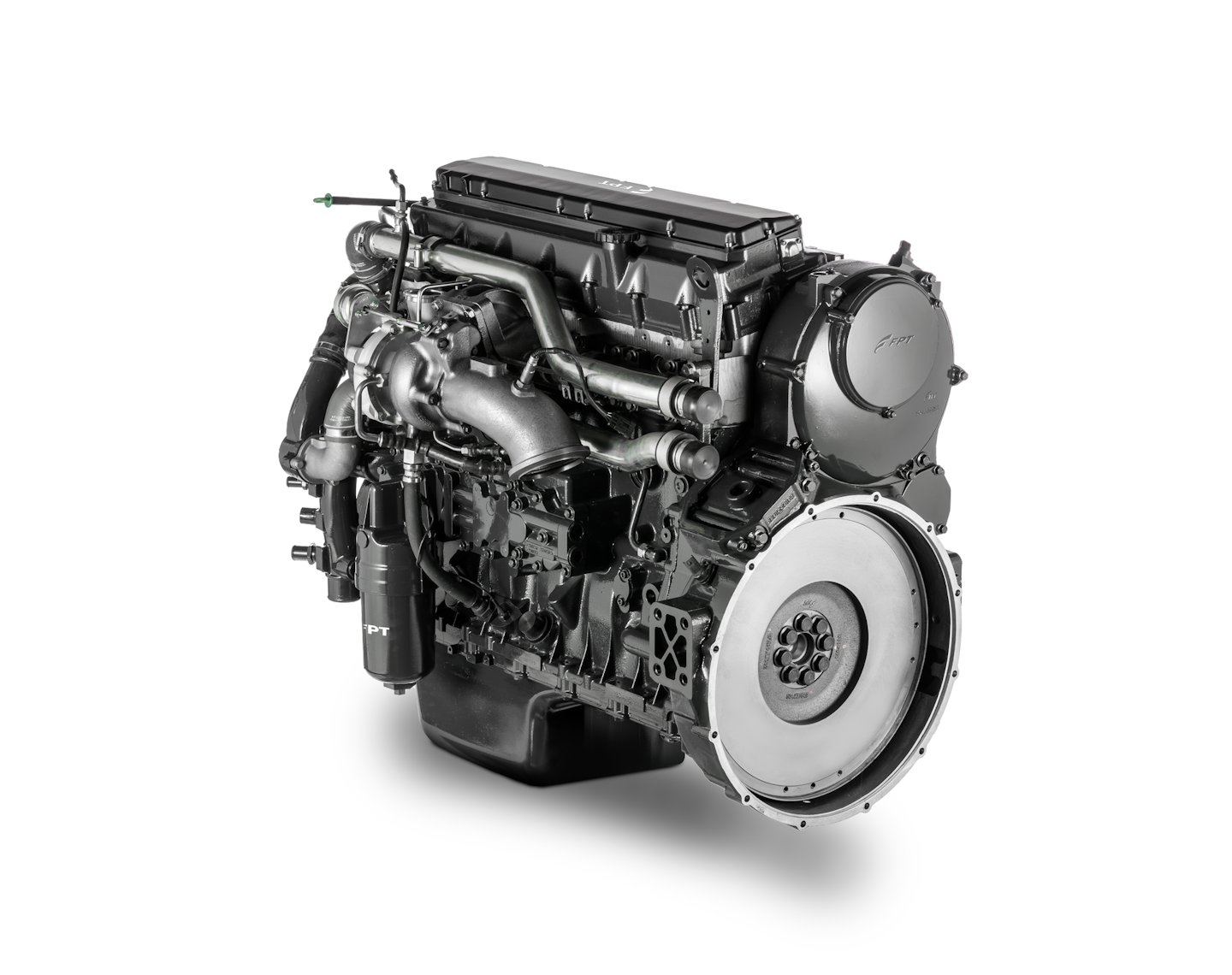 Cursor 9 natural gas engine
Compared to diesel version, Cursor 9 NG brings the CO2 emissions significantly down and can be close to zero by using bio-methane. To generate its power, the Cursor 9 NG uses stoichiometric combustion, a technology in which FPT Industrial has more than 20 years of experience. To comply with Euro VI the Cursor 9 NG does not need Exhaust Gas Recirculation (EGR) or Selective Catalytic Reduction (SCR), but relies on a simple three-way catalyst.
The Cursor 9 NG, which alongside the 7.8 L Cursor 8 NG, still available on the market nowadays, boosts increased displacement, new multipoint fuel injectors and a new fuel rail to allow for a higher flow rate. This, together with the modified cylinder head - characterized by intake ports with an optimized swirl angle - grants class leading fuel consumption.
NEF N60 NATURAL GAS
The NEF Series is the most compact, efficient and cost-effective engine solution in the 6-18 tons truck, bus and coach category and FPT Industrial's offer for these vehicles is completed by a 6-cylinder, 6-liter NG version that ensures unpaired sustainability. This engine delivers high power, which can reach a peak of 204 hp at 2,700 rpm, and an high torque, 750 Nm at 1,400rpm with any load and on any route.
Compared to a diesel version, it grants a fuel cost savings up to 30%. Moreover, it features an incomparable reliability and an easy serviceability which contribute to low maintenance cost. Furthermore, the oil change intervals can reach up to 30,000 km.
F1 C NATURAL GAS
The F1C Natural Gas is the best-selling NG engine for LCV (Light Commercial vehicles) transport. Like the other engines abovementioned, it can run with CNG/LNG and biomethane. The F1C NG engine has a 3 L displacement and delivers 136 hp of max power with 350 Nm of max torque. This solution can also be fueled with bio-methane that can lead to a near zero CO2 emission. Nevertheless, this engine ensures the same robustness and reliability as a Diesel one, while allowing cost savings up to 35%.
When compared to similar products of competitors, the F1C NG provides higher torque, better transient response, and lower noise and vibration – resulting in better driving comfort -, and is more reliable and durable than its 2 L competitor.