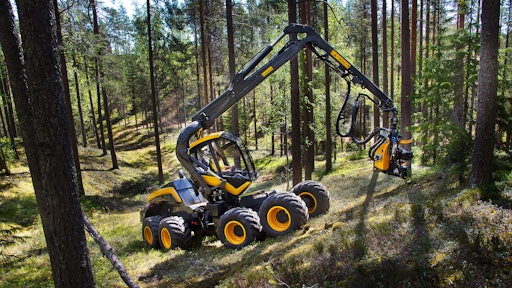 The 11,111th engine delivered to Ponsse by Rolls-Royce is a Series 1000 six-cylinder in-line engine from MTU. This unit will soon be used to deliver power to a Scorpion, the most advanced full harvester, produced by the world's leading manufacturer of forestry machines.
The delivery of 11,111 engines represents a period of more than 15 years, throughout which Ponsse has put its trust in the reliability of the engines delivered by its exclusive supplier MTU.
"Our products occupy the premium segment in the market for wood harvesting equipment and are recognised throughout the world for their operational efficiency and durability," says Dr. Juha Inberg, Director Technology and R&D at Ponsse plc.
The demands placed on the engines are correspondingly high. They are required to complete 4,000-6,000 hours of operation every year – and must do that under the most adverse operating conditions, on tough terrain and under extreme cold and heat. The drive systems based on Mercedes-Benz truck engines have been optimized by MTU for off-highway requirements.
Since January 2017, Ponsse has also been testing one of the first of the Stage V generation 6R 1000 engines under these conditions. Installed in an Ergo harvester, it has undergone a thorough test program. After the successful completion of the tests, Ponsse placed an order for a further five Stage V engines, two 4R 1000s and four 6R 1000s.
Stage V engine has already completed more than 1,000 hours of operation
The new engines in non-road mobile agricultural machinery and other off-highway applications, will have to meet the much tougher Stage V emission regulations as of 2019. MTU's 6R 1000 engine has already completed more than 1,000 hours of operation in an Ergo harvester to Ponsse's complete satisfaction and has done so in freezing temperatures, which in some cases dropped below -30 C. "This experience is very important for the 'Stage V engines' development program, because we are able to demonstrate the functionality, reliability and durability of the engine under extremely difficult conditions. We can also identify if any improvements may need to be made long before series production starts," says Stefan Rudert, Head of Application Engineering for Construction and Agriculture at MTU.
Companies in this article