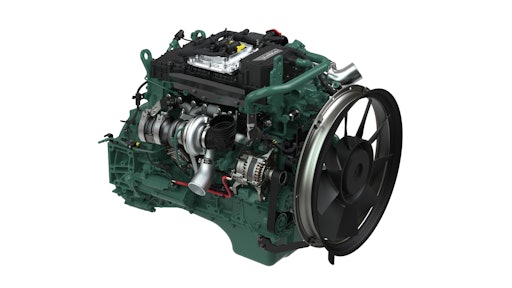 Optimized for tomorrow, the new EU Stage V engines feature the latest technology and are an ideal fit for agricultural customers, where excellent fuel efficiency, low emissions, high productivity and reliability are required. The 13-liter engine with exhaust aftertreatment system (EATS) is a great choice for harvesters and large machinery; while the 5-L solution is ideal for smaller agricultural equipment.
Both are part of the full lineup of Volvo Penta's Stage V engine range – D5, D8, D11, D13 and D16, offering a power range from 105-565 kW (143-770 hp).
"As new emissions regulations are on the horizon for 2019, we know that OEMs are planning now on how to move towards this new chapter for equipment manufacturing," says Johan Carlsson, Chief Technology Officer at Volvo Penta. "With our new engine solutions, OEMs can be sure that their customers will get the right power output for their needs at the appropriate emissions levels. We offer an excellent solution for manufacturers and operators, one that will also help preserve the viability of the environment."
Sustainability for the environment; sustainability for customers
Through its Stage V platform, Volvo Penta offers a premium range of options for land cultivation and the harvesting of crops, as well as associated industries such as forestry. The company regularly works with OEMs and end-user customers to create state-of-the-art technology. Its Stage V engines are produced with a common architecture, for ease of installation, service and maintenance.
"We have more than 100 years of engineering excellence that continues to be developed," says Giorgio Paris, head of the industrial engine segment at Volvo Penta. "Environmental care is one of our core values, but we also recognize that business sustainability is vital for our customers, and so we want to help them in providing the most suitable options for their requirements."
The new 13-L EU Stage V engine – TAD1381-1385VE – is a powerful, reliable and fuel efficient six-cylinder unit. It has a maximum output of 405 kW (551 hp) at 1,900 rpm.
The new 5-L EU Stage V engine – TAD580-582VE – is a four-cylinder unit, backed by the same reliability and fuel efficiency as its big brother, the D13. It has a maximum output of 160 kW (218 hp) at 2,200 rpm.
Both are designed to deliver maximum power and torque at low rpm. This results in optimized performance, including smooth operation, low noise, and world-class fuel efficiency. Both are equipped with all the key features of Volvo Penta's Stage V concept.
Engineered with a perfectly matched EATs
The new D5 and 13 engines are compact, with hardware layout and electrical interfaces that are compatible with engines of earlier emissions legislation.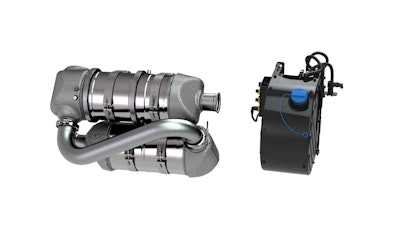 The air inlet throttle, together with the uncooled exhaust gas recirculation (EGR), and the electrical exhaust pressure governor (EPG) deliver highly effective heat management of the engine. This enables the system to function without the need to inject fuel into the exhaust stream to raise the temperature. With this approach, the exhaust gas has an optimal temperature when it passes through the EATS. Low heat rejection from the complete system means that less cooling is required.
"With our Stage V solution, the exhaust temperature is lower than the average exhaust temperatures of many competitor solutions on the market today," says Johan Carlsson. "A lower exhaust temperature can deliver big benefits to all customers, but especially those in agricultural, materials handling and forestry applications – environments where higher exhaust temperatures can have particular health and safety implications."
The new engines and complementary exhaust aftertreatment system (EATS) work in harmony to comply with forthcoming EU Stage V emissions standards.
The EATS includes the following components: Diesel Oxidation Catalyst (DOC); Diesel Particulate Filter (DPF); Selective Catalytic Reduction (SCR); and Ammonia Slip Catalyst (ASC).
Maximizing productivity
In addition to the 5- and 13-L engines, Volvo Penta is also announcing an updated power output for its 8-L Stage V engine. It has been verified through extensive testing that the TAD880-884VE delivers a power output of 250 kW (340 hp) – compared to 235 kW (320 hp) – announced earlier this year.
Volvo Penta's Stage V engines and EATS are designed to work together to maximize passive regeneration during normal operation. There is no high-temperature regeneration, because the sulfur regeneration in the SCR catalyst is not required. Only soot regeneration is needed to clean the DPF. No additional fuel injector (7th injector) for sulfur regeneration is needed. This leads to increased fuel efficiency and uptime for operators.
"Our engines power agricultural applications all over the world – contributing to the overall productivity," says Paris. "Customers in Europe can be assured that our Stage V engine solutions offer excellent performance and fuel efficiency with appropriately low emissions, and all the convenience that a common platform provides."
Volvo Penta will display its products in Hall 16 Stand C23 at Agritechnica in Hanover, Germany, from November 12-18.