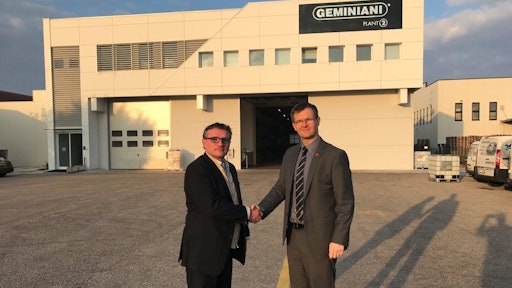 Award-winning engine manufacturer JCB Power Systems is strengthening its distribution in Spain and Portugal with the appointment of a new dealer.
Madrid-based Modipesa has taken on full responsibility for OEM engine distribution and support, as part of JCB's ambitious growth plans for Europe. The company has many years of experience in the engine sector, with its own comprehensive network of dealers in the two countries.
JCB Power Systems' existing Italian distributor Geminiani will manage the Iberian region through Modipesa, which is its dealer for Spain and Portugal.
Massimo Geminiani, CEO and Managing Director of Geminiani, says, "This is a fantastic opportunity for us to represent JCB Power Systems in Spain and Portgual. We have had great success with JCB engines in Italy, because of JCB's approach to design, emissions compliance and an engine footprint which has made it easy for our OEM customers to upgrade to the latest engines. Modipesa is a well-known and respected business in the engine sector with a great reputation for service."
Robert Payne, General Manager of JCB Power Systems' OEM Sales, says, "We are looking forward working with Modipesa in Spain and Portugal and bringing our engine solutions to a wide range of customers in the off-highway sector.
"Geminiani has enjoyed superb growth with sales of JCB engines in Italy since 2011 and has enjoyed particular success with sales to OEM customers supplying pump sets, crop sprayers and agricultural feeder mixers. This experience will now be used to develop business in the agricultural, power and industrial sectors in Iberia."