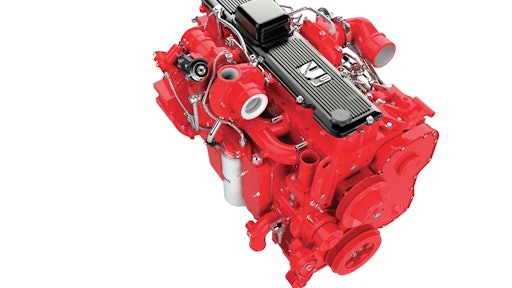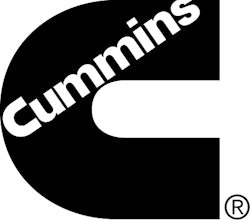 At bauma China 2018, Cummins Inc. demonstrated a full line of China Stage IV (CS IV) engines with the unveiling of the upgraded high performance 8.9-L L Series engine which moves up to 400 hp (298 kW) with a peak torque of 1,800 Nm – an 11% increase over that of CS III, offering class-leading fuel economy and the ability to run at high altitudes while maintaining power capability.
Cummins' full lineup of engines for the January 2020 CS IV emission standards spans 2.8-15 L displacement with a power capability of 46-675 hp (34-503 kW). The proven technology and platforms move easily from CS III by leveraging the U.S. Tier 4 Final and EU Stage V experience as well as on-highway NS VI. The CS IV engines do more with less, offering up to 10% increased power density with better transient performance for improved machine productivity. Improved reliability with best in class fuel economy delivers lower total cost of ownership.
For CSIV, the 4.5- to 6.7-L B engines are available from 89-300 hp (66-224 kW). The 8.9-L L engine is available from 202-400 hp (151-298 kW). The 12- and 15-L X engines are available from 335-675 hp (250-503 kW). All these are suitable for a wide range of construction equipment including wheel loaders, excavators, forklifts, cranes, drills, air compressors and road machinery.
"At Cummins we design our products to deliver the optimum balance of performance, reliability and cost that best fits the customer and market needs. Our significant technology experience has enabled us to select the most appropriate solution for China and the Stage IV emissions regulations," says Dr. Lixin PENG, Cummins Vice President - Engineering, China ABO. "Cummins CS IV engines are designed and developed for a wide range of applications. With our upgraded performance systems, we are able to achieve low emissions without compromising the ability of the engines to perform at the highest load factors or in the toughest conditions."
Cummins' electronic control system and unique air-intake to exhaust-out system capability has enabled seamless machine integration for the OEM, and easier emissions upgrade for their customers. The common technology with Cummins EU Stage V makes next generation upgrades more flexible and easier, and offers more choices for customers with a full line of Cummins EU Stage V engines that will be dual certified to CS IV.
Cummins Emission Solutions brings aftertreatment technology expertise to support Chinese customers with optimum choices including Diesel Oxidation Catalyst (DOC), Diesel Particulate Filter (DPF) and Selective Catalytic Reduction System (SCR). "Over the past 10 years Cummins has supplied SCR and DPF units to over 2 million vehicles and non-road equipment around the world. Over 7 billion hours and 265 billion km of operation have been accumulated while reduced 4.26 million tons of NOx," adds PENG.
Cummins' CS IV solution for 6.7- to 15-L engines use SCR technology and DPF plus DOC to significantly reduce Oxides of Nitrogen (NOx) and Particulate Matter (PM) emissions versus CS III. The lower displacement engines adopt Exhaust Gas Recirculation (EGR) combined with DOC and DPF for lower total cost of machine operations.