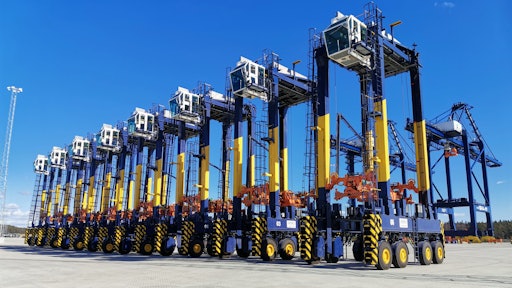 Volvo Penta

Volvo Penta has helped its longstanding customer Shanghai Zhenhua Heavy Industries Co., Ltd. (ZPMC) enter a new market in the port machinery industry by partnering with the company to develop an engine for their new range of intelligent straddle carriers. The first eight units, powered by Volvo Penta engines, have now been shipped from China to the Hutchison CTN terminal in Stockholm, Sweden, where they are ready to start work.
When Shanghai Zhenhua Heavy Industries Co., Ltd. (ZPMC) decided to enter the intelligent straddle carrier market in 2017 with a brand new product to meet the needs of global automated terminals, they knew exactly who to turn to for help powering the equipment – Volvo Penta. The two companies had already worked together for almost 20 years, with Volvo Penta supplying engines for various other ZPMC products such as reach stackers and rubber tire gantry cranes (RTGs).
A straddle carrier loads, unloads, stacks and moves containers at a port terminal. "Port machinery equipment is used frequently, and operating conditions are complex, so the engine has to be extremely reliable," explains John Wang, Customer Account Manager at Volvo Penta. "This, coupled with the low ambient temperatures in winter in Sweden where the machines were heading, meant that the engine's cold start performance needed to be excellent. After many years of successful collaboration together, ZPMC knew that Volvo Penta engines would give them the performance, reliability and efficiency they needed. We participated in the entire project, including the engine model selection, subsequent equipment installation, commissioning and the coordination of seamless after-sales service."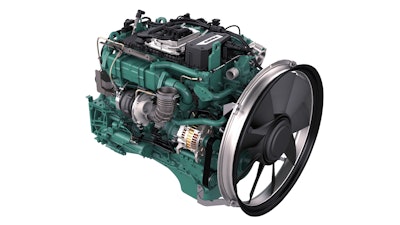 Industry-leading performance
The project contract for eight units of one-to-three intelligent straddle carriers was officially signed in March 2019, with delivery taking place around one year later. Each straddle carrier is powered by a Volvo Penta Stage IV TAD571VE-B diesel engine. The machines also incorporate a battery hybrid solution and they can easily be switched between manual and automated modes, allowing them to pick up and move containers automatically. They deliver high mobility and flexibility, efficiency and low maintenance costs.
"Volvo Penta engines are industry-leading when it comes to performance and total cost of ownership," says Mr. Wu, Senior Engineer for the project at ZPMC. "These are two of the reasons we chose to partner with Volvo Penta on this project, but other factors that influenced our decision included the compact design of Volvo Penta's engines, their leading position when it comes to emissions legislation, as well as their aftermarket support and global warranty policies. Throughout the entire project our companies have worked closely together, from testing in our workshop in Shanghai to after-sales support in Sweden."
"At Volvo Penta, we see ourselves as partners, not suppliers, to our OEM customers," concludes Wang. "We work with our customers to create tailored solutions based on their requirements, so collaborating with ZPMC in this way was not unusual for us. We are dedicated to supplying the optimal design, installation, operation and maintenance support to our customers, wherever they are."