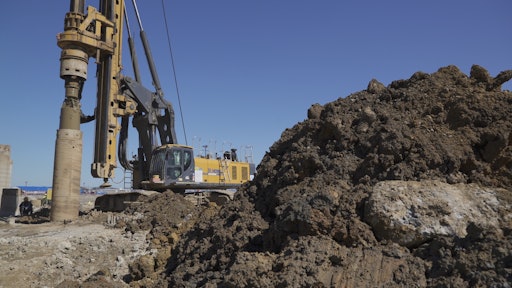 Volvo Penta

Five Volvo Penta D13 engines are hard at work powering five XCMG XR360E rotary drilling rigs, which are busy helping to construct the first large-scale, cross-sea immersed tube tunnel project in northern China. The 5.1 km Dalian Bay Subsea Tunnel will pass through Dalian Bay and connect the Dalian Donggang Business District with Diamond Bay. Work started in March and the project is expected to be completed in approximately 3 years.
The project's complex technical and environmental requirements, as well as the tight construction deadlines, make for a challenging job. Involving both land and sea, and in a complex and uneven geographical environment, the hard rock on the seabed and the soft soil are interlaced with each other. This makes drilling extremely difficult and poses a challenge for construction equipment.
A powerful combination
Due to the technical requirements and the scale of the project, the efficiency and reliability of the equipment and engines is vital. Based on power, performance, fuel efficiency, reliability and environmental credentials, both the construction firms working at the site – Dalian Tuopu Geotechnical Engineering Co. LTD and Dalian Dajinma Infrastructure Construction Co. LTD – chose XCMG's XR360E rotary drilling rigs equipped with Volvo Penta China III D13 diesel engines.
"The results delivered by our Volvo Penta powered rotary drilling rigs are impressive and the uptime is really good," says Chen Weibin, Equipment Owner at Dalian Tuopu Geotechnical Engineering Co. LTD. "We have no problems, whether in terms of mechanical performance or fuel consumption, and when we need support the Volvo Penta aftermarket team is quick to respond. We are drilling secant piles, full of stones underneath the ground, and many silt rocks are multi-layered. With enough drilling power from the Volvo Penta engines, our drilling rigs can run normally in the tunnel. Whether drilling rocks or stones, my project won't be delayed, and normal operation can be guaranteed at my site."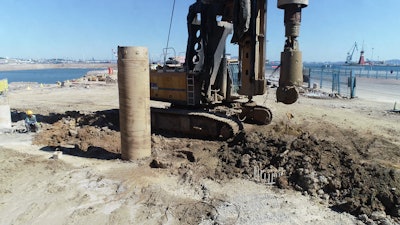 Operator feedback
"The Volvo Penta engine provides smooth operation and low fuel consumption," says Liang Jingyu, one of the operators working at the site. "It easily accommodates working conditions of various terrains with low fuel consumption. There's no black smoke, and noise and vibration levels are low – which is great for us operators. Compared to similar products, it has a particularly low failure rate. Even when other vehicles are broken, ours is still operating well."
The 13-litre off-road Volvo Penta industrial engines provide 345 kW of power at 1,900 rpm. The engines feature electronic high-pressure fuel injection and deliver high power and torque at low engine speeds. The D13 is a well-balanced engine offering smooth operation and low noise levels.
"Having a powerful engine means that the rotary drilling rig works pretty easily without black smoke," concludes Yan Kexin, one of the operators working at the site. "It runs smoothly, no matter whether drilling deep piles or rocks. It is more user-friendly, there is low cab noise and higher fuel efficiency than you get with other vehicles."
Companies in this article