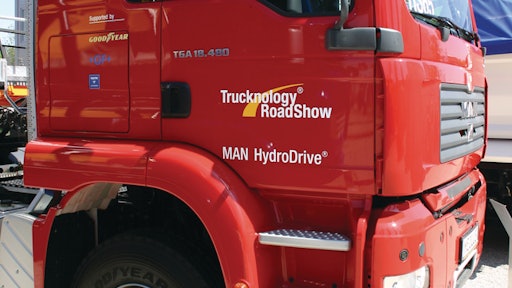 Although it worked fine for its era, you could say Buckeye Traction Ditcher Co.'s wheel trencher was in search of a heart in the 1920s. Once the tracked machine followed the Yellow Brick Road to Emerald City, it would have asked the man behind the curtain for a pump. Trenchers would eventually be given that component — the heart of today's hydraulic system — and that's one of the reasons several early mechanically driven trenchers are now spending their retirement years parked in a central Iowa field.
On those early trenchers, the energy that moved the tracks and the rear-mounted trenching wheel was directed from the prime mover (in this case an early Caterpillar gasoline engine) through a complex array of chains, cables, shafts and gears. Each of the rusty gears on the trenchers in Iowa was designed for a specific purpose.
In actual application the exposed gears were noisy and consumed much of the power they were transmitting. Open to collect dirt and grit, the gears broke teeth and grabbed operator's clothing. Wire-rope traveled through pulleys to lower the trenching wheel into the ground. The cables made the rear of the trencher look like the tangled mess of downed power lines. In those early days, machine design was restricted by what the gears, chains and cables were required to do and by their design limitations.
Descendants of the Buckeye trencher would get the strength and versatility of a hydraulic system. Today, hydrostatic transmissions help propel tracked trenchers while motors help the digging wheel slice through tough ground conditions. When off-highway equipment was finally given a heart, the positive displacement rotary pump, individual job demands began to dictate machine design rather than the components.
The pump uses mechanical energy from the engine to push fluid through the system. The pressure in the system comes from resistance due to a load on a linear (January issue) or rotary actuator. Rotary actuators, or motors, are included in this installment of the Fluid Power Series. Many motors are pumps that are being pushed by the fluid rather than doing the pushing.
"Pump and motor design has repeatedly made progress in efficiencies and capabilities since the first units were introduced" says Bob Dolwick, marketing manager, Gear Pump Div., Parker Hannifin, Cleveland, OH. "As each design stands the test of time, the envelope is pushed as design engineers look for increased output and operation efficiency. Over the years, manufacturing techniques and the development of new and improved materials continue to empower engineers to take steps forward with designs. Today's hydraulic motors are more efficient and can operate at higher pressure."
Jeff Brenner, product portfolio manager, Work Function Div., Sauer-Danfoss, Ames, IA, gave these points to sum up industry trends facing today's pump and motor supplier:
Reduced operating costs
Increased system efficiencies (emissions regulations)
Higher road speeds
Increased cooling requirements
Increased serviceability
High reliability, durability
Lower warranty costs
Faster speed to market
Increased power density
"Our most rapidly growing motor line is the T Series [TMK, TMT, TMV motors]," says Brenner. "This line of motors was developed to address these market needs. When these motors survive in the most rugged applications, such as skid steer loaders and forestry applications, you have a field-proven product that customers can rely on and get to market quickly."
Some of the improvements made to the hydraulic system are obvious, even to by-standers. "Twenty years ago, the biggest issue with a motor or pump was that it was going to leak due to poor manufacturing standards on ports and fittings," says Wayne Wenker, new product development manager, White Drive Products, Hopkinsville, KY. "Today the machining is much better. The industry has come a long way."
Evolution
Components have evolved along with the machine, and in many cases equipment advances have been made because of the components. For OEM suppliers it is often necessary to provide equipment manufacturers with parts tailored specifically to an application.
"We work with many OEMs that prefer to order standardized parts from a catalog. They believe this offers them the best opportunity to keep the overall package price low," says Steve Cayton, global engineering manager, White Drive Products. "However, as OEMs work closely with us, we are able to customize our products to fit their specific needs in order to provide them with a competitive advantage and still meet their price target."
Just as off-highway equipment has evolved, the technology that goes into each continues to do so, as well. White's RE low-speed motor series fits into a wide range of applications and has been a strong seller. The series joined the catalog 30 years ago. While the product has kept pace with industry changes, "it has a very good reputation," says Cayton. "It offers a lot of torque in a small package with plenty of options that allow the OEMs to customize their selection while using catalog components."
Lately there's been an important development that the Buckeye trencher couldn't even dream of: "Electronic controllers are much more advanced now than 10 years ago," says Dolwick. Marrying electronics to the hydraulic system has given mobile equipment brains, helping to make machines easier to use and more efficient.
The efficiency improvements realized when machinery was converted to hydraulic control is among the reasons pumps and actuators began showing up on farm tractors and bulldozers in the first place. In 2008, it has become an even stronger driving force. "Customers are requiring more efficient products, mainly due to environmental concerns," says Rick Morton, application sales engineer, KYB America LLC, Addison, IL.
"To accomplish this, some applications are changing from a fixed displacement pump to a variable displacement pump. For applications where a fixed displacement pump is still used, customers are requiring reduced pressure losses and reduced mechanical losses in order to improve overall efficiency. OEMs are also requesting travel motors with more functions, such as auto-shift and speed-sensing."
Over the past decade, load-sensing systems have been incorporated into more equipment to improve efficiency. The variable displacement load-sensing pump supplies only the required flow and pressure for efficient power management.
"Pumps and motors are also getting more compact yet are supplying more flow and pressure than previous models," says Morton. "Over the past few years more machines are incorporating electronic control, allowing for motors with increased functionality such as speed-sensing and electronic feedback."
Today it's difficult to change one system on the machine without affecting another. In order to meet engine emissions requirements, "our customers continually move toward lighter weight, higher efficiency products. To complement the motors come a host of electronic components to power them," says Boyd Stapleton, district sales manager, Poclain Hydraulics Inc., Sturtevant, WI. "The engine Tier 2, 3 and now 4 requirements have truly driven all OEMs to electrohydraulics and has ultimately forced the customer to accept electronics on their off-highway equipment."
Poclain Hydraulics offers a full line of closed-loop pumps and electronics to communicate with the pump, motor and engine.
Higher engine temperatures due to emissions-related changes are driving new product introductions, as well. Parker's newest line of compact, quiet, heavy-duty, cast iron pumps and motors is the 600 Series. Available in three modules, the gear pumps feature a patented interlocking flange and compact two-piece construction that reduces overall length of the unit.
"The 600 Series was developed in response to customer requirements for quieter, more efficient pumps that can operate in high temperature environments created by new diesel emissions regulations," says Dolwick. The 600 Series is rated for continuous pressures of 4,500 psi at operating speeds up to 3,500 rpm.
Giving what the customer wants
At the end of the movie "Wizard of Oz," it turns out the wizard couldn't actually give the heartless Tin Man and his friends the items they'd traveled so far to receive. In the real world, companies that want to succeed deliver.
"White Drive Products has been built on the fact that it is flexible when working with OEMs," says Greg Moreland, marketing manager. "When a customer is starting a new project we will work in small quantities to help get projects up and running faster. We strive to keep our lead times very low."
Once you get to the motor, "torque is torque, and speed is speed; there's not a large difference between many of the products on the market. What sets White apart is being aggressive," says Cayton. "Our product line continues to expand. The direction this company has taken is to offer almost anything OEMs need from the smallest company to the largest. Engineers can pick what they want, and we will work with them to meet their needs."
Jim Whitaker, product manager, Hydraulic Pump Motor Div., Parker Hannifin, sees a trend toward providing complete pump/motor systems as opposed to individually supplied components.
"When combined with a variable displacement, closed loop piston pump, a hydraulic motor becomes a hydrostatic transmission," says Whitaker. "Parker has led the trend toward packaging these components into systems for off-highway vehicles of 50 hp and under. Designed primarily for dual-path hydrostatic drive systems for turf mowers and light construction machinery, they combine pumps, motors, reservoirs, filters and valving into one integrated package. This addresses the trend toward simplifying ordering and inventory problems, reducing costs as well as eliminating possible leak points that result from individually piped components."
Also along the lines of simplified packaging, Parker has developed a tandem pump system containing two separate over-center piston pumps for dual-path hydrostatic transmissions. Included in the package are two pumps driven by one input shaft, as well as a reservoir, filter and cooling fan.
Form follows function
The ability to direct energy between pumps and actuators in neat packages has given equipment engineers the freedom to design machines to best suit its intended function. Whether installed on a zero-turn mower or a compost turner, few components illustrate this better than the wheel motor. Mounting a pump on the business end of the engine and routing hoses to the actuator means the powerplant can be placed virtually anywhere on the machine, unencumbered by gears and chains.
Parker's most popular motor is the large frame wheel motor, which provides propulsion as well as support for the vehicle, becoming its axle. "Its popularity stems from the recent rapid rise in the market for zero-turn mowers and light construction equipment," says Whitaker.
Two popular Parker large frame motors are part of the Torquemotor Low Speed High Torque (LSHT) family. The TF and TG motors provide: high volumetric efficiency, full flow spline cooling, high pressure shaft seal, high flow shaft seal cooling, high starting torque, high side load capacity and long life.
"Sturdy construction makes TF and TG series motors suitable for severe applications," says Whitaker. "The base of the powertrain for these motors — the torque link — is an extra heavy-duty part that employs Parker's patented 60:40 spline geometry for strength. All splines are constantly flushed with cool fluid for durability. Shaft seals can withstand full system pressure and are washed in cool fluid for long life."
Up next
Engineers and end-users both benefit because machines now have hearts. With a machine's actuator requirements figured out and a good plan for the pump, it's time to ensure the fluid in the system is taken care of. In the next issue we'll look at reservoirs, filters, and fluid.
Wizard of Oz: As for you, my galvanized friend, you want a heart.
You don't know how lucky you are not to have one.
Hearts will never be practical until they can be made unbreakable.
Tin Man: But I still want one.
Companies in this article