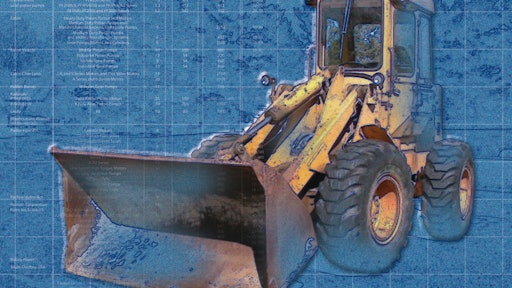 When your engineering team goes back to their virtual drawing board to reroute an excavator's hydraulic system to try to increase its efficiency by 1%, they may overlook a relatively simple solution: the hydraulic fluid itself.
Earlier this year RohMax, a German-based global supplier of lubricant additives and refinery chemicals, introduced Maximum Efficiency Hydraulic Fluid (MEHF), a new performance level in fluid formulation that offers improvements in hydraulic pump efficiency.
For OEMs, specifying oil that meets MEHF recommendations can deliver improved pump efficiency, which RohMax reports can be as high as 10% or better. By simply changing the hydraulic fluid, smaller pumps can be used to supply equivalent amounts of power.
By focusing on ISO viscosity grades, MEHF products are formulated to minimize mechanical energy losses at low temperatures and to reduce internal pump leakage under the high pressure/high temperature operating conditions common in modern machinery.
MEHF is the result of extensive research by RohMax's oil additive experts. Introducing the concept has been a unique process for the company, which usually operates behind the scenes as far as the end-user is concerned. Attending ConExpo Con/Agg in March "was an interesting venue for us," says Doug Placek, global product manager, RohMax USA , Horsham , PA. "We weren't really there to sell anything or promote our products. We were there to educate OEMs and end-users about this new level of high-performance in hydraulic fluid."
Placek's group was also there to conduct interviews with show attendees to learn how they buy — and think about — hydraulic fluid. By the end of the show they had completed hundreds of brief interviews. While the typical response was "oil is oil," there was a significant percentage of end-users who shop for fluid that has high performance features.
Yet, Placek says, end-users are generally very receptive to the concept of switching to a high-performance fluid if there is a real advantage they look to the OEM for guidance in hydraulic fluid selection. Even with a higher price, "if the OEM recommends it as a preferred component for their total hydraulic system, or says they have to use it to maintain the warranty, MEHF will be adopted quickly."
RohMax's educational process must target all of the groups in the marketplace at once, says Placek. "We'll talk to an end user, who says 'this oil sounds great. Does my OEM recommend it?' However, when we promote it to the OEMs, they say, 'this sounds great, what oil company is making it so I can test it?' So we talk to the oil companies, RohMax's natural customers, and they want to know what customer group is asking for it. It's is a very reasonable line of responses, so we need to address all three groups at once."
But it's not only the end-users who think "oil is oil." RohMax's biggest educational effort will by necessity be directed at the equipment manufacturer, whose mechanical engineers are experts in equipment design and hardware rather than fluid formulas. A large amount of fluid performance data is now available to enable the design engineers to apply MEHF to their particular application.
The oil companies recognize the value in MEHF, and can produce whatever formula is in demand. The technology has been in use for many years in cold climates like Scandinavia , it can be introduced into moderate and hot climates whenever OEMs and end-users decide to adopt it. It can be used in new and old equipment models from nearly any manufacturer.
The biggest challenge with MEHF may be that the introduction of this technology is not driven by any regulations. It can help save fuel and reduce emissions, but it will take an internal specification effort by the OEM to bring this productivity improvement to the marketplace. It's just not on the OEM's must-do list right now."
RohMax's website (www.mehf.com) includes a number of papers and tools to show potential customers what MEHF can do for them. "Operations that are mild, or intermittent, say a hydraulic lift on the back of a truck, will find they don't need high-performance hydraulic fluid; it's overkill. But for hardworking mobile equipment or operations that run 24 hours a day, the energy savings would be significant."
How to begin?
OEMs can get involved in a number of different ways.
"If you want to make use of this performance advantage today, talk to your preferred supplier about MEHF oil and determine what product they have that meets the MEHF performance definition. We recommend a fluid with a high viscosity index and good shear stability, and we've developed guidelines that will enable you to find a fluid that will deliver the best performance. Most oil marketers have high viscosity index products; some are higher than others, while some are more shear stable. There are a number of good choices on the market right now."
Another way would be to contact RohMax. However, says Placek, "we are trying to stay neutral, and not promote any one oil company's product, as we supply additives and technology to most of them. With our MEHF program, we really just want raise the awareness of the performance benefit that can be achieved by taking a close look at hydraulic fluid."
Many OEMs offer their own private-label engine oils and hydraulic fluids. "If an OEM wants to design their own fluid, to differentiate themselves in the marketplace, and needs to know more about formulation details, we are happy to supply that, as well."