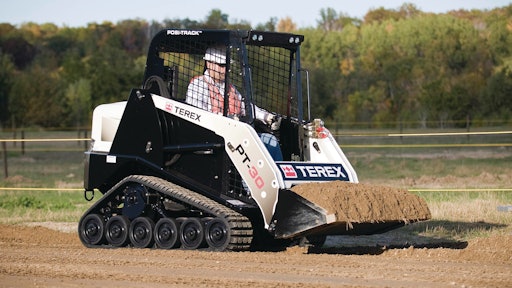 After years of record sales growth, recent times have been tough for the compact track loader equipment segment of the mobile off-highway equipment industry. Fortunately, that hasn't stopped new product development. There have been several significant announcements recently.
In June, Kubota Tractor Corp., Torrance, CA, announced the arrival of its new compact track loader series, with the introduction of the 75-hp SVL75 and the 90-hp SVL90 models. Powered by Kubota engines, the compact track loaders are all-Kubota designed, engineered, and manufactured.
As the compact loader project got under way, "Kubota surveyed its dealer network; and in combination with market research to review horsepower, size, capacities and other customer needs, our decision became clear," says Erik Ouwersloot, product manager, SVL Series, Kubota.
"When Kubota finalized the decision to enter the compact track loader market, we conducted a variety of field surveys and let many operators run our prototype CTLs on their own job sites. We noted their remarks and continued to update prototype details per customer requests. End-users had great impact on our design, shape and features for our production models."
The SVL75 and SVL90 compact track loaders offer a wide cab entrance and a spacious operator area with a high-back, fully adjustable suspension seat. A hand-and-foot throttle ensures exceptional convenience. Both models are equipped with two-speed travel and high ground clearance for optimal travel performance on rough construction site terrain.
"The addition of the compact track loaders to the Kubota product line, at selected Kubota dealers, offers customers an efficient, rugged, highly maneuverable track loader," says Greg Embury, Kubota vice president, sales and marketing. "The track loaders are created exclusively from Kubota engineered and manufactured components in a specific track loader design. Kubota is involved in each and every aspect of these machines, and we are proud of what these compact track loaders can deliver to our customers in terms of machine quality, innovation and value."
For easy maintenance, the loaders feature a tilt-up cabin for convenient access. A slide-and-tilt radiator and oil cooler requires the removal of only four bolts to be tilted for easy cleaning. The compact track loaders' main frame and undercarriage are a one-piece, welded unit to provide uncompromised structural strength.
"Compact track loader operator's are continually looking for more efficiency when it comes to both time and fuel," says Ouwersloot. "Operator comfort for long days on the job, continues to be a very high demand request from track loader operator's as we've learned from customer requests."
Bobcat Company, Fargo, ND, introduced the largest compact track loader it has ever manufactured — the T870 — along with what will be the largest skid loader in its lineup, the S850. T
The machines provide operators with more powerful hydraulics, increased fuel capacity, higher lift capacities and reach, increased pushing power and higher horsepower than any of Bobcat's current loader models. In addition, the loaders will enable the operator to accomplish more work through performance and durability enhancements that provide more power and keep the loader working longer, while increasing operator comfort with a new cab forward design with improved visibility and a more spacious and comfortable cab.
The 10,008 lb. S850 has a rated operating capacity (ROC) of 3,875 lbs — 17% more than Bobcat's current largest skid loader, the S330. The 12,678-lb. T870 has a ROC of 3,325 lbs., or 7% more than its current largest compact track loader, the T320. In addition.
The S850 and T870 will have the same increased hydraulic performance as the other M-Series loader models, enabling them to efficiently accomplish more work. The hydraulic systems on M-Series loaders have been engineered for higher standard flow and pressure that give attachments more power to work more quickly.
The standard auxiliary hydraulic flow on the S850 is 23 gpm at 3,500 psi and an optional high flow feature reaches 37 gpm for maximum attachment performance. On the T870 the standard auxiliary hydraulic flow is 23.8 gpm, with an optional high flow of 37.4 gpm.
New job-enhancing features were added to the optional Deluxe Instrumentation Panel. Available only on M-Series machines, the panel intelli monitors key loader functions, and the keyless start helps prevent theft. The new five-inch, full-color LCD screen offers better readability and interaction. Easy-to-read virtual sweep gauges allow the operator to quickly read and understand the machine's performance.
The loaders are designed to work long hours on demanding jobsites, and operators want to spend minimal time on routine maintenance to start the workday earlier. Simple checks and superior design make it easier to perform maintenance correctly at the proper intervals.
The hydraulic quick couplers are mounted directly to the front plate of the lift arm to provide a solid mounting and quick coupler hoses completely run through the loader arms for better protection. A guard bar extends in front of the coupler for added security.
Keeping the loaders cool when working long hours is important in prolonging the service life of the machine. Bobcat redesigned the cooling system on the M-Series for increased efficiency and higher performance. The new design also makes it easier to clean out the cooling system, with an oil cooler that swings up, allowing the operator to clean the area between the oil cooler and the radiator.
The S850 and T870, like other M-Series loader models, feature a unique cab-forward design that makes the loaders look different while moving the operator closer to the attachment and provides unmatched visibility in all directions.
Comfortable operators are more productive, so to create a better working environment, Bobcat increased the size of the M-series cab by 10%, redesigned the interior to allow operators to adjust the environment to their individual preferences and improved cab pressurization.
Noise is another factor affecting operator comfort, and Bobcat reduced the sound level of M-Series loaders by more than 60 percent. New engine mounts improve isolation to decrease vibration and reduce sound levels.
The control levers on both standard controls with power assist, and the optional Selectable Joystick Controls (SJC) move up and down in conjunction with the seat to reduce arm movement and fatigue as the operator controls the machine. The joystick mounts slide forward or backward to adjust to the preference of each individual operator.
Terex Construction Americas
Terex Construction Americas, Southaven, MS, has enhanced the former ASV compact track loader line, giving the PT-30 compact track loader a 26% increase in lift height, a 16% increase in operating capacity and a 45% increase in bucket rollback to enhance its production while continuing to offer operators the compact and maneuverable operation of its predecessor.
"We continue to enhance our compact track loader lineup based on feedback from our distributors and customers," says Rick Harris, senior product manager, Terex Construction Americas. "The original PT-30 was introduced in 2001 and continues to be one of our best-selling models. Our goal with the new PT-30 was to update it with the features that are most popular with our other compact track loader models, while keeping the attributes that have made it so well-liked."
The smallest compact track loader in the Terex lineup, the 4-ft profile of the PT-30 offers productive work in limited access areas. The 33.7 hp PT-30 offers an operating weight of 3,600 lb, a tipping load of 1,900 lb, with a 950-lb operating capacity at 50% tipping load capacity, and a lift height of 101 in. With a low 3.0 psi ground pressure, the PT-30 easily works on soft or sensitive surfaces with minimal damage or impact.
Several features on the new PT-30 have been updated to match the Terex PT-60 model, including the design of the loader arm. The PT-30 comes standard with loader-mounted quick attach interface, allowing it to easily attach to a wide range of attachments including an auger, backhoe, brush cutter, leveler, pallet forks, box rake, snow blade and blower, tiller and trencher, as well as general purpose, light material and multi-purpose buckets. Attachments from Terex for the PT-30 are performance-matched to ensure proper fit, balance and operation.
The PT-30 is equipped with pilot-operated joystick controls and a comfortable operator station for easy operation. This model comes standard with a general purpose track with the Terex patented Posi-TrackTM undercarriage technology and suspension, giving the PT-30 more traction, higher flotation and better operating comfort so operators can make full use of the machine's higher travel speeds.