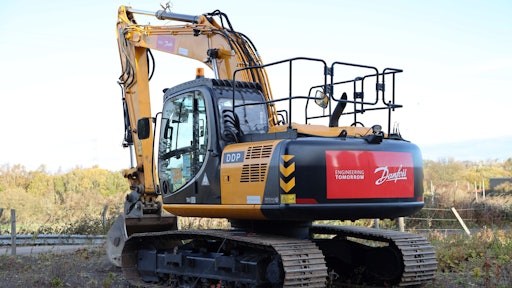 Danfoss Power Solutions
Danfoss has been developing its Digital Displacement pump (DDP) technology for the past several years which uses software and electronics to provide more precise control and efficiency. It is now in the process of bringing this technology to the market and expanding its portfolio of DDP options.
READ MORE: Danfoss Readies Digital Displacement for the Market
The DDP is digitally controlled and software configurable; it can include anywhere from one to four outlets, each of which can be controlled independently with independent flows, pressures and control loads. This independent control is what enables the pump to provide benefits such as improved efficiency.
Currently, there is a 96 cc pump available called the DDP096 Generation 1 which was released in 2020. It is a single outlet, open circuit pump with instant control which is suited for industrial applications and some mobile applications.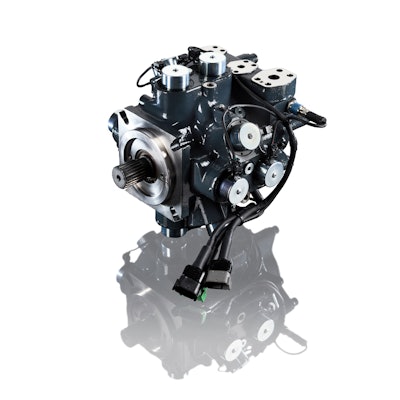 In 2021, Danfoss intends to release the next generation of the DDP096. With this next generation pump the company will begin to release multiple outlet variants of digital displacement, said Eric Bretey, Director – Digital Displacement at Danfoss, during a recent webinar on DDP technology held by the company. "In mid-2021, we will have the single outlet as well as a three outlet variant of the pump available," he said. "And we'll be starting to release more control modes."
Bretey said displacement control will become standard with the new generation of pumps, along with the currently available pressure control. As with the original pump design, the new DDP096 will allow for different control modes at each of the individual outlets on the pump.
The new pump has been designed for more aggressive duty cycles, up to 420 bar (6,091.6 psi), in off-road equipment or industrial applications. Bretey said one and three outlet prototypes are currently available and running in various customer pre-production and evaluation projects. "Production volumes of the Gen 2 hardware will be available in the second half of 2020," he noted.
Danfoss also plans to release a tandem version of the DDP in 2021. This version is comprised of two 96 cc pumps put together to provide more outlets for supplying hydraulic flow to various consumers in an application. Two to six outlets are available depending on how the two pumps are put together. "And as before, multiple control modes will be available simultaneously," said Bretey.
He explained the tandem version is better suited for machines with higher flow requirements. Danfoss has thus far been applying the tandem pump to machines weighing up to 20 tons. Prototypes of this pump are available, he said, and are also undergoing field trials with some OEMs.
Benefits of Digital Displacement pumps
One of the many benefits Bretey says is offered by the DDP is that it comes fully sensorized, which ensures it is ready for connected and IoT (Internet of Things) applications.
"The pump is very productive because it's very fast," he said. "The response time—from the time you give it an input to the time you start to see a change in the output—can be 30 milliseconds. That unlocks machine productivity that most pumps simply can't match."
Efficiency gains are a key benefit offered by the DDP technology. According to Bretey, it is 94% efficient at peak full efficiency. From about 25-100% displacement, customers can see total system efficiencies of 90% or greater with the pump. "And because of the pump's multi-port design, we can deliver flow at the right pressure for the consumers in a machine," he said. "We're providing exactly what is needed, thus enabling even higher system efficiencies than what can be done with standard pumps today."
READ MORE: Digital Displacement Offers Efficiency Improvements
All of Danfoss' DDP come with a controller that has been designed specifically for use with the pumps. It uses propriety software and hardware controls what happens in each of the pump's 12 cylinders every few milliseconds. "We're evaluating what's happening in the pump, what the input commands are, what the output needs to be, making calculations and then making changes to what happens," explained Bretey. "So, the pump and controller are always together and unable to be separated." This ensures the pump works as productively and efficiently as possible.
However, the pump and its controller can be controlled by the OEM's ECU (electronic control unit) or by a PLUS+1 microcontroller.
Learn more about the Digital Displacement technology in our interview with Eric Bretey.
Bretey said the benefits provided by the DDP have already been proven in many applications. One of which is the industrial market. "Hydraulic power units that have employed digital displacement pumps in them have seen 25% lower electrical energy consumption," he said. Because of this, he said emissions can be reduced as well, offering further benefits to machine owners.
"This is a central part of what Danfoss really wants to do," he said. "We want to provide products that help make the environment better, and help us live up to our commitment to be a good steward of our resources."
In forklift truck applications, customer data has shown use of the DDP has reduced fuel consumption 40% or more in 4 ton and larger machines. And this was achieved without sacrificing productivity. In some cases, it allows a machine's engine to be downsized which can offer further fuel and emissions reduction benefits.
Hydraulic excavators are also a key market of interest for the DDP. Bretey said Danfoss has already achieved efficiency of 32% in the field using the technology on hydraulic excavators powered by internal combustion engines. "Depending on how much work you want to do on your system, we can achieve results like that or maybe event greater in the future," he said.
Electrification is another area in which Danfoss sees a large benefit to utilizing the Digital Displacement technology. Use of the DDP in conjunction with Danfoss Editron—the company's electrification business—products have shown system efficiencies of 87% when converting electrical power from batteries to hydraulic power.
Danfoss believes Digital Displacement technology will play an integral role in its vision for the future which includes electrification, automation and connectivity. The company believes the future will require more data and control of hydraulics, as well as technologies which reduce carbon output from machines. All of which the company's DDP technology has thus far demonstrated it can provide, and Danfoss will continue improving upon in the coming years.
Companies in this article