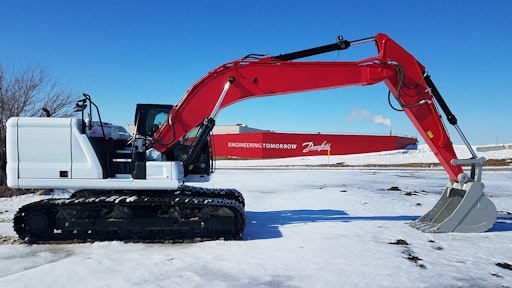 Danfoss
At bauma 2019, Danfoss showed the first production model of its Digital Displacement pump which came about after several years of working in partnership with Artemis Intelligent Power Ltd. (AIP) on the technology. Digital Displacement—the selective enabling of individual cylinders within a rotating hydraulic pump—offers efficiency benefits in a variety of heavy equipment applications.
The pump is a 96 cc model capable of single or double (tandem) operation for a total output of 192 cc and designed for machines in the 20 ton range. Eric Bretey, Director – Digital Displacement at Danfoss, says the company is starting with this model and will then develop a portfolio of Digital Displacement pumps based on market requirements as determined by working with customers. Bretey says pumps that are three to four times larger than the one shown at bauma are planned, and Danfoss is qualifying the pump technology for up to 420 bar (6,091.6 psi).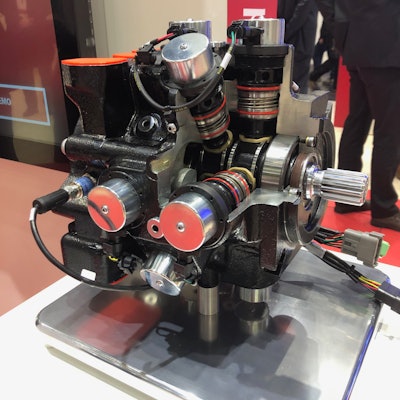 According to Bretey, the company has seen the potential in Digital Displacement since the 90s and has been making small investments in it over the years. In early 2017, after working with AIP for about 15 years on the technology, Danfoss felt it was ready to be commercialized and so decided to acquire majority shares of AIP and the Digital Displacement technology.
Since then the companies have brought together their teams of engineers to ready the technology for the marketplace. Bretey says there are members of both teams in Scotland as well as in Ames, IA, working with Danfoss' Integrated Solutions Group to apply the pump technology to various market applications.
Edinburgh will be established as the Center of Excellence for the Digital Displacement technology so as to be near the Artemis team that has been working on it for the past 20 years. It will also be the initial location for a manufacturing facility and business which are being built next door to the current Artemis location; the site includes room to grow, as well.
Why Digital Displacement?
A Digital Displacement pump is composed of high-speed solenoid valves and a microcontroller which triggers the valves to move as the shaft of the pump rotates, providing controllable hydraulic power at a high level of efficiency.
The brains of the pump are its electronic controller, says Bretey. With every shaft rotation it's deciding which valves on the pump to use based on the application or task being completed by the machine in which the pump is integrated. Standby losses are very low with the pump, he adds, while with other pumps such as axial piston pumps they are very high. This is due to the radial piston check valve design of the Digital Displacement pump.
The pump is controlled entirely by software—unlike traditional pumps which have at least some mechanical control—and is considered a natively digital technology because it is fully sensorized from the beginning. Software control makes it a more flexible technology as any change in control can be done with a simple software adjustment.
Bretey says it's a highly efficient technology in part due to the lack of friction within the pump. It also has a flat efficiency curve—its 95% efficient and remains so across the full range of displacements. This equates to improved fuel efficiency for diesel powered machines and good energy efficiency for battery-electric equipment.
Danfoss says off-road machine demonstrators equipped with a Digital Displacement pump have shown a fuel consumption reduction between 16 and 21% in a standard work cycle compared to an axial piston pump. Productivity of the machine was increased by 28%.
Currently construction, forestry, mining, material handling and electric-powered equipment applications are those Danfoss sees most benefiting from the use of Digital Displacement pumps. In addition, Bretey says there may be new market opportunities such as rail and high-performance testing. Read more about how Digital Displacement technology works in the article "The Next Chapter for Hydraulics."
Companies in this article