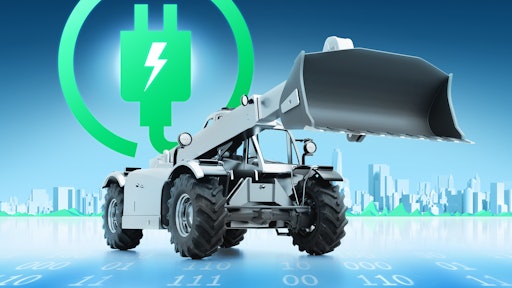 Bosch Rexroth
Electrification is finding its way into all types of equipment and systems, including fluid power systems. Adding electric components such as sensors to these systems as a means of helping improve efficiency and collect performance data is nothing new. This trend, as well as the development of new types of systems to meet the needs of electric and hybrid vehicles, will only increase in the coming years as electrification in the heavy equipment industries continues to grow.
New requirements regarding performance, cost, emissions legislations and efficiency are pushing OEMs to further develop their vehicles and evaluate electrified solutions, say Federico Perelli and Thomas Krumrey, Application Engineers for Electrification Mobile Machinery at Bosch Rexroth AG. As such, there will need to be a modification of current hydraulic systems for the implementation of electric solutions.
"The push for electrification does not mean the eventual replacement of hydraulics with electric motors will occur," they say. "Instead, the industry will work toward ways to integrate electrics into off-highway platforms in the most effective ways possible, and to make maximum use of the power density and efficiency provided by hydraulics technology."
While a fixed displacement pump driven by a variable speed motor is a valuable and simple solution for precise control, Perelli and Krumrey say combining a variable displacement pump with electronic control, software and sensors enables advanced functions such as optimization of efficiency, dynamics and torque control.
"Hydraulic systems are extremely inefficient by their nature," says Mike Terzo, CEO & CTO, Terzo Power Systems. "We control the flow, pressure and direction with the pressure drop, and that pressure drop is lost energy. So, we literally have to sacrifice more and more energy to get more and more control."
He says that as an engineer, this was unacceptable to him and he wanted to address these inefficiencies. To do so would require reimagining the whole architecture of a fluid power system, which is what he set out to do with Terzo Power Systems.
The largest contributors to energy loss are hydraulic valves which create all the pressure drop in a system. However, Terzo says they are also "a key piece in controlling the fluid and doing everything we want to do with hydraulics." The company began researching further and found there is a lot more that can be done to improve hydraulic systems beyond replacing valves.
As such, the company has developed an electrohydraulic system known as HydraPulse which helps to improve performance and enable electrification of off-highway equipment.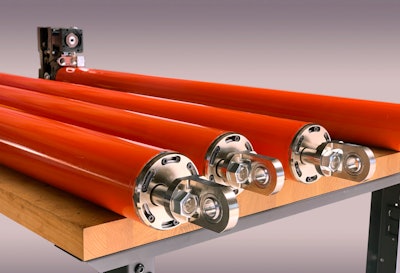 New technology looks to improve performance
Terzo Power Systems' HydraPulse technology is comprised of motor control electronics, which the company refers to as the inverter, integrated with a motor and the pumping work function. Those three fully integrated pieces allow a variety of different fluid power functions to be performed, says Terzo, whether it's directly powering an actuator or cylinder, or powering a standard valve bank.
He says a lot of integration work went into developing the system to meet the high-voltage needs of electric-powered equipment. In addition, many of the system's pieces were built from scratch to ensure performance and durability in off-highway equipment.
In addition to its hydraulics products, Bosch Rexroth has added a portfolio of high-voltage electric components—such as motor-generators, inverters and gearboxes—to enable the creation of electric vehicle architectures. These new products are designed to be combined with the company's hydraulic components, creating systems which can be used in a range of applications.
"Integration in the vehicle of new components, realization of new cooling circuitry, development of new system and control software and, furthermore, a new commissioning and validation process are just some of the challenges," OEMs will face when developing electric vehicles, say Perelli and Krumrey. "The key to reaching the right return on investment is the development of a platform based on a partner's modular solution portfolio."
By offering both hydraulic and electronic components which can be used with one another, Bosch Rexroth is able to customize a solution to an OEM's specific needs, and help ensure the right components are being used for the application.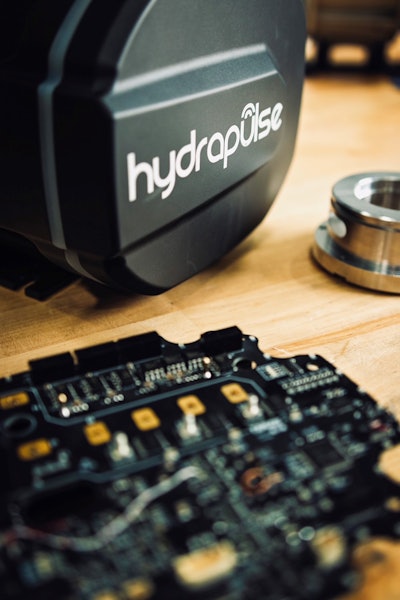 RISE Robotics purpose built its electric actuator technology, called the RISE Cylinder, to avoid the many challenges surrounding hydraulic systems. The company's goal is to collaborate with OEMs who want to electrify their machinery but are experiencing inadequate battery life. Arron Acosta, CEO, RISE Robotics, says hydraulic systems are often a significant part of the energy budget. "Obviating the hydraulic system with RISE technology reduces the power drain on the batteries by at least 50%," he says.
Unlike traditional hydraulic cylinders which are powered by compressed fluid, the RISE technology uses a belt on a pulley system for direct mechanical power transmission. "We route belts inside of our cylinders to achieve every functionality of a hydraulic system including pressure relief," explains Acosta. "We can go from motor to rod with direct, minimal power for the same amount of output that you would get from a hydraulic system.
"And then we can also go back from rod to motor through the belt system and run the motor in reverse like a generator to produce power," he says. So as a machine is lowering a load of material, this power generation capability can produce about 1 kW (1.34 hp) of power per 2 tons which can be used by the machine.
Because the RISE Cylinder requires less power than a hydraulic cylinder, a smaller battery can be used in a machine which helps bring down costs for an OEM, says Ken Gray, Vice President of Business Development, RISE Robotics. "This allows a system designer to shrink the batteries down into a manageable package that can actually fit into [a machine] that will really work on a jobsite," he says.
Gray also notes RISE Cylinders offer the benefit of providing both push and pull capabilities with equal strength as traditional hydraulic cylinders. "Hydraulics typically push on the piston side, and that's primarily the force actuation," he says. "There's some pull by pressurizing the rod side, but it's mostly push. RISE Cylinders can do both in equal amounts."
Because the RISE Cylinder can do both actions, it can replace the need for multiple components. Gray says in the future this could help further optimize construction and mining equipment. Using cylinders that can both push and pull "totally changes what we're able to do from a kinematic, dynamic point of view on the job site," he says.

The benefits of electrification
"Most of the industry has recognized that electrification is here and they're working on technological improvements," says Acosta. However, due to the size and power requirements of some heavier duty machinery the uptake remains slow.
With new technologies entering the market, there is the opportunity to speed up this transition. In addition, manufacturers can rethink the design of their components and systems, which can lead to new capabilities as well as a re-imagining of how equipment could look in the future.
Because the RISE Cylinder can provide both push and pull, Gray says its use in an excavator could enable increased penetration force which was not possible before with a traditional hydraulic system.
Acosta says the company is focused on using its cylinder technology to help make battery-electric machine performance equivalent to that of a diesel, or to cut in half fuel consumption of diesel-electric hybrids. This too will help speed up the industry's move toward further electrification and the benefits that can provide—both for the environment and end-use customers.
"I started everything with efficiency as the basis for electrification," says Terzo. "But what we also realized is there's so many other benefits from electrification of fluid power."
When efficiency is significantly improved the size and number of other components can be reduced. For instance, the oil reservoir can be downsized which also reduces the amount of oil needed, weight and cost. Terzo says they found about an 80-90% reduction in component count could be achieved. This helps to also reduce engineering requirements and improve system reliability. "If you have a smaller amount of components and connections, that reduces link and failure points so you can improve reliability.
"One of the really exciting things is it really allows us to start envisioning future digital solutions," he adds. Digitally controlling fluid flow and pressure enables IoT (Internet of Things) solutions as well as other advanced capabilities.
READ MORE: Intelligent Hydraulic Systems Enhance Machine Connectivity and Performance
"I see an extremely exciting and amazing future for electrification in off-highway and fluid power," says Terzo. Durability and reliability has often trumped new technology in the off-highway equipment industry and manufacturers have had to focus on creating machines that make financial sense for themselves and their customers. But the industry is changing now and having to shift to new business models—some of which has been aided by new technology developments like those for fluid power systems.
"We hope to significantly speed up the adoption for the OEMs and allow them to compete in this new, electrified landscape, this new mobility ecosystem which is here. There's no stopping it.
"We [as an industry] either need to look at how we get on board and really innovate and adopt, and find solutions for the end users, the OEMs, the regulators and the industry as a whole, or we're going to be left by the wayside," concludes Terzo.
Watch our video interview with Mike Terzo to learn more about the HydraPulse technology and current off-highway equipment electrification trends.
Companies in this article