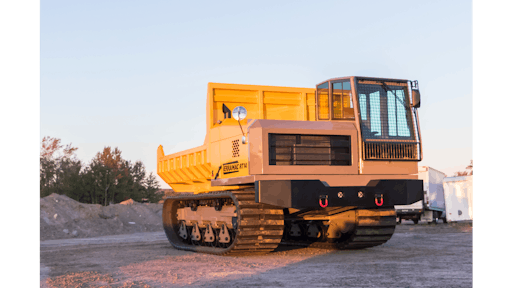 As fall has begun its descent on many parts of the U.S., so has the travel season for OEM. While we travel throughout the year to keep appraised of the various activities occurring in the industries we cover, there are certain times of the year that are busier with it than others, this fall being one of them.
Check out our Events page to stay up to date on the latest information on upcoming industry events.
Since the beginning of October, the OEM staff has been attending one industry event or another on an almost weekly basis. First on the docket was ICUEE 2015 in Louisville, KY, where a number of new products for the construction and utility industries was unveiled. Among them was Terramac's new RT14 rubber track crawler carrier, the company's largest machine to date. The crawler carrier is made entirely of premium components—such as Eaton pumps and a Parker Hannifin master display controller system—to ensure the quality and productivity of the machine.
Read more news and product announcements from ICUEE 2015:
Hirschmann PRS90 Wireless Multi-Sensor Indicator
Ditch Witch web-based HDD Advisor helps simplify tooling configuration
Case introduces Tier 4 Final compact track loaders with SCR technology
Grove and National Crane to be featured at ICUEE 2015
Next up was the HDMA Off-Highway Dialogue, held the day before the start of the SAE Commercial Vehicle Engineering Congress. Each year, the HDMA conference provides an overview of the current and future state of the economy and off-highway industries. One of the key points this year was the fact that economic growth will continue to be slow. Jeffrey Rosensweig, Director – Global Perspective Program at the Goizueta Business School of Emory University, said slow growth is the new normal and that Reagan-esque growth should no longer be expected. While the majority of the BRIC countries have not turned out to be the bright spots they once were—both Brazil and Russia have entered recessions, but are expected to start seeing slow growth again in 2017—Rosensweig said China is still seeing growth, particularly in the service industries and continues to lead the world in total exports.
However, India may soon outpace China both in exports and population growth. Rosensweig said the country's exports have been rapidly increasing and that within the next decade it will have the largest population in the world. The country is expected to continue seeing economic growth in 2016 and 2017, as well as Indonesia, Nigeria and Turkey. Nigeria in particular is seeing high population growth which Rosensweig said will be key to markets growing their economies. Spain and Italy are seeing population growth, as well he said, which could start benefitting the European economy. Also poised to offer potential benefits is the influx of Syrian refugees. Germany, Rosensweig said, could in particular benefit from taking in the refugees due to its lackluster population growth and the growing number of retirees leaving its workforce, therefore causing a need for younger workers to fill the void left by the retirees.
Agriculture will continue to be a down market for the next year or two. Dennis Huibregtse, Senior Vice President & Interim CEO at Power Systems Research, said long-term demand for agricultural equipment is assured as the world population continues to grow. However, unit demand will decline due to many developing countries immediately moving towards larger equipment; doing so enables them to 'do more with more' without having to invest in numerous pieces of equipment. He anticipates OEM production trends will go up in the next 2 years, though, in North America, South America and India. Huibregtse also noted that a bright spot for the industry is that OEMs are continuing to invest in R&D, and especially in technologies aimed at increasing productivity and efficiency.
Ann Duignan, Managing Director at J.P. Morgan Equity Research, noted that there is too much used equipment currently in the market which has contributed in part to the ag industry's downturn. She said many of the large OEMs could take a year, or even half a year off, from producing equipment in order to get back to normal production levels. Those companies which don't have as much used equipment in the market, or have a larger presence in countries other than the U.S. seem to be fairing somewhat better, she added. Eli Lustgarten, President of ESL Consultants and Senior Vice President of Longbow Securities, said the key to production in 2016 for agricultural OEMs will be reducing inventories and getting production near retail sales.
The rental market continues to be a strong element for the construction industry. As public and private construction keeps rising, so will the rental market, said Chuck Yengst, President of Yengst Associates Inc., a company which provides market research services. Total construction spending is expected to be up around 4% in 2015 and 2016, with U.S. GDP anticipated to grow 2.5% during both years. Yengst said rental will continue growing in the range of 23 billion by 2018. Additionally, North America will account for 60% of the market for rental equipment. However, at some point as construction spending continues increasing he believes there will be a shift back to contractors buying their own equipment again.
Read more about the growing rental market and how OEMs are developing products specifically for this market in the article Strong rental market drives equipment design.
This past week Michelle attended AUSA in Washington, D.C., giving her the opportunity to see what new technologies and vehicles will be available for military applications. Oshkosh was one of the many OEMs exhibiting at the show; the company introduced its new MRAP All-Terrain Vehicle (M-ATV) 6x6 and Advanced Driver Assist Systems aimed at helping military vehicles better maneuver across difficult terrain. Oshkosh also displayed its winning JLTV solution featuring the latest automotive technologies, the company's Core1080 crew protection system, and the Oshkosh TAK-4i intelligent independent suspension system.
You can read more about Oshkosh's JLTV technology, and other new military vehicle launches from the show in the upcoming November/December issue of OEM Off-Highway magazine.
Meanwhile, I was in Chicago for the CCEFP's Fluid Power Innovation & Research Conference (FPIRC). This event brings together students and professionals from the fluid power industry to discuss the latest trends and research occurring within the industry. Students and industry had the opportunity to present current research; a member of Eaton's Corporate Research and Technology Group presented on the company's development of an Energy Recovery System (ERS) for excavators. The system is designed to capture, store and reuse energy from movement of both the swing and the boom. Eaton's ERS includes a hydromechanical transformer in place of a swing motor typically used in other hydraulic hybrid systems.
During the conference, the CCEFP spoke about Project AMEX which aims to demonstrate the latest innovations in manufacturing. CCEFP, like many, believes additive manufacturing will be a disruptive technology for the fluid power industry, aiding the design and development of more complex technologies for a variety of applications beyond those in which it is used today. As such, Project AMEX will demonstrate the capabilities of additive manufacturing by displaying a 3D printed excavator at CONEXPO-CON/AGG 2017. By 3D printing an excavator, the project will show how large scale metal and composites additive manufacturing can be utilized. In addition to the CCEFP, project participants include the NFPA, Oak Ridge National Laboratory and AEM.
While in Chicago I also had the chance to stop by National Instruments' annual NIDay Chicago. Here the company holds training sessions on how to utilize its testing software and hardware technologies, present on the latest trends and applications within the engineering sector, as well as exhibit various software and testing services and technologies available on the market. During my time at NIDay, I had the opportunity to tour the Michigan Tech Mobile Lab. The lab provides professional training courses to engineers; by mobilizing the lab, it can travel to a company to train its engineers on site, instead of the company having to send employees on the road. One of the key benefits of the mobile lab is that it includes hands-on training in conjunction with classroom presentations. The mobile lab consists of two trailers—one of which has a small classroom and two built-in engine test cells for training, while the second hauls vehicles equipped with test equipment which are used at a customer's site for additional hands-on training.
Though on a travel break this week, OEM will be hitting the road again very soon, with the Integer Emissions Summit USA and Agritechnica in Hanover, Germany on the docket in the coming weeks. Next year will be busy with travel, as well, with bauma and MINExpo 2016 among those on the schedule.
What industry events will you be attending in the coming months/year? Are there any you're especially looking forward to?
Companies in this article