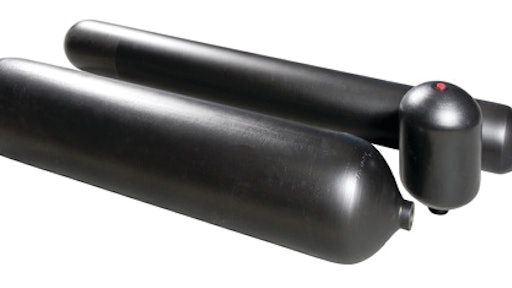 Parker Hannifin Corporation announces the introduction of a one-piece formed steel auxiliary gas bottle design in standard sizes from 2.5- to 50-gallons.
Features standard machined port in place of traditional modular port assembly to provide simple and reliable, gas-tight threaded connection, with reduced potential leak paths
Includes single standard machined No. 5 SAE O-ring port that can be used to install a plug or gas valve
Standard No. 24 SAE threaded O-ring port also provided to connect gas bottle to accumulator system
ASME certified and "U" stamped
Designed as cost-effective alternative to Bladder and Piston style gas bottles
Sizes will include 2.5-, 5-, 10-, 15- and 20-gallon gas bottles with 9-in. O.D. and 25-, 30-, 40-, 45- and 50-gallon gas bottles with 14-in. O.D.
Request More Information
Fill out the form below to request more information about
One-Piece Formed Steel Auxiliary Gas Bottle