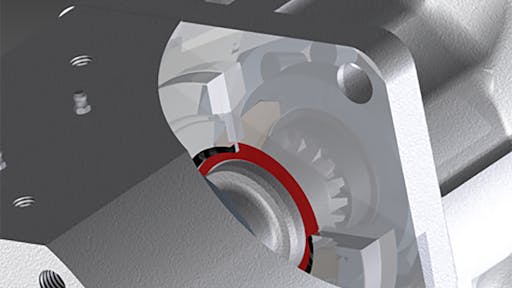 Zero-Max Overhung Load Adaptors protect shaft seals in hydraulic systems.
Provides intermediate mounting platform between a motor and pump to absorb both internal and external stress conditions in hydraulic system
Delivers extra layer of protection to hydraulic actuated functions
Prevents shaft seal breakdown, a condition often unseen until system damage occurs
Eliminates need to replaced damaged shaft seals which is laborious and costly because multiple hydraulic components usually must be disconnected to get at the seal failure
Speed range of up to 4,500 rpm to ensure hydraulic motor delivers smooth rotation
Designed for either face or foot mounting
Standard versions are available in over 50 models with input bore sizes ranging from 5/8 to 3-1/2 in. (1.6-8.9 cm)
SAE mounts available include A, B, C, D, E and F with two- or four-bolt mounting flanges
Available with many shaft variations including splined, threaded, tapered and extended output shafts, all now available with the special Zero-Max corrosion protection process
Special input bores, housing modifications and non-SAE mount housing are also available
Corrosion protection shaft option among the over 1,300 custom designs available to meet specific system requirements
Customized versions include custom inverted bearing designs and multiple lubrication ports that increase load capacity, bearing life and smooth system performance
Manufactured to ISO 9001:2015 quality standards
Ruggedly built with shafts precision machined from high quality 130,000 psi (8963.2 bar) stress-proof steel
*Editor's note: this product information was originally published in April 2016 and updated with new information in January 2020. 
Request More Information
Fill out the form below to request more information about
Zero-Max Overhung Load Adaptors