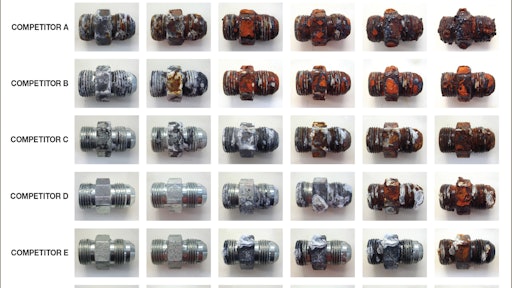 Parker Hannifin Corporation, the global leader in motion and control technologies, has now enhanced its trusted tube fittings and adapters with ToughShield (TS1000) plating, which keeps fittings rust free up to 1,000 hours, according to ASTM B117 neutral salt spray tests. Featured at The Work Truck Show 2017, this superior coating is the result of years of investment in metallurgical and surface analysis capabilities. Longer corrosion resistance results in financial savings for vocational trucks that are exposed to harsh environments where stainless steel fittings were once the only solution.
"Our latest advancement in high corrosion resistance plating comes from two main components: dedicated efforts and robust chemistry and processes," says Parker Tube Fitting Division Technology Development Leader Dr. Dawn Zhu. "These two elements keep us on the cutting edge. It will take our competition years to catch up to where we are today."
Parker's TS1000 plating retains torque values, coefficients of friction, pressure ratings, color and other critical specifications important to customers, while improving fitting corrosion-resistance in harsh conditions. Parker's differentiation is robust plating chemicals and processes that truly outperform other fitting manufacturers.
Parker TS1000 also fights against additional critical issues that can lead to loss of time and revenue in mobile and industrial applications, including:
System contamination

Potential leaks

Fitting connection problems

Aesthetic quality concerns