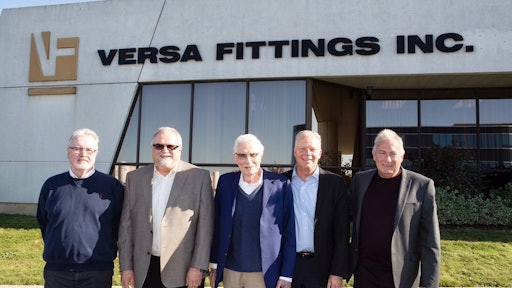 Brennan Industries Inc. announces the acquisition of Versa Fittings Inc., a leading manufacturer and distributor of fittings and tubing in Canada.
The acquisition will increase Brennan's distribution and manufacturing footprint in North America, while providing new market exposure for both Brennan and Versa product lines. This positions the company to further grow its market share throughout the U.S. and Canada.
Merging the complimentary product lines from both companies will result in an increase in offering to over 50K products, covering categories including: Aerospace, Hydraulic, Instrumentation, Push-to-connect, Gas, Plumbing, Clamps, Valves, and Accessories. This represents an increase of offering to over 25%.
"This acquisition represents a significant step forward for Brennan, Versa and our customers," says Dave Carr, Brennan President. "Versa's expertise in the Canadian market plus Brennan's U.S. strength and product breadth makes for a powerful combination. Together we'll be able to bring a larger range of products to our customers more quickly and easily than ever. I am very pleased to welcome Versa into the Brennan family."
"Versa is proud to become a part of Brennan's success," says Don Martin, General Manager of Versa. "We have always valued our customers and strived to serve them well. This move will enable us to serve them even better in the future, with an increased product line as well as additional manufacturing capabilities. I am excited about the opportunities for growth ahead and what they mean for everyone at Versa, as well as for our customers."