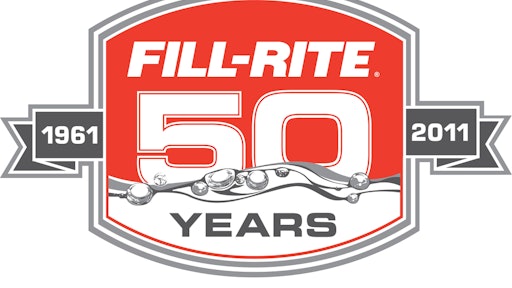 Tuthill Transfer Systems (TTS), a division of Tuthill Corporation, commemorates the 50th Anniversary of the Fill-Rite branded fuel transfer product line. With an origin dating back to the 1961 purchase of the Ossian Engineering Company, Fill-Rite is known around the world as the "Red Fuel Pump." The Fill-Rite brand continues its legacy of providing rugged, high performance, fuel, oil, and chemical transfer pumps and a comprehensive line of mechanical and digital meters, precision weights and measures certified meters, and a full line of hand pumps, hoses, nozzles and accessories. Fill-Rite continues to be a respected leader in the design, development and manufacturing of products to keep the fluids industry flowing.
Designed and manufactured in Fort Wayne, IN, Fill-Rite products are sold primarily in the petroleum jobber, catalog, off-road, and retail channels of distribution. A full engineering staff, including fluid dynamic scientists, enables TTS to maintain its world-wide leadership position by constantly improving its core line, developing new technologies that are compatible with legacy products. "It is this long-term, stable commitment to design and manufacturing in the U.S. that enables us to continue to expand our markets," states Jeanice Croy, President of TTS. "We expect to see continue growth for the next 50 years through innovative new product offerings which opens new sales channel opportunities; including expansion of our international markets."
To assure continued market superiority, TTS heavily invests to insure its products exceed stringent industry certifications, both domestically and internationally. Chris Mowery, Vice President of Engineering and Marketing notes, "We are talking about the transfer of highly volatile and flammable fuels; it is no small task to obtain UL and specific in-country certifications for the pumps, meters and accessory lines we carry. We pride ourselves on our commitment to making the absolute safest and best performing product in the marketplace."
The markets for fuel transfer products are ever expanding. With the price of fuels continuing to increase, construction on the rise, and more farming land being brought on-line, there is an increased demand for products to better monitor fuels and its usage.  
To coincide with the 50th Anniversary, TTS is planning a re-launch of its Fill-Rite Precision Meters product line which offers highly accurate weights and measures compatible metering systems for a wide range of fuels, liquids, oils, LPG, and chemicals. Manufactured in aluminum and stainless steel with 1/4 in. to 3 in. NPT, BSPP, and ANSI connections and flow rates from .03 to 250 GPM; the Fill-Rite Precision meter line offers compatibility for a wide range of applications suited for the industrial, commercial, refinery, agriculture, chemical processing, and energy monitoring usage markets.