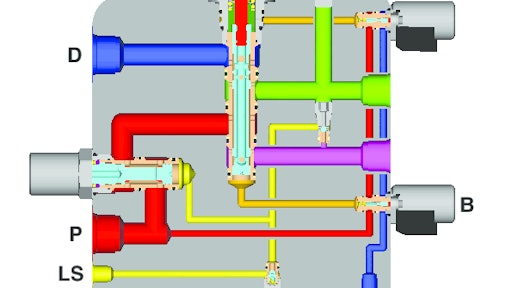 HydraForce has taken the guesswork out of specifying the most common hydraulic control schemes by providing engineered circuits featuring optimal flow and directional control valve combinations. Called INTEGR8, the aim of these circuit configurations is to save engineering time and take some of the guesswork out of specifying the most common hydraulic control schemes. This new engineered solutions package features more than 40 directional and flow control options that are easily integrated into a hydraulic circuit using i-Design 4.0 custom manifold design software. INTEGR8 offers eight advantages to the hydraulic market: innovation, system efficiency, serviceability, customizable, flexible, durable, optimal performance, and leakage prevention.
Each option consists of optimally paired hydraulic cartridge valves packaged in a common hydraulic control scheme. The valves are compatibly sized and configured to handle several ranges of hydraulic flow rates and operating pressures. These common control schemes are suitable for application on a large range of machinery including wheel loaders, telehandlers, excavators, material handling equipment, agricultural and harvesting equipment, industrial equipment, forestry equipment and other off-highway mobile machinery.
Each option is depicted with ISO graphic symbols in a hydraulic schematic that can be dragged and dropped to start a control circuit diagram in i-Design 4.0 manifold design software. This built-in library of INTEGR8 schematics accelerates the design engineering process.
Flow control options include direct-acting, normally closed and normally open control schemes in flow ranges from 10 to 22 lpm (3 to 6 gpm); 37 to 70 lpm (10 to 18 gpm) and 55 to 106 lpm (14 to 28 gpm). Operating pressures range from 207 bar (3000 psi) to 241 bar (3500 psi).
Directional control options include a choice of direct-acting or pilot-operated controls for operating pressures up to 240 bar (3500 psi). Direct-acting options are available in flow ranges from 11 to 21 lpm (3 to 6 gpm). Pilot-operated options are offered in flow ranges from 32 to 83 lpm (8 to 22 gpm).
"The INTEGR8 line is a natural extension of our hydraulic cartridge valve electro-hydraulic control business," explains Tony Casale, Vice President of Worldwide Marketing for HydraForce. "We realize that when you have more than 7,000 standard valve configurations to choose from, understanding how the individual components work together to create a hydraulic control scheme can be challenging. To make it easier, we have integrated optimum valve combinations into a convenient line of engineered hydraulic schematics that display the combined circuit performance data and can be used in i-Design, our custom manifold design software. It's the fastest way to arrive at efficient, reliable hydraulic control."
When using the INTEGR8 configurations as a starting point, hydraulic systems can be customized with additional function control features, all within a machine-specific, customer-specified housing construction. Performance can be designed to incorporate a variety of features, including flow-sharing, compensation, pre-compensation, port pressure protection and more.
In keeping with the HydraForce philosophy of performance testing, each INTEGR8 control option has been fully tested to verify functionality and each cartridge valve carries a five-year warranty.