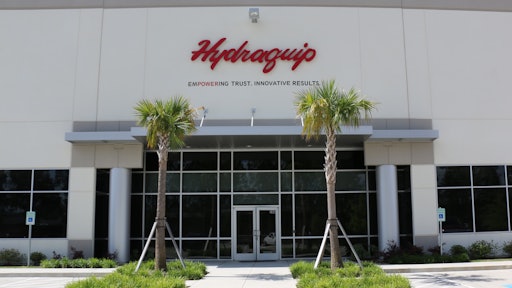 Employee Owned Holdings, Inc. (EOHI) is expanding its footprint in Houston with a 98,000 sq.-ft. campus located off the Hardy Toll Rd. near George Bush Intercontinental (IAH) airport. The Hydraquip Innovation Campus serves as the new home for two of EOHI's subsidiary companies: the Houston headquarters for Hydraquip, Inc. as well as an expansion for Hydraquip Custom Systems Inc. (HCSI), Mechatronics and Valve Automation operations.
The new campus gives Hydraquip Power Solutions additional production capacity and enhanced warehouse technology to more quickly respond to customer needs and assemble innovative fluid power solutions to enhance customer's equipment. The 83,000 sq.-ft. space increases ability to bring value to customers through: Danfoss proportional valve build center, Durst pump drive build center, custom sub-assemblies and customer specified paint. It will also allow for more efficient operations for the Hydraquip Hose & Couplings division to complement its high production hose build center in North Texas.
The HCSI Mechatronics department is a fast growing team focused on automation technology. Their custom software solutions and panel assembly complement hydraulic, pneumatic and electric systems to enhance the efficiency of customers' equipment. Relocating from HCSI's headquarters on Cutten Rd. in Houston, HCSI Mechatronics now has over 16,000 sq.-ft. to house a state-of-the-art climate controlled mechatronics lab along with additional office space that it shares with HCSI Valve Automation, a division providing valve solutions focused on the marine and oil & gas markets.
"This new campus represents our commitment to serving customers in the Houston area and marks the beginning of a compelling expansion to provide additional value to customers worldwide," says Richard Neels, President and CEO of EOHI. "The additional space allows us to optimize warehouse operations as well as provide current & future employees space to collaborate with vendors and customers. As an employee owned company (ESOP), every employee is invested in the success of our customers and the company."