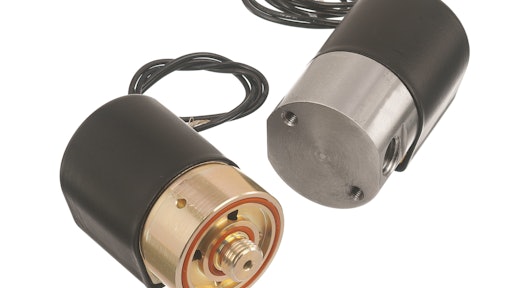 Gems Sensors & Controls, a leading industry supplier of liquid level, pressure and flow sensors, as well as fluid control devices, announces the launch of "Next Day Valves." 
Beginning on Monday, March 2, Gems customers can select from more than 3,000 of the company's most popular solenoid valve configurations, all with 24-hour shipment. Featured product families include:
A Series General Purpose Solenoid Valves - Gems A Series miniature solenoid valves offer high-reliability flow control over a CV range of 0.019 to 0.300, with a maximum operating pressure differential (MOPD) of 1,000 psi (69 bar). Models are available with choice of either stainless steel or brass to meet a variety of requirements. Stainless steel versions are offered for added corrosion resistance within medical, oil and gas, laboratory and food processing equipment applications. Brass housings are commonly specified for industrial, automotive and water transfer systems.
B Series Direct Acting Solenoid Valves - The Gems B Series is a family of 2-way and 3-way direct acting solenoid valves, designed for reliable flow control over a CV range of 0.018 to 0.430. Their MOPD is 400 psi (28 bar). The robust design and expanded range of the B Series makes them a reliable choice for 3D and commercial printing, HVAC, semiconductor manufacturing and medical equipment applications.
D Series General Purpose Solenoid Valves - Designed for maximum flow control within the smallest available package size, Gems D Series valves operate over a CV range of 0.045 to 0.880, with MOPD of 900 psi (62 bar). With their exceptionally high performance-for-size ratio, the D Series is widely specified for manifold configurations, subassemblies and complete fluid systems. They are also popular choices for the effective support of agricultural, defense, laboratory sterilization equipment and industrial automation applications.
The robust design of Gems solenoid valves effectively supports a variety of liquid, gas and vacuum flow control requirements over millions of cycles. The valves feature a bubble tight plunger construction and numerous available standard and custom configurations, including body materials and ports, orifice sizes, seal materials, coil wattages and constructions. Gems also offers full in-house capabilities for custom OEM volume valve design and manufacturing; subassembly manufacturing; and complete manifold design, manufacturing and integration.