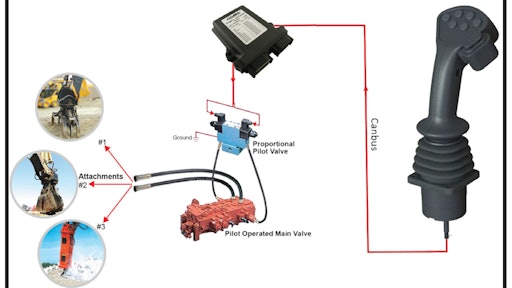 Bailey International (Bailey), a leading mobile hydraulic components manufacturer and hydraulic systems provider, announces that the company has signed a strategic partnership agreement with Axiomatic Technologies Corporation. The partnership with Axiomatic, a global electronic controls designer and manufacturer, allows Bailey to expand its offering of complete hydraulic control solutions.
"We are very happy to announce this partnership," says Ken Baker, Bailey's Chief Executive Officer. "Having a world-class, global supplier for electronic controllers and power management that can complement Bailey's strong hydraulic and joystick control offering is fantastic."
"Adding the Axiomatic products to our offering of end-effectors and controls will continue to move both companies into the future of our industry, which is end-to-end electro-hydraulic controls systems that are easy to use and provide a new level of automation," says David Hinkle, Bailey's Director of Engineering.
Axiomatic products include an extensive range of rugged machine controllers with multiple input and output signal capabilities and connection protocols, including CAN, SAE J1939, SAE J1587, MilCAN, LIN, Modbus RTU, Ethernet, NFC, and Bluetooth. Axiomatic also offers power converters that protect electrical equipment and sensors to monitor machine position for heavy equipment operators.
"We're always looking forward, staying up-to-date with the latest technologies and actively expanding our customer base," says Greville Hampson, President of Axiomatic. Partnering with Bailey is a great step forward for our company and the industry."
Companies in this article