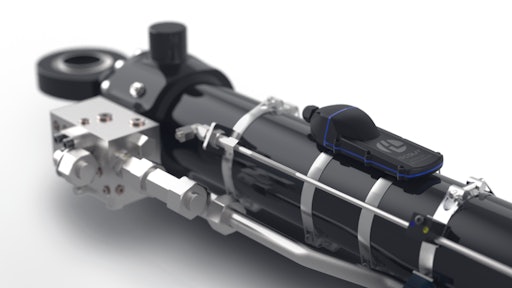 Hydroline Oy, the Finnish hydraulic cylinder manufacturer, launches LEO (Lifecycle Efficiency Online), the newest R&D development on predictive maintenance technology for hydraulic cylinders. LEO's proprietary algorithm analyzes lifecycle data coming straight from the hydraulic cylinder's working environment, obtained by strategically located built-in sensors. The IoT-system has been developed by Hydroline and patents are pending.
Predictability and visibility ensure that all hydraulic equipment are maintained and repaired before an unexpected failure, saving time and money. By predicting, maintaining and working without interruptions, the machine operator will be able to increase the machine's lifecycle and dedicate more time on getting the job done. "According to our research, the downtime of a mining machine can cause up to 50,000 euro expenses per hour. With LEO, we can eliminate the unpredictable interruptions, caused by cylinder failures, almost completely and maintain the cylinders on time. This increases the process productivity and safety remarkably. Therefore, the savings potential is enormous," explains Manu Leinonen, VP Design and R&D from Hydroline
All LEO's data is gathered from one or more cylinders and from a single or multiple machines, it can be automatically uploaded to the cloud, and is always safe and accessible online via a web portal or directly via the mobile app. LEO technology includes a Predictive Maintenance module that can be installed to the cylinder when it is manufactured or added later to any of the already used hydraulic cylinders. Alternatively, the LEO Software can be integrated straight into the customer's own control system.
The company will exhibit LEO and its other hydraulic solutions during bauma 2019.