Hidromek

HİDROMEK will exhibit its products at Nordbau 2020 Fair that will be held in Neumunster, Germany, September 9-12.  
NordBau Fair is one of the biggest fairs bringing together the construction industry in Northern Europe. Last year, 836 exhibitors from 13 countries participated to the fair that had about 62,600 visitors. 
HİDROMEK will display hydraulic excavators belonging to its new H4 Series, HMK 640 WL wheel loader together with HMK 62 SS mini backhoe loader and HMK 102 B ALPHA backhoe loader at the fair.  
HİDROMEK aims to strengthen its place in the global industry by expanding dealer network and product range while increasing production. Combining its 42 years of production experience in the sector with its design and R&D power, HİDROMEK has more than 45 thousand machines operating in more than 100 countries on six continents.
H4 SERIES OFFER POWERFUL PERFORMANCE
Offering high performance, HİDROMEK's new H4 Series excavators stand out with their operating speed. By changing the diameter of hydraulic cylinders, tubes and bars, the working speed of H4 Series has been increased. The power boost and the maximum hydraulic system pressure have been improved to reach out the required power as well. These improvements have led to produce faster, more productive and more efficient machines. Earning is more now than ever with H4 Series, which produces more work with less fuel.
During the design process with the aim of rendering the use of the machine easier for the operator, H4 Series has an electronic system with an increased capacity facilitating to find out the condition of the machine and its integration with additional equipment. H4 cabins are designed and built to offer maximum safety and durability under ROPS and FOPS standards. The red handles and warning labels on the new series of the machines are designed to increase the operator's safety to the highest level. H4 Series giving particular importance to work safety enhance great visibility by reducing blind spots to minimum with the right side and rear cameras. In addition, due to optional LED headlamps on H4 Series excavators, night vision capacity is significantly improved.
HİDROMEK will exhibit HMK 150 WR, HMK 210 W, HMK 220 W wheel excavators and HMK 145 LCSR, HMK 230 LC, HMK 310 NLC, HMK 390 NLC crawler excavators belonging to the H4 Series.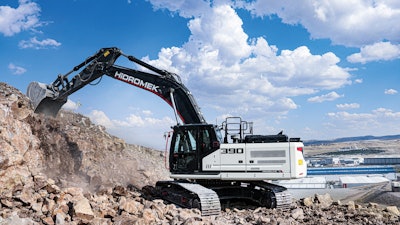 MORE LOAD IN SHORT TIME WITH HMK 640 WL
The HMK 640 WL wheel loader, which has 26.3 tons operating weight and 4.2 m3 bucket capacity, with its Mercedes engine having 324 hp and 1,600 Nm torque provides its user with high loading capacity at low fuel consumption in a short cycle time. HMK 640 WL heavy-duty loader provides high breakout force and excellent control capability. It offers durability and efficiency for many years with its axles and components specifically used for high demanding working conditions. With its ergonomic operator cabin with ROPS/FOPS certificates, comfort and high security are prioritize. Furthermore, it provides easy serviceability with its 35 degree tilting cabin feature. The HMK 640 WL wheel loader, which has won international design awards such as Red Dot Best of the Best Award, German Design Award, Good Design and Automotive Brand Contest, is frequently used in mining and quarry operations, concrete plants and industrial applications.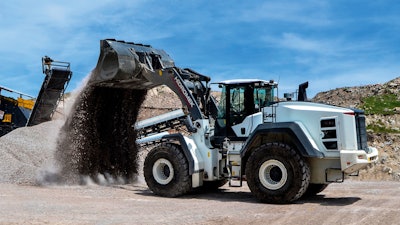 COMFORTABLE WORKING WITH HİDROMEK BACKHOE LOADERS
HİDROMEK will also exhibit HMK 102B ALPHA backhoe loader and HMK 6S SS mini backhoe loader. In the HMK 102B ALPHA, heavy-duty axles are used in order to increase both load carrying power and durability. ALPHA Series, which has a wide rear view angle, offers a comfortable working environment to its users during hard and long shifts.
HMK 62 SS mini backhoe loader provides versatile usage with its compact dimensions and different attachments. Thanks to its ability rotate 360 degrees around its own axis, loading is easier. The machine sets its difference especially in urban and agricultural applications.