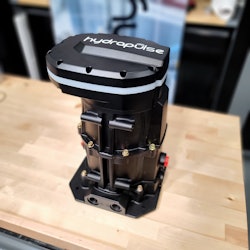 Terzo Power Systems
Terzo Power Systems—a leader in the development and design of electrohydraulic pump systems designed for on- and off-highway mobile vehicles and industrial applications—has partnered with the manufacturing services of QCC in the launch and long-term production of the Hydrapulse. 
Terzo Power Systems creates compact and energy efficient smart hydraulic solutions for the electrification of fluid power. Its leading product, the Hydrapulse, is a complete electro-hydraulic system that is a fully integrated power-on-demand hydraulic power unit with built-in intelligence. The energy efficient system, with an electronically controlled motor and pump assembly, are all contained in a small, compact footprint, making it the new leader in hydraulic performance.
"With the design and development of the Hydrapulse we are re-writing the benchmarks for performance, functionality, size and cost," says Mike Terzo, CEO of Terzo Power Systems. "This is not a traditional hydraulic system but a fully integrated product with unlimited applications and true performance capabilities. We needed a manufacturing partner that had the experience and expertise needed to support our growth and our vision for this product. QCC will be instrumental in our disruption of the fluid power industry."
QCC, an Illinois-based manufacturing services provider, specializes in precision machining, assembly and testing of complete products, and mechanical components. With almost 70 years of experience manufacturing components and products for hydraulics, commercial vehicle, and aerospace industries, QCC has the manufacturing capabilities necessary for the production of Hydrapulse products.
QCC President and CEO Jon Goreham says, "QCC's mission is to offer complex manufacturing solutions from Launch to Legacy, in order to help our customers accelerate their growth and enhance their customer's experience. We are very excited to engage with Terzo Power Systems in the launch and long-term production of their Hydrapulse products. We believe that Hydrapulse offers Original Equipment Manufacturers a compelling electrification technology."
The Hydrapulse comes in three standard sizes, customizable for OEM and higher volume applications.