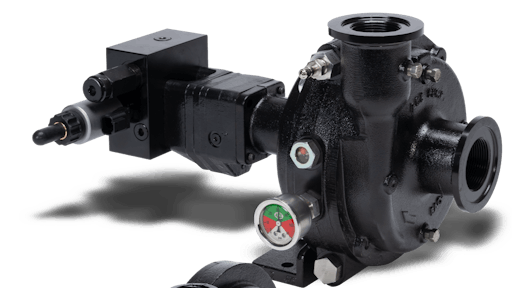 Ace Pump Corporation
Centrifugal pumps used in off-highway applications, including construction, agriculture and many other industrial markets require certain capabilities for safe and efficient operation. They need to be rugged and reliable. Each pump should be designed for performance, outfitted with the highest quality components, and guaranteed to save an end user time in the field. When selecting a pump for these applications, an original equipment manufacturer must satisfy performance requirements and help end users minimize downtime.
Hazards of Off-Highway Operation
Abrasive materials are present in many demanding off-highway applications. Another risk is the threat of running down to a dry tank. Other applications may not have an adequate hydraulic oil supply to power a centrifugal pump.
Some centrifugal pumps takes a modular approach to these challenges, with the ability to mix and match features and systems to provide the specific centrifugal pump configuration needed for the application. It starts with a common frame onto which impellers, volutes, seals, pump shafts or hydraulic motors can be added. The ability to mix and match allows for seamless upgrades to satisfy ever-changing performance needs.
Materials and Components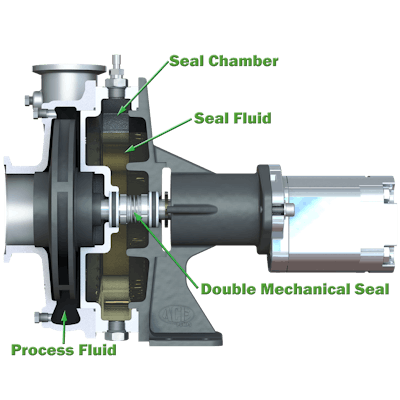 Centrifugal pumps constructed of durable cast iron and a standard coating provide chemical resistance. Additionally, some stainless-steel configurations are available.
For these applications, a pump is often driven by high-efficiency, gear-driven hydraulic motors producing performance up to maximum pressures of 130 psi (9 bar) and a maximum flowrate of 260 gallons per minute (984 liters per minute). In operations that require variable flowrates, pulse-width-modulation options allow for high precision application. If a sufficient hydraulic supply is not available, centrifugal pumps can also be belt-driven.
To ensure the ability to withstand abrasive materials, silicon carbide seals are standardly used to keep pumps operating and to provide approximately 3 minutes of run-dry protection. Another option for indefinite run-dry seal protection is available with a wet seal. Most mechanical seals rely on a thin layer of process fluid to cool and lubricate the seal faces. This becomes a problem when the process tank is empty or the fluid causes bonding between the seal faces. A pump with a wet seal circumvents these problems with its seal isolation technology.
The wet seal works through three fundamental features:
The seal chamber has a higher pressure than the pump cavity
The barrier fluid selection in the chamber
Visibility, allowing the user to visually inspect the chamber's fluid level and condition
A wet seal uses a pressurized seal chamber that ensures a fluid film between the seal faces, maintaining constant lubrication, preventing seal wear and reducing the chance of seal failure, which leads to down time. In conjunction with the lubrication pressure, a quality lubricant fluid must be used. Many other wet seals use automotive antifreeze as the barrier fluid, which can dry and crystalize between the faces causing failures and requiring maintenance.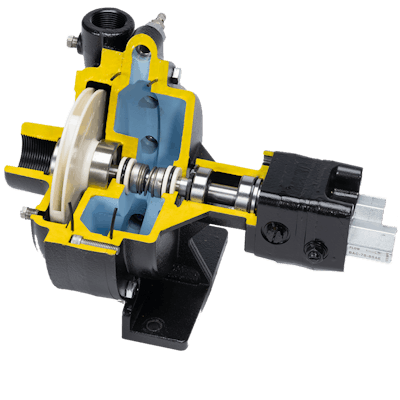 A quality synthetic lubricant that is developed specifically for seal lubrication is recommended. These barrier fluids should be cleaned to ISO 4406 14/13/11 cleanliness code, which makes it 250 times cleaner than new oils. A barrier fluid like this prevents the possibility of process fluid contamination on the seal face, eliminating another possible failure point in the field.
A final recommended feature for a wet seal is high-visibility monitoring gauges. The sight gauge allows the end user to view the barrier fluid level and see if any contamination has entered the chamber. Contamination can occur if pressure is lost in the seal chamber. Pressure losses can be monitored and prevented via the pressure gauge mounted directly below the sight gauge for quick verification prior to operation.
Keys to Optimal Operation
A modular approach to designing the pumps and the wet seal ensures durability in harsh conditions. These features help end users minimizing required maintenance and reducing downtime. The added benefit of pulse-width-modulation control of the hydraulic drive motors provides further precision needed in the ever-changing jobsite. These features can help off-highway equipment operate successfully and extend the assets' lives.
Andrew Randle is product engineer for Ace Pump Corporation.