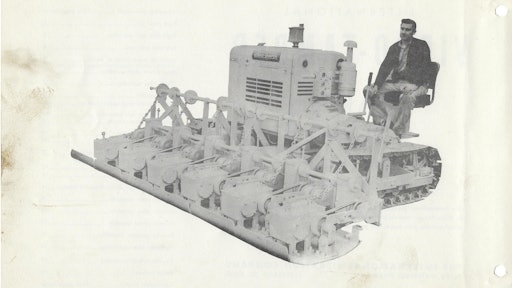 The International Vibration Company service manual, n. d., HCEA Archives
Compaction in a narrow or confined area posed problems for contractors. Larger machines couldn't access these areas, early rammers were cumbersome, and pneumatic backfill tampers were suitable only for earthwork and required an air compressor. Besides, rammers and backfill tampers compacted by sheer impact, and both were handheld.
Circa the 1930s, Jackson Vibrator Company of Ludington, MI, had developed an electrically-powered motor for use with concrete vibrators. These vibrators were used to consolidate concrete, either as a single hand-held tool or adapted to a tube finisher for concrete pavement. At some point by or during the 1950s, a new use for this technology emerged – the plate compactor.
The plate compactor operated by means of high-frequency vibratory force being imparted to a flat plate upon which the machine glides on the surface being compacted. Jackson offered them either as single or tandem plates powered by electric motors derived from their concrete vibrators, or as a single plate with a gas engine, similar to today's compactors. The electric compactor was simplicity itself, with the motor shaft being the only moving part. Jackson recommended using its trailer-mounted gas gen sets to provide the electricity and using the engine's governor to control the vibratory frequency at the plate.
But Jackson, along with the Construction Equipment Division of Baldwin-Lima-Hamilton and The International Vibration Company, took the idea well beyond what we see today. In the 1950s and early 1960s, each of these companies produced a line of self-propelled plate compactors. The common thread in their design was deployment of a row of plates across the width of the machine to produce a smooth finish and controlled compaction force, but each went about it in its own way.
Jackson offered the most extensive line, a series of models on rubber tires with the plates out in front. They also had one model on a single axle that was pushed by a wheel tractor. The plates were powered by an on-board gen set.
At a quick glance, the Lima Roadpacker resembled a small motor grader, with a row of plates where the moldboard would have been. Unlike Jackson's design, each of the Roadpacker's plates was powered by a hydraulic motor. Lima also offered a Super Roadpacker with two rows of plates. Jackson and Lima both offered side extensions for extra width, and widener attachments to compact shoulder subbase from the adjacent pavement.
International Vibration's Vibro-Tamper, like Jackson's machines, had the plates out front; and like Lima's, the plates were hydraulically powered. But, unlike the others, it traveled on crawlers. A chain windlass raised and lowered the plates. Vibro-Tampers were also offered in the early 1960s as an attachment for Clark Michigan wheel loaders, either mounted in place of the bucket or towed behind the loaders.
Self-propelled plate compactors were rendered obsolete by the mid 1960s by the market acceptance of vibratory drum compactors. But walk-behind and backhoe-mounted plate compactors are widely used today.
The Historical Construction Equipment Association (HCEA) is a 501(c)3 non-profit organization dedicated to preserving the history of the construction, dredging and surface mining equipment industries. With approximately 4,000 members in 25 countries, activities include publication of a quarterly educational magazine, Equipment Echoes; operation of National Construction Equipment Museum and archives in Bowling Green, OH; and hosting an annual working exhibition of restored construction equipment. The 2019 show will be September 13-15 at the Museum in Bowling Green.
Individual memberships within the USA and Canada are $35 for 1 year, $65.95 for 2 years and $99.95 for 3 years, and $55.00 U.S. elsewhere. HCEA seeks to develop relationships in the equipment manufacturing industry, and offers a college scholarship for engineering and construction management students. Information is available at www.hcea.net, or by calling 419-352-5616 or e-mailing info@hcea.net.
Companies in this article