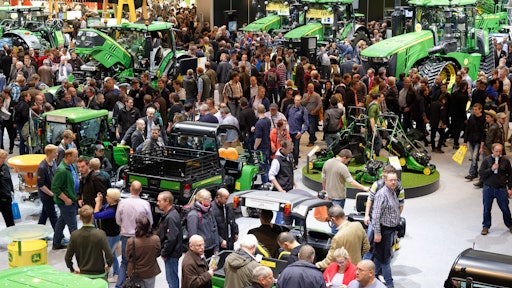 Although the agricultural industry is not known currently for its strength and equipment sales, Agritechnica 2015 (event information, 10265518) showcased that it certainly is not without innovation. Around 450,000 attendees crowded the show floor filled with over 2,900 exhibitors.
Participation by international exhibitors was 56%, a 7% increase from 2013 numbers. The largest contingents of the altogether 1,627 companies from outside Germany come from Italy (399 companies), the Netherlands (133), Turkey (112), France (103), and China (100).
DLG (Deutsche Landwirtschafts-Gesellschaft, the German Agricultural Society) sees the growth in international exhibitors as an indication that manufacturers are increasingly using Agritechnica to gain access to markets around the world.
Digitization and electronics are top of mind
According to the results of an exhibitor survey conducted by the VDMA's (Verband Deutscher Maschinen- und Anlagenbau, the German Engineering Federation) Agricultural Machinery Assn., for more than 40% of equipment owners and operators, digital products and services have become a critical factor in purchasing decisions.
Over 300 innovations were submitted to DLG by Agritechnica exhibitors, many of which were new developments in electronics and sensors, demonstrating the industry's dedication to advanced technology solutions and the goals they help reach including, making processes more precise, efficient, environmentally friendly and cost-effective. It is with these smart systems and solutions that the global challenges of producing clean energy and feeding a growing world population can be effectively addressed.
For example, the trend toward automating processes in crop production is progressing in conjunction with the development of intelligent software in order to meet growing requirements made of documentation, quality assurance, traceability and logistics, fleet management and machine monitoring to minimize downtime and repair costs.
"The resourcefulness of our farmers is challenged every day," said DLG President Carl-Albrecht Bartmer in his keynote speech at Agritechnica 2015. "In fact, they need tools that help them make sound decisions and which automate specific processes. [This is] what technology is indeed offering today: sensor-based data collection, GPS positioning and the use of electronic control systems for unprecedented precision farming have all become a reality.
Click here to see more news and products from Agritechnica 2015