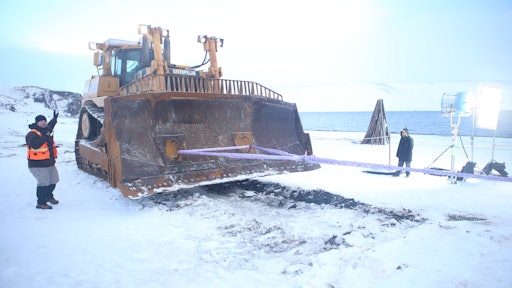 Unless you've been living under a rock, you've seen at least one of Caterpillar's popular Built For It Trials marketing campaign that kicked off in 2014. The seventh and final installment of the campaign, Tug of War, showcases Caterpillar's customers and machines willing to work hard, even when under extreme environmental conditions.
Watch Built For It Trial #7: Tug of War

The "Tug of War" trial features Strongman and Game of Thrones actor Thor Bjornsson in an epic battle of Tug of War with a Caterpillar D10T Dozer. The setting: the frigid climate of Reykjavik, Iceland —Thor's native country— in temperatures that got as low as -30 C. Viewers may also be surprised to recognize Thor as not only a competitive Strongman and Europe's Strongest Man, but also as an actor in the Emmy winning HBO series Game of Thrones.
Thor stands 6 ft. 9 in. tall and weighs nearly 400 pounds...nothing compared to the 77-ton dozer. And yet, together with 250 of his fellow countrymen, Thor emerges victorious in the battle between Man and Machine. According to Caterpillar, the video is a reminder that Cat dealers and products always do what it takes to help its customers achieve their own victories.
"This trial definitely proves that our customers are built for any challenge, and our products are built for it," says Deanna Dean, Brand Promotions Coordinator, Global Brand Marketing for Caterpillar.
See the Behind the Scenes video of the Making of Tug of War

In a recent exclusive interview with Caterpillar's Corporate Creative Director, Archie Lyons, we learned a little bit of background about the entire campaign, as well as its success and the lessons they learned along the way.
The Built For It Trials were created as a new way for Caterpillar to reach out to its customers and prospects. "We knew we wanted to move Caterpillar from being cold, corporate, and conservative, to a company that is seen more as human, relevant, and approachable," says Lyons. "Some people may ask, What is the benefit of doing a video online? ...The broad appeal of the video campaign has actually gotten out to influencers, not only of our customers and prospects, but many other shareholders and actually has helped broaden our scope of knowledge of who Caterpillar is and what we have to offer."
Watch FCP's exclusive interview with Archie Lyons of Caterpillar

See the whole Built For It Trials campaign from the beginning: