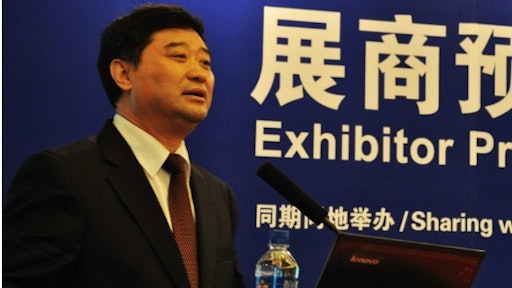 The exhibitor preparatory meeting & press conference for the 12th Beijing International Construction Machinery Exhibition & Seminar (BICES 2013) was held at Beijing Jiuhua International Exhibition Center on July 4.
During interaction in the meeting, presidents and chief editors of all major media as well as corporate representatives expressed their excitement for BICES. Among them, Mr. Hou Baojia, the President of the Construction Mechanization said, "I feel stronger cohesion and spirit of struggle being together with you. I think we must hold exhibitions with our own characteristics, and I, on behalf of the Construction Mechanization, promise that we will make every effort to offer support and cooperation, and I hope a large number of users can participate actively."

Mr. Zhou Xianbiao, the President of the Construction Machinery Technology & Management said, "We were very excited while we listened to preparation work of BICES 2013 that President Huang introduced. We wish that BICES can reach out to the world, become one of the world's largest exhibitions, and become one of three major exhibitions in the world in the near future through our constant efforts."
Ms. Zhang Kaili, the Editor-in-Chief of Beijing Prominion Engineering Machinery Media and General Manager of d1cm.com said, "I, on behalf of Beijing Prominion Publishing Co., Ltd., express our [sentiments]. Secretary General Su's analysis of industry situation boosted the confidence of the whole industry. And we'll spare no effort to support publicity, reporting and promotion of this exhibition."
Yao Yanxia, China representative of KHL said, "Chinese dream is global dream. We wish that apart from being held well in China, BICES can reach out to the world in the future to realize BICES Africa and BICES Latin America, establishing a broader platform overseas for Chinese exporters."
Mr. Li Yin, the President of the China Construction Machinery said, "I wish this exhibition will be more internationalized and standardized, and domestic enterprises can offer stronger support for it."
Mr. Lin Yanhui, the General Manager of cm.hc360.com said, "Secretary General Su introduced that this exhibition will have lots of highlights, especially in terms of emergency rescue, which is very consistent with our atmosphere and worth reporting. As a representative of media, I promise that we will offer full support to track and report this exhibition."
Mr. Fang Jianxian, the General Manager of lmjx.net said, "For BICES, we'll do our best with actions. We promise that we'll rush to the site immediately and report it each time BICES is held."
The assistant of Han Shaobin who is the Department Director and representative of KPM said, "It is the first time we will participate in BICES, and I, on behalf of suppliers and equipment manufacturers, promise that we'll offer full support for BICES 2013."
BICES 2013 will reach a new level of success: The exhibition area is predicted to reach 210,000 sq. meters and the number of exhibitors will be increased to 1,500. There will be a higher number of direct suppliers and professional visitors in emerging markets both foreign and domestic to participate in the four day exhibition. The show's scope will cover such fields as engineering machinery, building material machinery, mining machinery, special purpose motor vehicle, special refitted vehicle and emergency rescue equipment.
BICES 2013 will continue to be cosponsored by China Construction Machinery Association, China Construction Machinery Co., Ltd. and China Council for the Promotion of International Trade Machinery Sub-Council, and be undertaken by Beijing Asiamachine International Convention & Exhibition Co., Ltd. The Association of Equipment Manufacturers (AEM), as an international partner, continues to undertake international exhibitor recruitment work, and promotional and organizational work.
The grand opening of BICES 2013, the 12th Beijing International Construction Machinery Exhibition & Seminar will be held at Jiuhua International Exhibition Centre. The Beijing International Emergency Rescue Equipment Exhibition and the China International Commercial Vehicle Exhibition will be held at the same period.
BICES will be held at a critical moment of industry adjustment and improvement. There is no doubt that there are opportunities for improvement in capabilities, as well as industry consolidation due to the recent economic stabilization from the 2011 downturn. As such, BICES has transformed from the original new product display platform to a diversified enhancement platform which will include future development trends of the industry as a whole, as well as the whole industry chain, and will realize innovation in value through this opportunity.