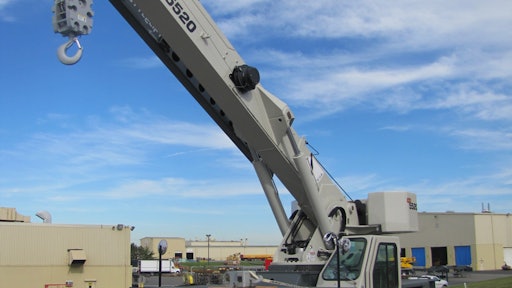 Among several new cranes that Manitowoc will feature at CONEXPO 2014 is the Shuttlelift CD5520. This next-generation industrial crane represents a complete redesign of the current product offering, and boasts the highest capacity and longest reach in the class.
The Shuttlelift CD5520 has an 18 t (20 USt) capacity and 16.6 m (54 ft 6 in) four-section, full-power boom. Thomas McCallum, Director of Industrial Crane Sales and Crane Remarketing for Manitowoc, says the powerful crane is the first in a new generation of industrial cranes.
"With this project, we completely redesigned the industrial crane from the ground up," he says. "The end result is a wholly innovative, superior machine that builds on the Grove and Shuttlelift tradition."
Also of note to industrial crane customers is the Grove Yardboss YB5520, which has the same features and specifications as the Shuttlelift CD5520, and is available through Grove dealers. The YB5520 replaces the YB5518 model.
The Shuttlelift CD5520 replaces the CD5560B industrial crane, while adding new technology and design features. For the first time on an industrial crane, Shuttlelift is offering two jib options: a 4.6 m (15 ft.) boom extension or a telescoping 4.6 to 7.6 m (15 to 25 ft.) swingaway boom extension.
With an overall length of 7.1 m (23 ft. 3 in.) and width of 2.3 m (7 ft. 8 in.), the CD5520 will fit into the tightest of work spaces. It measures only 2.5 m (8 ft. 2 in.) tall, making it ideal for indoor industrial work. Its crab steering with self-alignment and pivoting boom nose, adjustable to five positions from -30 to 80 degrees, enables easy maneuvering within tight job sites.
"The size of this crane makes it perfect for work in automotive or industrial plants, shipyards, refineries and other job sites where space is limited," McCallum says.
Other features of the CD5520 include a two-speed hoist, a 3.3 L Cummins QSB diesel engine and ITL power shift transmission, which allows it to be driven in either two-wheel, four-wheel, or crab steering mode. Where previous industrial cranes are best-suited to operate on improved surfaces, the CD5520 can drive on semi-rough terrain, such as gravel and dirt.
John Bair, Product Specialist for Industrial Cranes at Manitowoc, says the goal in designing the new CD5520 was to set a new benchmark for future industrial cranes.
"Many of the design improvements you see on the new CD5520 will flow into our future crane designs, as can be seen with the CD5515-2 that was redesigned this year," he says. "Our goal is create commonality among all of the industrial models so an operator can easily go from one model to the next without having to learn a whole new set of operating instructions."
The cab of the CD5520 is among these improvements, having been completely redesigned. The dash has been updated with a new automotive style display and sealed rocker switches. In addition, the operator now has four hydraulic proportional joystick controllers via load-sending hydraulics, which make raising the boom, lifting, swinging and other functions smoother. This is accomplished through the use of a single-piston pump, rather than the four-gear pump arrangement found on older models.
Richard Bryson, Manager of Industrial Crane Engineering at Manitowoc, says the design of the hydraulics system, in particular, would benefit customers.
"This new state-of-the-art design with a hydraulic system is the key to a stronger, smoother, more fuel-efficient crane that is easier to maintain and operate," he says.
Updated safety features are also included on the CD5520. Headlights, brake lights and work lights now use LED technology for improved visibility. A brand-new safety feature, an outrigger monitoring system, lets operators know that the crane's outriggers are fully extended via a dashboard light. The tires are larger with a more aggressive tread and higher-load capacity than previous industrial cranes, plus a tiltable steering wheel makes for more comfortable operator control.
"All-in-all, the Shuttlelift CD5520 is a much-improved industrial crane," says McCallum. "It's more powerful, has more reach, and is better for the environment. It's truly an innovative crane from the ground up."