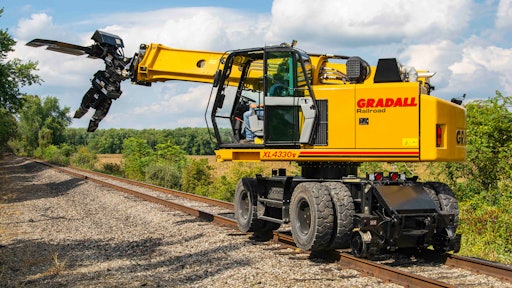 New Gradall models as well as a historic machine — the third Gradall hydraulic excavator ever, manufactured in 1945 — will be on display at CONEXPO-CON/AGG 2020.
Among the new machines shown will be a model XL 4330 V excavator, one of the new Gradall TrackStar machines designed for railway maintenance and track construction work. These machines are known for their exceptional stability, working at the front, rear and sides of the chassis without the need for outriggers. The rubber tire wheeled chassis is designed for travel on and off paved surfaces and is equipped with a guide rail system for rapid movement on tracks. 
The machine is also equipped with the versatile Gradall telescoping, tilting boom. With a low working profile, the machine can work in tunnels, under bridges and beneath catenary systems. The full boom tilts 220 degrees, with no loss of bucket force, making it highly productive for grading, tie replacement and spreading material.
Also on display will be the latest Gradall Discovery Series model, a two-wheel-drive or four-wheel-drive excavator collection that features traditional Gradall versatility designed for tight government and contractor budgets. The industry's first crossover excavators, Discovery Series models are built on a Freightliner chassis for fast, over-the-road mobility. The Gradall upperstructure features the tilting, telescoping, low-profile boom making it ideal for ditching, grading, culvert replacement, vegetation control, and curb, gutter and sidewalk work.
The Gradall CONEXPO display and demo will be located in the North Hall, sharing exhibit space with other Alamo Group companies including Vacall, Schwartz, Alamo Industrial and Old Dominion.