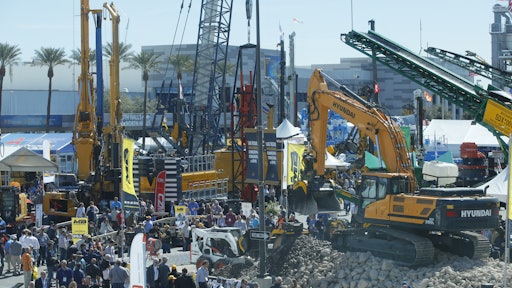 Association of Equipment Manufacturers
The triennial event CONEXPO-CON/AGG and IFPE is set to take place once again March 10-14, 2020. CONEXPO is North America's largest show dedicated to the asphalt, aggregates, concrete, earthmoving, lifting and mining industries.
IFPE is the leading international exposition and technical conference dedicated to the integration of fluid power with other technologies for power transmission and motion control applications. It is co-organized by the National Fluid Power Association (NFPA) and located in South Hall 3 of the Las Vegas Convention Center.
With each iteration of the show comes an expanded footprint to provide the construction industry with even more technologies and solutions. New in 2020 is the Las Vegas Festival Grounds, located on the Las Vegas Strip adjacent to the Circus Circus Hotel. Transportation to the new area, as well as between other halls and lots at the Las Vegas Convention Center, will be provided to ease movement around the show.
In total, the show will encompass 2,500,000 sq. ft. (232,257.6 sq. m) and feature 2,800 exhibitors, as well as over 150 education sessions.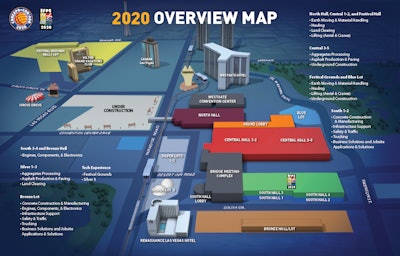 Returning in 2020 is the Tech Experience which was first introduced at the 2017 show. This year it will be in two locations and include a 10 x 22 ft. (3.05 x 6.71 m) smart city replica to demonstrate how the integration of sensors and analytics into infrastructure will enable cities to work smarter.
The smart city replica will include:
Different city grids and how a city responds to heat, wind and storms.
Connectivity in the city, including 5G, sensors, telematics and IOT.
Impacts of construction. The jobsite of the future within the city and how equipment will communicate.
New products on display
As with any trade show, CONEXPO will feature a variety of product and equipment introductions.
Several OEMs have announced plans to introduce new equipment; Caterpillar for instance says it will debut nine new products at the show including five new hydraulic excavators. The new Cat M318 wheeled excavator improves operator efficiency by up to 45% with Cat GRADE, E-Fence and PAYLOAD options and delivers up to 10% lower maintenance costs with longer service intervals. The new 313 GC delivers low owning and operating costs through a simple design that is easy to operate, maintain and own. The new 315 boasts a 13% larger cab and improved performance with up to 10% more swing torque and up to 14% more drawbar pull.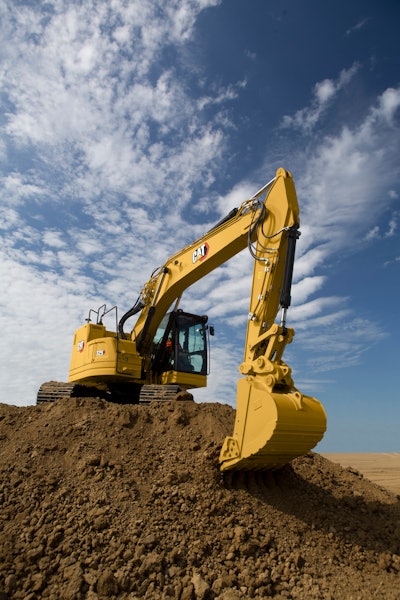 Wirtgen intends to unveil 10 new machines at the show. Among these new pieces of equipment will be the company's latest generation of large milling machines. In total, Wirtgen will feature over 30 machines at its display.
While new equipment will be a highlight, Gradall will also exhibit one of its first hydraulic excavators which was introduced in 1945. The No. 3 Gradall machine is operational using 90% of its original parts along with its Linn carrier and a rebuilt Waukesha engine and track drive. The control valves, hydraulic cylinders, hydraulic pumps and boom assembly are all restored to working order.
Komatsu says it will debut numerous machines as well as patent-pending technology under its theme for the show "Creating Connections." Its booth will include equipment and technology for construction, waste, quarry and forestry applications. New and existing machines on display will include:
D51i-24, D61i-24, D155AX-8 LGP dozers
PC238USLC-11, PC210LCi-11, PC290LCi-11, PC360LCi-121, PC490LCi-11, PC1250-11 excavators
HM400-5, HD605-8 trucks
WA320-8, WA480-8, WA500-8 wheel loaders
GD655-7 motor grader
HAC high-angled conveyor
Conveyor idler stand
Forklift FH70-2
Crusher - RF-5 reclaim feeder
Feller Buncher 465XT
The company will also conduct an educational training seminar on Equipment Operator Best Practices for quarry managers and site foremen, helping them have a better understanding of how to maximize machine operation efficiencies. It will be held Wednesday, March 11 from 1:00-2:30 p.m. at the Westgate, Pavilion.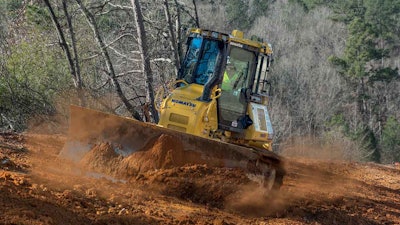 Doosan Infracore North America is introducing several pieces of equipment during the show, as well as its recently introduced Concept-X autonomous worksite.
Read more: Doosan Infracore Demonstrates Unmanned and Automated Construction Site Solutions
There will be several product debuts on the component side of things, as well. Bucher Hydraulics, for instance, has announced it will introduce its new AX piston pump and AXM piston motor. They are based on a new concept which works on the principle of balancing internal forces by having two rotating barrel plates, facing each other and each having 12 pistons. This helps to achieve a high power density and limits axial forces.
B&R Industrial Automation intends to introduce the new Automation PC Mobile 3100. It is designed to provide a combination of performance and robust form factor to handle the increasing demands of modern off-highway equipment applications.
Eberspaecher Group will exhibit several thermal management solutions to ensure proper heating and cooling of off-highway equipment. Among the highlights will be its new HK EVO4 head liner which is especially suited for use in harsh environments or very hot temperatures. The very thin ceiling air conditioner offers power of 10 kW and is designed for large cabins. It is also available in A/C evaporator versions.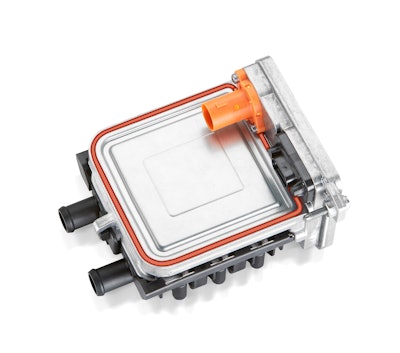 Bosch Rexroth will exhibit its MCR-S Radial Piston Motor and eGFT8000 Series Compact Drives, both of which were introduced in early 2019. The eGFT8000 Series Compact Drives combine a compact drive and electric motor into a single drive unit, helping to save installation space. Its MCR-S Radial Piston Motor also offers a compact design which is achieved by repositioning the parking brake to the body of the motor and integrating a two-speed shifting spool within the motor distributor.
"We eagerly anticipate this year's exposition as we share the spotlight with key partners and distributors, demonstrate our latest innovations and introduce a new digital platform designed to strengthen our commitment to sharing Hallite's expertise with the fluid power industry," says Mike Baxter, Managing Director at Hallite Seals Americas, which will be exhibiting in the IFPE portion of the show, South Hall 3 booth S83631. "Visitors are invited to speak to Hallite technology experts who will be available to discuss some of the most challenging fluid power sealing applications facing equipment manufacturers today."
Among the products it will feature are the 714 Double-Acting Piston Seal, 864 Wiper and 660 Buffer Seal.
Be sure to visit our dedicated IFPE & CONEXPO page for continuous updates on news and other content related to the show.
Want to know more about what the industry is anticipating at this year's biggest show? Read our Q&As with executives from Brokk and Aquajet, as well as the Association of Equipment Manufacturers' (AEM) interview with Dale Vanderlaan, R&D Engineering Manager at Parker Hannifin on the topic of ElectroHydrostatic Actuation.
Small Machines Benefit from Advantages of Battery and Remote Control Technology
Automation is Creating a Safer, More Productive Construction Industry
ElectroHydrostatic Actuation Offers Opportunities to Improve Hydraulic System Efficiencies
Companies in this article