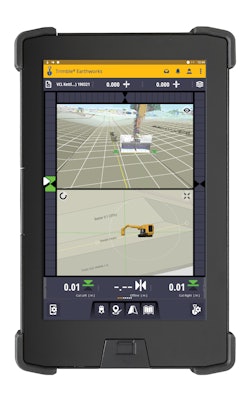 Trimble
During CONEXPO 2020, Trimble made several announcements regarding new software technologies and platforms to help create a smarter, safer, more efficient and future-proof jobsite.
Trimble Earthworks Grade Control Platform Version 2.0 and Trimble Earthworks Assistant App for In-Cab Learning Material
These improvements are designed to enable faster ROI, increase productivity and decrease training time for operators. Horizontal Steering Control for dozers automatically controls the machine to follow any horizontal alignment such as a back of a curb, breakline, roadway centerline or bottom of slope, without operator assistance.
Augmented Reality for excavators enables users to easily understand 3D models, cut/fill information, slope data and other bench points and reference points on the in-cab display in context, without the need to interpret complex 2D plans or stakes. A new mastless motor grader configuration gives operators an improved range of blade motion, allowing for machine control in applications where it was previously not possible.
Integrated Trimble LOADRITE Payload Management displays grade control and accurate payload data on one screen, increasing mass haul productivity and efficiency by preventing underloading, and improving safety by avoiding overloading. Contractors can maximize their investment in Trimble Earthworks by leveraging the versatility of these added options.
Trimble Earthworks is also now available for compact grading attachments with dual GNSS, single GNSS and total station guidance options.
Horizontal Steering Control for Dozers
Horizontal Steering Control allows the operator to focus on the grade and machine productivity rather than worrying about steering, reducing operator fatigue and errors. It enables the machine to follow the horizontal guidance from the 3D model, providing operators increased awareness of their surroundings, better accuracy and improved productivity with decreased overlap and fewer passes."
Trimble is on the forefront of innovation and cutting-edge technology along the path to automation," said Scott Crozier, vice president, Trimble's Civil Engineering and Construction. 'Using proven steering technology from Trimble Agriculture, we are continuing to advance construction machine control yet again."
Trimble Announces New Platform as a Service for Construction Technology
Trimble Platform as a Service, an offering that gives contractors the ability to purchase select civil construction hardware and software solutions and continually upgrade those solutions with the latest innovations from Trimble. Bundled solutions include the Trimble Earthworks Grade Control Platform, Trimble Siteworks Positioning Systems, Trimble Correction Services and select office software.
"Contractors can now modernize large construction fleets and inventories without a significant initial investment and the assurance that their technology will be continually updated with the latest innovations from Trimble," said Scott Crozier, vice president, Trimble Civil Engineering and Construction. "This allows them to use their capital to run the business as well as predictably manage technology expenses."
As the rate of technology change continues and software capabilities improve, hardware to support the software functionality must also advance. Using the Trimble Platform as a Service, hardware and software updates are included so contractors can standardize their entire fleet and field workers on the same hardware and software versions, resulting in less time needed for training and support.
Trimble's New Construction Operating System
Trimble WorksOS, a new Software-as-a-Service (SaaS) operating system is being previewed during CONEXPO 2020. The cloud-based system will integrate data from Trimble and third-party providers across the entire civil construction project lifecycle, including estimating, scheduling, designs and the field. The Trimble WorksOS preview will demonstrate 3D productivity and real-time progress to plan to bring next-generation, real-time visibility from the jobsite to the back office.
"We understand the interdependencies of the solutions our customers require to be successful across all phases of construction," said Mark Schwartz, vice president, Trimble. "Creating a new operating system that supports the jobsite's basic functions, such as combining simple task management with jobsite productivity, can enable project managers to maximize overall project efficiency. Trimble WorksOS is our new civil construction SaaS-based operating system to deliver connected workflows across the entire construction lifecycle."
Connecting Workflows for Civil Construction - 3D Productivity and Real-Time Progress to Plan
Currently, site supervisors and project managers jump between multiple systems to keep track of daily production quantities, labor/equipment hours and equipment maintenance schedules. In spite of using all of these systems, they still do not have real-time visibility into progress on the jobsite and its impact on schedule/cost. With WorksOS, users will be able to log into a single application to view real-time visibility of cut, fill, volume and compaction data to maximize jobsite productivity.
The preview will demonstrate the scenario on a user-friendly dashboard, enabling key personnel, including site supervisors, to adjust daily work targets to ensure work is progressing to plan as expected. Site supervisors will also gain live daily volume calculations, compaction quality metrics and visibility into which machine is working, to monitor progress and determine if the project is on schedule.