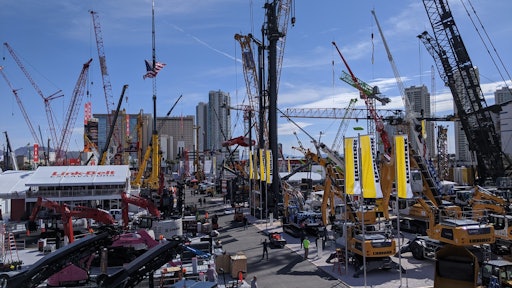 CONEXPO-CON/AGG 2020 / Twitter
This content will be updated throughout the day with the latest news and announcements, so check back often!
It's time again for CONEXPO-CON/AGG & IFPE 2020 in Las Vegas, NV. While other news outlets want to capitalize on the current buzz of COVID-19's impact on the show, we'd rather break through the noise and focus on how much news is being announced and how many new products have just entered the construction market at CONEXPO-CON/AGG & IFPE 2020.
Need help navigating the show? Don't forget to download The OEM Guide to CONEXPO-CON/AGG & IFPE 2020, an easy to use map and exhibitor listing specifically tailored to the component suppliers and technology providers you need to see!
LATEST HEADLINES:
Volvo CE Introduces DD128C Compactor
Filter Minder Wireless Filter Monitoring Now on the Market
Topcon expands intelligent paving portfolio with Thermal Mapper system
Bobcat displays electric prototype E17e mini excavator and T76 compact track loader.
Kobelco introduced six new excavator models that have been updated to Tier 4 Final.
MORE NEWS AND PRODUCT ANNOUNCEMENTS:
Grammer AG Showcases Multiple Seat Innovations
The Grammer MSG95EL/742 and MSG97EL/741 driver seats offer maximum seating comfort in construction machinery.
Caterpillar Inc. and Trimble Inc. are restructuring their VirtualSite Solutions LLC (VSS) joint venture, so that each company can accelerate the development of technologies and solutions aligned to their strategic initiatives. Over the next several months, Caterpillar will assume control of VSS and integrate its line of products, including VisionLink, into a broader digital portfolio and future fleet management services.
Caterpillar

Introduces Hybrid Engine Concept

A sneak peek into the future of Cat engines, including at-a-glance engine insights on a single dashboard, and hybrid engine concepts. "Hybrid systems offer many benefits to the OEM and end user: engine downsizing, reduced noise and emissions levels, enhanced machine performance, and many other efficiency gains through proper integration of the complete machine system including the engine, hybrid system, drivetrain and other components with the machine."
ZTR Industrial Technology Solutions Digitize Jobsites
ZTR's technologies connect equipment, materials, people and tools that are out in the workforce to the people that need to know, to lead to informed decisions to improve jobsite productivity, safety and efficiencies.
John Deere Announces First Compact Machine with Integrated Grade Control
John Deere's 333 compact track loader is rated at 3,700 lb., has a 100-hp engine and features a power angle tilt dozer blade optimized for performance to this particular machine.
Case Launches Industry's First Fully Electric Backhoe Loader
Developed as Project Zeus, the 580 EV backhoe loader gets its power from a 480-volt, 90 kWh lithium ion battery pack.
Product Marketing Manager Ed Brenton walks through some the benefits including no smoke & noise, less daily maintenance, and capacities equivalent to diesel.
Rolls-Royce Showcases MTU Dual-Certified Engine Platform
The Rolls-Royce features a full platform of MTU dual-certified engines that meet both EPA Tier 4 and EU Stage V emissions requirements. These engines are also available in variants that meet the GHG17 on-road emissions requirements.
Epiroc introduces DM30 II SP blasthole drill for single-pass applications
Built off the same reliable platform as the Epiroc DM45 and DML blasthole drill rigs, the DM30 II SP is suitable for a variety of single-pass rotary and down-the-hole (DTH) drilling applications. It can achieve a clean hole depth of 11 m (36 ft.) for single-pass applications. The small footprint of the DM30 II makes it easy to maneuver on tight benches and simple to transport within the pit and over the road between pits.
Continental Debuts its Generation 3 Construction Truck Tires
Continental's Generation 3 construction truck tires include three unique options: The Conti HSC 3 steer/all-position tire, Conti HDC 3 drive tire and Conti HAC 3 all-position tire deliver key benefits for on/off-road applications, including construction, cement, utility, emergency vehicles, forestry and logging.
View all product specifications
JDPS Showcases Expanding Lineup with 18.0L Engine
Building on the 13.6L engine design, John Deere has introduced a new 18.0L engine with maximum power of over 650 kW (870 hp), designed with flexibility, serviceability and durability in mind.
Dana Expands its e-Powertrain, Conventional Offerings for Construction Equipment
"The focus on hybridization and electrification in construction vehicles has become increasingly important for our customers," said Aziz Aghili, president of Dana Off-Highway Drive and Motion Systems. "Dana continues to invest in our engineering resources and manufacturing capacity to help construction-equipment manufacturers optimize the performance of vehicle architectures while leveraging new technologies."
Read more plus Product info on Dana Spicer Torque-Hub Drives and Dana Spicer Axle Models
AEM Releases "The Economic Impact of the Equipment Manufacturing Industry" Report
The report shows significant overall direct job growth for the industry over the last three years, at a rate of nearly 10%, fueled in part by historic tax reform and regulatory relief. However, tariffs on steel and other critical inputs, along with a protracted trade war with China, caused direct job growth to slow to just 1.2% in 2019, with both the construction and agriculture equipment sectors contracting by 0.7% and 0.6% respectively.
Read more or Download the report
Bobcat Launches Small Articulated Loaders
Bobcat Company is widening its product offerings with the introduction of small articulated loaders to provide its customers in landscaping, tree services, light construction, and grounds maintenance a new solution to minimize workload and complete projects quickly and efficiently. These nimble machines have the ability to fit into backyard access and are capable of carrying small pallets of block or landscape materials with low turf disturbance.
More product information and specs
Stanadyne and Liebherr Partner to Provide Diesel Fuel Systems
Stanadyne's technical expertise and experience in the development of high-pressure diesel common rail pumps, combined with Liebherr's strength in high-reliability injector design and systems integration, creates a best-in-class system approach for the world's most demanding applications. "Teaming up with Liebherr places us in a strong position to provide customers a fully-integrated diesel fuel delivery system, backed by a global sales, distribution and service network," says Dr. John Pinson, president, Stanadyne LLC.
CASE CE Unveils Fully Electric Backhoe Loader
Known as Project Zeus, CASE Construction Equipment's new 580 EV (Electric Vehicle) is a fully electric backhoe loader offering the same power and performance as diesel-powered backhoes. Two units have already been sold to utilities in the United States — NYSEG and RG&E, AVANGRID companies, and National Grid. CASE has the capability to produce additional units throughout 2020 before ramping up production to meet greater demand in following years.
The 580 EV is powered by a 480V, 90 kWh lithium-ion battery pack that can be charged by any 220V/three-phase connection. While applications will vary, each charge will support most common 8-hour workdays. The battery separately powers the drivetrain and hydraulic motors, resulting in hydraulic breakout forces equal to diesel-powered machines and improved performance during simultaneous loader and drivetrain operation.
Oilgear XD5 Hydraulic Pump
Oilgear has introduced its newest open-loop variable-displacement pump—the XD5 hydraulic pump. This is the first model of the XD series designed specifically to meet the demands of the mobile markets. The XD5 is applicable in on and off-highway equipment such as; mining trucks, haulers and dozers, excavators, and trenchers. The XD5 can also be used in on-highway vehicles such as; refuge trucks, snowplows and any Class 8 service truck.
The XD5 is an open-loop axial-piston hydraulic pump with almost instantaneous response to system commands through a high-response, three-way, direct acting control. The new pump is significantly smaller and lighter than its comparable pump line, the PVG series.
Get more product information and specs.
International Truck Introduces Lightweight Mixer Package
International Truck introduces a new lightweight spec for its International HV Series—the new HV50B mixer package. The truck package removes over 1,000 lbs. of weight from the vehicle, with engineering optimizations that allow drivers to haul up to 9.75 cu.-yd of concrete while staying under 66,000 lbs. GVW.
The result of these changes means that customers currently only able to legally carry 9 cu.-yd of concrete will be able to increase their revenue by $750 per truck, per day. The spec also includes fringe benefits such as enhanced safety due to improved line of sight for the driver.
FPT unveils the F28 Hybrid, a diesel engine paired with an e-flywheel, resulting in an efficient, compact and sustainable solution for off-road applications. The 2.8-liter hybrid engine was developed to offer the ideal performance for compact machinery offering enhanced productivity and improved efficiency. With four in-line cylinders, the thermal engine delivers a maximum power of 74 hp, while the electric motor adds 27 hp of continuous power and 40 hp of peak power. Light construction machines such as skid steer loaders, drum rollers and backhoe loaders benefit from the peak power at certain times to complete their missions more efficiently.
Get more product information and specs
DEUTZ Presents Electric Technologies
DEUTZ will presenting an electric hybrid drive system at CONEXPO that was designed specifically for use in aerial working platforms for low-load applications. The new DEUTZ D 1.2 hybrid engine combines a highly compact three-cylinder diesel engine with a capacity of 1.2 L and a 48V electric motor. A battery system developed in collaboration with Futavis, which is now ready for pilot production, will be another highlight at the exhibition. Hundreds of these systems have already been built. DEUTZ acquired German battery specialist Futavis in 2019 in order to strengthen its in-house expertise in the key area of battery technology. The market-ready system underlines DEUTZ's strategic focus on electrifying its product range and on developing and industrializing its engineering expertise, high-voltage batteries, and electric drivetrains.
Meritor, Inc. Introduces its MCL 541 Planetary Axle for Wheel Loaders
The MCL 541 planetary axle, designed for machines with up to 4m3 bucket capacity, is the first model of a wheel loader axle series and features proven components, such as Meritor's 14X carrier and Family 5 planetary wheel-ends. The axle's interchangeable architecture also opens the door for future compatibility with electric vehicles.
More product information and specifications
Hitachi Showcases Latest Machines and New Tech
Hitachi will display a range of models including the ZX345USLC-6 and ZX245USLC-6, both reduced-tail-swing excavators, which are the newest additions to the Hitachi construction line. The compact ZX60USB-5 and standard, full-size ZX350LC-6 and ZX470LC-6 will also be showcased. Each excavator provides a unique blend of components and technology that maximizes productivity and extends uptime.
Beyond equipment, Hitachi will also be giving a sneak peek of new technology that will provide even greater efficiency on jobs. The new technology, which will roll out later this year, is another innovation in a long line of advancements, which includes Hitachi's exclusive TRIAS II three-pump hydraulic system that provides multi-functioning performance and some of the fastest cycle times in the industry.
ZTR Launches Five New Telematics Solutions
ZTR has expanded its product offering to include an exclusive new Data Brokerage service, the ZTR M7 advanced telematics solution, T-series tags, Access Management, and the new ONE i3 interactive dashboard. With assets monitored poised to surpass 500,000 in 2020 and a rapidly expanding OEM program, ZTR is delivering the telematics solutions for which the industry has been waiting.
LBX and
Trimble

Announce Precision Grade Upgrade Kits for Select Link-Belt Excavators

Upgrade kits provide all necessary components, hardware and software required to upgrade a standard machine to 2D/MG (Machine Guidance) or 2D/MC (Machine Control), or upgrade a machine with 2D/MG already installed to a 2D/MC capable machine.

Learn more at ForConstructionPros.com
Bridgestone Exhibits Latest Generation Tire Pressure Monitoring System
Tailored to the specific needs of construction and aggregate mining industries, Bridgestone integrated technologies monitor and track tire health to help prevent downtime. Central to this is a demo of the next generation Bridgestone PressureStat Tire Pressure Monitoring System (TPMS) solution.
PressureStat is designed to prevent tire-related incidents in OTR tires sizes 49 in. and below, which can help lead to more uptime and increased productivity on the jobsite. The Bridgestone exhibit will feature a prototype of the next generation PressureStat system, which features an improved sensor design. It also enables automated communication about tire pressure in real time to an entire network of stakeholders.
Kubota Debuting New Engine and Micro-Hybrid at CONEXPO 2020
Kubota has started the development of the S7509, a high power density, 300 hp, large displacement industrial diesel engine, which will comply with EU Stage V emission regulations. "Kubota integrates state-of-the-art design to produce high performance and durability in all of our engines and the S7509 will be no exception," says Tomokazu Matsushita, President of Kubota Engine America. "The S7509 will further expand the 09 series and Kubota's goal is to become the number one supplier of engines up to 300 hp." Mass production of the S7509 will begin in 2023.
Learn more about Kubota's S7509 here
Kubota's Micro-Hybrid System provides power assistance instantaneously during peak overloads to the engine providing an additional electrical power boost of up to 10 kW. The immediate torque available offers an efficiency boost at the most crucial time while recuperating and recharging its battery pack when not initiated.
Read more on the Micro-Hybrid System here
Manitowoc Unveils National Crane NBT40-2 Series Boom Trucks
The new NBT40-2 series has the option for either a 40 USt or 45 USt (36.3 t or 40.8 t) capacity, and a 127 ft. (38.7 m) or 142 ft. (43.3 m) main boom. It will offer a two-piece 31– 55 ft (9.4-16.8 m) telescoping jib and it features a maximum tip height of 150 ft. (45.7 m), which can extend to 204 ft. (62.2 m) with the jib.
Topcon Highlights Intelligent Road Paving Technology
Topcon Positioning Group is focusing on intelligent paving during CONEXPO 2020. Its SmoothRide system includes scanning an existing surface, converting the data into 3D model designs used to create machine control files for the machine milling, paving and compaction phases of a project.
Another new technology for paving — Pavelink — can be paired with existing Topcon solutions such as SmoothRide. It is a cloud-based logistics mobile application for asphalt paving workflow between asphalt plants, delivery trucks, the company office, and paving site.