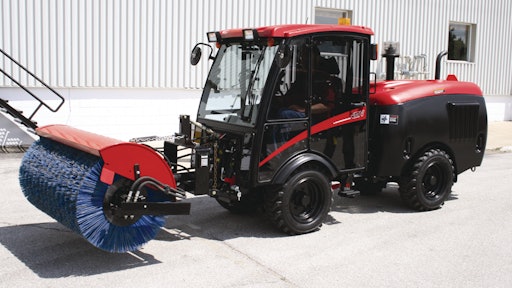 My college dictionary defines "diversify" as "give variety to." Because that definition's not too exciting, I'll say that another one I have from the Civil War era defines the word as "not putting all the eggs in one basket." Sadly, that book's at home so I can't check for sure. That definition is easier to see: When the chickens are laying and I'm pressed for time, putting a day's production into one container and lighting out for the house is a good idea — until I trip and the eggs take flight. Even more colorful was what Sudbury, Ontario, Canada Mayor John Rodriguez said about diversification: "We either innovate, or we die."
Two established underground mining equipment specialists recently introduced mobile equipment for non-mining customers. Based in Collingwood, Ontario, MacLean Engineering & Marketing Co. operates a sales, service and distribution facility in Sudbury. The same is true for Miller Technology Inc., whose factory is an hour east of Sudbury in North Bay.
The mining business for both companies is strong and growing. MacLean, founded in 1973 by Don MacLean, has reportedly seen sales grow 40-50% per year. New deliveries of its core mining vehicles are six months out. Miller Technology has added thousands of square feet to its factory to supply its worldwide mining customers — a long ways from the garage in which Ron Miller started building underground mining trucks in 1980.
Innovating in good times
Mayor Rodriquez was talking to customers and city officials at MacLean Engineering's Sudbury location a few months ago during the introduction of the MV (municipal vehicle), MacLean's first offering from its Diversified Products Div. "This is exactly what I have been talking about," says Rodriquez. "This is an example of a company that started in the mining industry and has innovated and come up with new equipment. This is what we have to do with our community. We live in a mining town at the whim of ore prices. When we diversify we have other things going for us if mining is down. Sudbury is mining and we are proud of it. But we still need to innovate in other industries."
Whether a region or a company, it's easy to believe there's no time to plan for bad times when things are great. But it's when business is strong that the money and personnel likely exists to make a strategic move. These are busy times for Miller and MacLean. "When a customer said we should get into the municipal market, Don MacLean said we will look into this," says Mike Denomme, vice president, Diversified Products. Two years ago the company started working on what would become the MV. "Don knew we needed to build other rigs for different industries to offset any ups and downs in mining. We conducted market analysis and internally looked at our core strengths and this was a perfect fit." For a long time, the MacLean bolter was the core product. The line expanded with new tools for underground mining — most recently utility vehicles and scissor trucks.
MacLean's agile MV is designed to work with a wide variety of attachments to maintain urban areas. It's sized to travel down sidewalks and is articulated for maneuverability. Heavy-duty axles provide four-wheel drive and feature internal wet disk brakes, bringing the 127 hp Caterpillar-engined MV to a safe stop (the 6,305 lb. machine can move quickly). The machine's frame and cab are built by MacLean, and the MV is assembled in a just-in-time production cell at MacLean's new factory in Owen Sound, Ontario.
"The municipal vehicle market is mature, so we did a lot of research to ensure we could come in with the right product to fill a niche," says Scott Johnston, product manager, Diversified Products. This is one of the areas where engineering drew on its experience with mining equipment. "Listening to the customer and delivering the tools they need are crucial to doing business."
MacLean's mining expertise was applied to the MV in areas such as hydraulics, articulation, frame design and axles.
In July MacLean purchased Ottawa, Ontario-based Kanlan, a supplier of attachments for the MV and other OEMs. Denomme is already in talks with other equipment OEMs to build attachments specific to their machines. Production for the Kanlan Attachment Div. will start in Owen Sound in November.
"One of the motivators for the Kanlan purchase was that we wanted to control our attachments," says Denomme. "We can't sell an MV without high-quality attachments."
The MacLean MV is available in Canada now through its dealer, CUBEX, and United States distribution is in the works. Denomme believes the parent company's heritage will help sell the MV. "One of the key things we need to do is sell the fact that we are an established firm that already builds complex machinery. One of the reasons we picked the MV to take to market is because there is a lot of commonality with our mining machines. They're both working in very tough conditions, for example."
Taking requests
It was a question from a passerby that moved Miller Technology into a new market. "A fellow from Hydro One dropped by one day," says Kent Miller, operations manager, Miller Technology. "He'd driven past our shop a lot, and was on a committee to find a product that would make moving heavy reclosures safer for Hydro One's workers." With 4,550 vehicles and equipment in its fleet, Hydro One Inc. is the largest electricity transmission and distribution company in Ontario.
The challenge for Miller Technology's brand recognition is that the general public rarely sees the equipment it builds. After mining equipment is completed it's loaded up and taken underground. Demand has been strong, so mine vehicles rarely sit on the lot. The Hydro One employee had driven past the shop enough to see some unusual machines loaded on trailers.
"He thought we could build what Hydro One needed," says Miller. "The project started out like we treat any customer who comes through the door — he just happened to be a utility guy. He needed a simple tracked forklift, and that is where our engineering team started."
The result was the prototype Miller Lifter ML600. As the 600-lb. capacity machine was shown to Hydro One and other firms, the concept took off. Miller's customers started asking for more attachments. The machine's lift capacity started increasing, too, leading to the 800-lb. ML800 for work at electrical substations. When a lineman saw a Miller Lifter working, he wanted one that could lift and transport 1,000-lb. pad mount transformers, the green boxes that pop up around new subdivisions.
"I wasn't comfortable using an ML800 for that, so we developed a bigger model, the ML1600."
The ML1600 is a compact, multipurpose rubber-tracked machine. Tipping the scales at 1,600 lbs, the ML1600 can fit through an opening as small as 32 inches and is easily maneuvered in confined spaces. The ML1600 is fitted with hydraulic cylinders with built-in counter balance valves to prevent an uncontrolled decent of loads up to 1,850 lbs. It is powered by a Honda GX390 13 hp gas engine. The ergonomic control platform and hydraulic controls make for ease of operation.
The Lifter's drivetrain and undercarriage are sourced from Italian specialist Hinowa. "We use a proven undercarriage and then we add to it. That is one of our design theories — we don't like to redesign something that is already available," says Miller. "We buy a proven powertrain and add value to it to make it customer specific." Most of Miller's mining products exemplify this philosophy, from the JCB loader backhoe-based Triple-4ce to the Toyota Landcruisers it modifies for underground work.
The Miller Lifter is different from its mining equipment in that its attachments can be easily changed. "Most of our mining equipment is job-specific. Now, after nearly every demo, I come back with a new attachment idea for the ML1600," says Kent Miller. "Customers take me into new areas and show me new challenges." Three new attachments are in the prototype stage.
Kent is in charge of Miller's R&D. He works to find new challenges that can be met with the expertise his father's company has accumulated. "I get out and listen to customers and then see the project through production. We tapped a lot of our mining experience when tackling the lifter project. We kept it simple and strong. I have come to the conclusion that line men can be harder on equipment than miners."
Like most specialty OEMs, Miller Technology does not use an assembly line per se. New machines are built in available space next to the mining trucks. The Miller Lifters represent the first regular production item to leave its North Bay factory.
But this isn't the first time Miller Technology has broadened its horizons. "We fully understand that mining is cyclical, and we realized we had a shop and the resources to maintain machinery, but customers saw us as mining people and didn't think we would work on other equipment. RHM Equipment was started and is owned by Miller to sell and maintain machinery for construction, forestry, trail grooming and other industries.
While the Miller Lifter has found favor among Hydro One users and other utility customers throughout Canada (Kent does have an eye toward the United States), it has also attracted the interest of Miller's regular customers. "We have had many discussions about using the Lifter in underground mines due to the fact we can handle a lot of weight with a small machine in hard-to-access locations. We are developing a similar diesel-powered version of the ML800 for driving on and off the cages for material handling."
Saving Copper Country
With the miners gone, a group works to diversify a peninsula
Diversifying a company is one thing — but an entire region? A few generations ago, it wasn't a big concern that the rich mines of Michigan's Upper Peninsula might play out. The Keweenaw Peninsula was the world's greatest producer of copper, but by the 1960s the boom times were over. Twenty years ago, when Phil Musser moved to Houghton, MI, the Copper Country was in serious trouble.
"I had been working in developing countries that lacked the infrastructure to support economic development, and the Keweenaw Peninsula resembled those conditions," says Musser, executive director, Keweenaw Economic Development Alliance (KEDA). "I was used to not having an existing support structure for economic development."
For 100 years, mining had been the area's biggest employer. Their closing wasn't the end of the problems. "Most other businesses here supported the mines and never had a reason to work outside the area. When the mines shut down, most of them did, too," says Musser.
In tough times, businesses tend to try to minimize the bad that could happen. "They pull in. They stop taking out loans to improve their processes and they stop advertising," says Musser. "That results in a slow death. When I came up here, there were very few manufacturing businesses left."
Realizing something had to be done, KEDA was founded in 1969, but it was a volunteer effort with little financial backing. Musser became its first (and still only) paid employee, arriving just as a big KEDA project was changing owners. KEDA had offered a large building to a manufacturer from Chicago. The agreement was that if they were to stay for a certain amount of time, the company would own the building for free. Musser's business cards were still new when the company took ownership, put the building up for sale, and moved to South Dakota because of tax breaks that state was offering.
It was a learning experience that would change KEDA's methods. "That company had no roots here," says Musser. "Since then our primary approach has been growing our own companies, an approach that is now called 'economic gardening'. We realized we had to grow entrepreneurs from our local base, seeking talented individuals who appreciate the quality of life here. We needed to incubate firms that would be here for the long haul."
Walking around town, Musser can point to KEDA's successes, but he still talks to residents who think the local economy is still down since the mines are obviously still closed. "It has been a slow process, but a successful one. We have attracted or helped grow technology and manufacturing industries, and Fortune 500 companies have set up engineering facilities here. But for the most part they don't market their products here, and they don't advertise here, so local residents may not know they are here. Some don't even have a sign on their building."
Today, KEDA has 250 members. Grants have made it possible for KEDA to turn historic buildings into incubators. Three are filled, and KEDA is looking for a fourth. It has aided in the expansion of more than 25 local firms and in developing a high-tech incubator, a SmartZone. Houghton and Hancock were designated as one of 10 SmartZones in Michigan in July, 2001. It is the only SmartZone in the northern part of the state. Michigan created SmartZones to stimulate the growth of high-tech businesses and to commercialize research being developed at the state-supported universities, such as Michigan Technological University in Houghton.
Many companies in the area are small- to medium-sized firms, and there is no one cluster of products. The economy is diversified, but a strength has emerged: "Our research showed that there were 35 technology companies here. When Michigan Tech students were asked if they would want to live in an urban area or the Keweenaw if they had a comparable job, we were surprised: the majority wanted to stay here."
For KEDA, the focus on technology and manufacturing businesses is strategic. "We primarily work with businesses that sell products outside the area, bring in new dollars, or produce a product that is currently being purchased from outside the area. We want to keep dollars here as much as possible," says Musser.
In an area prized for a quality of life that includes no traffic jams and extensive year-round outdoor activities, encouraging economic growth without destroying the area's strengths can be challenging. That is one of the reasons KEDA seeks to save empty historic buildings. "We don't want to develop too many green field sites and lose the appeal of this area."