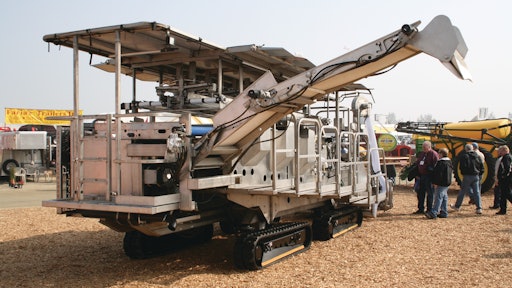 Built almost entirely of stainless steel, the Headrazor romaine lettuce harvester shined at the 2008 World Ag Expo in Tulare, CA. The latest machine from Ramsay Highlander, the Headrazor highlighted the challenges manufacturers must overcome when creating mobile equipment for the fresh vegetable industry, while at the same time it showed off the problem-solving and manufacturing capabilities of the OEM and its suppliers.
To stay in business, today's vegetable grower must raise and harvest fresh produce safely (for both the workers and consumers), quickly and efficiently with fewer hands in the field. Fresh lettuce can go from a West Coast field to an East Coast table in under a week. Harvesters, such as the machines built by Ramsay Highlander, are the first step in a bagged salad's journey to a grocery store near you.
Ramsay Highlander Inc. started as a welding shop in 1969. The firm's unique name was adopted ten years ago and combines the Scottish founder's last name with the brand of the company's staple product. The Highlander Harvesting Aid is a diesel-engined, four-wheeled, laterally-moving conveyor for fresh vegetables and fruit picked by hand. President and CEO Frank Maconachy acquired the company from his father in-law in 1997, who purchased the firm from Verne Ramsay when he retired. The company still custom-builds self-propelled conveyers as well as mechanical spinach/spring mix harvesters.
The company calls "America's Salad Bowl" home with operations in Gonzales, CA. Located in the area where most of the United States' lettuce is grown and agriculture is a $3 billion industry, the company works directly with customers to provide solutions for their agricultural businesses.
Much of Ramsay's engineering work is done in-house. "Sometimes we can work off something we have done in the past," says David "Coon" Offerdahl, Ramsay Highlander's vice president of engineering. "But very little of the Headrazor uses anything we have done before. This has become more common in the last few years. Everyone wants something new and different."
Offerdahl and Scott Harlan, Ramsay's director of R&D, usually do not have much of a window in which to take a customer's notes and then design and build a machine. "One of the most challenging aspects in our industry is the short design time," says Offerdahl. "Our customers purchase new equipment based on receiving new harvesting contracts, which may take effect three months after they stop in."
Human energy vs. horsepower
Comparing everything from seed to consumer, California's specialty crops are very different from the corn and soybeans of Iowa. That is especially true during the harvest.
"Mechanization as it relates to specialty crops depends on the commodity," says Paul Simonds, communications manager, Western Growers Assn., Irvine, CA, an organization with 3,000 grower, packer and shipper members in California and Arizona. "What we have in place for apples is far different from almonds or spinach. While a certain amount of mechanization is involved, specialty crops in general are more labor intensive than their program-crop counterparts."
In California and neighboring Arizona, the need for developing technology to mechanize more specialty crop operations has never been stronger. Good help has been tough to find for years, but tightening the Mexican border has made the situation worse.
For a few months each year, leafy green production (vegetables such as iceberg lettuce, spinach, cabbage, endive and romaine lettuce) shifts to the low desert near Yuma, AZ, where 90% of the country's winter vegetables are grown. A successful harvest there depends on 30,000 farm hands on a daily basis. In 2006 the farm industry in Arizona experienced an estimated 30% shortage in workers; valuable crops simply went unpicked. The Arizona Legal Workers Act (known as the employer-sanctions law) took effect January 1 — peak harvest time in Yuma — and is expected to make the labor problem worse. Under the act, employers who hire unauthorized workers risk losing their business licenses.
A typical romaine harvest requires 40 people, and the Headrazor can reduce the headcount to 15. For approximately $450,000, the machine can pay for itself in a short amount of time.
There is another benefit to reducing the number of hands that touch fresh vegetables: preventing contamination.
An outbreak of Escherichia coli O157:H7 in September 2006 prompted the Food and Drug Administration to tell the public to not eat raw spinach. The scope of the E.coli outbreak was quickly narrowed to a specific brand and traced back to its source, but not before several consumers died and others got sick. The damage the outbreak did to the leafy green industry was severe in lost dollars and confidence.
Although the United States food supply is among the safest in the world, "there was a public outcry, and justifiably so," says Simonds. "But instead of the industry pointing a finger at one farmer or waiting for the government to legislate the situation, it took ownership and changed how business is done."
By March 2007 the California Leafy Greens Marketing Agreement (LGMA) was in place, ensuring produce is handled in accordance to the latest scientific knowledge available. Covering 14 different types of leafy greens, the agreement is between nearly 120 handlers — the middle men who connect the grower's product with the market. With thousands of growers in California, the agreement targeted the smaller community of handlers in order to get a strong program in place quickly. LGMA companies commit themselves to selling product grown in accordance to proven standards. Today 99% of California's leafy greens are moved through the LGMA. Arizona will soon have its own, virtually identical to California's.
Designed for consumer safety...
The LGMA and other safety standards and programs cover everything from soil and water quality to animal activity and machinery. Meeting food safety requirements means that designing harvesters has moved beyond simply firing up a SolidWorks program and dragging elements together.
For Ramsay Highlander, it has meant understanding microbiology and reaching beyond the typical off-highway parts bin for items common in other industries. It involves designing a diesel powered, hydraulic-intensive machine that can be hauled between fields, work a 10-hour day, and then be subjected to sanitary inspections you'd find at a dairy plant. Ramsay Highlander's extensive use of stainless steel across its product lines is an example. At one time its equipment was made from mild steel. The company started making the switch in the '90s to ensure a long life in spite of the daily baths.
It's difficult to not compare the Headrazor with a combine. Although worlds apart in function and design, they're both harvesters. While identity-preserved crops have placed more attention on producing combines that are easier to thoroughly clean, fresh vegetable growers face strict sanitary regulations as a rule. They must scrub their harvesters using chlorine or other chemicals. A third party audits the machines, using cotton swabs to determine bacteria levels.
"Ensuring the equipment is easy to sanitize is huge," says Offerdahl. "We are always looking for ways to keep areas on the machine open so you can get in there and clean."
On a typical day, the machine will work for up to 10 hours and then be subjected to two hours of sanitizing. "Those two hours are difficult to overcome in design," Offerdahl says. "It's two hours of washing at 3,000 psi with citric acid and chlorine. We can't be sure the employee, working at night for $7 an hour, cares about what he is soaking in the process."
... and to keep customers happy
"Not only do we have to consider the material used in the machine," says Maconachy, "but the maintenance side of the design, too." Trailered from Salinas to Yuma (the Headrazer is 102 in. wide to make transporting it easier), the machine may be used year 'round. Customers demand easy-to-maintain machines with high reliability.
"Most farm operations have individuals who can change a bad part, but many cannot diagnose a problem," says Offerdahl. "If there's a hydraulic leak, technicians will see it and red flag the machine. But an electrical problem can be tough to troubleshoot and will shut the machine down in the field. To get these harvesters to the level of sophistication they are at now, we have to use some electronic components. That means we have to follow up with more education at the technician level."
With food safety on every grower's mind, a fluid leak in the field could be catastrophic. Offerdahl credits the great strides the industry has made in leak prevention, but doesn't take chances. Drip pans are installed under pumps and motors, hoses are covered, and seamless stainless steel tubing is used throughout. Customers have experimented with food-grade oil, and Ramsay has looked into water hydraulics.
Electric actuators have a lot of appeal to Offerdahl but run into problems after a few washes. "We've tested new technology that works very well, but when you spray the machine with high-pressure chlorine the chemical turns into a gas that can corrode connectors and wiring. We already have to carefully seal any connectors on the machine. It is more work but needs to be done."
Extra steps like sealing connectors and converting the machine's TIG-welded stainless box frames into hydraulic oil and diesel fuel tanks (which balances the harvester while making room for other components) drive up labor hours and, ultimately, the cost of the machine.
"The Headrazor isn't just a piece of iron, it is a very technical piece of equipment," says Maconachy. "It is carefully designed to meet nearly every challenge that gets thrown at it in the field."
To ensure reliability, Offerdahl and Harlan are particular when it comes to component selection, especially in the hydraulic system. Zinc tubing won't stand up to the wash downs, and black pipe rusts. They've also had problems with imported tubing that didn't meet standards — stainless steel will rust if not made properly. "We pay a little more to make sure we are getting the correct grade of stainless." The SAE or JIC fittings are high grade and leak proof.
Finding the best parts available goes to other areas of the machine, as well. On the Headrazor, a conveyer transports the leaves from the cutter in the front past workers who put the product on a prong to strip the leaves, which are then carried to a bin at the rear. Telescoper® take-ups from Bryant Products help move the product. Take-ups maintain tension on a conveyer belt, keeping it flat on the roller.
Available in a variety of sizes and materials (including stainless steel), Telescoper take-ups are commonly found on conveyer belts at airports and quarries. "Some companies make their own form of belt tensioner," says Tamara Thimmel, customer service manager, Bryant Products, Ixonia, WI. "They may be cheaper but they fail more often. This is a part the operator doesn't want to worry about."
Different models of the Telescoper can be ordered to maintain belt tension automatically with a spring, hydraulically or — as on the Headrazor — manually. Bryant will soon be introducing food-grade Telescopers which have no harborage points, where water and other contaminants accumulate. Most orders arrive at the Ixonia factory through distributors and are filled within a week from a production line that is dedicated to the Telescoper.
Bob Rinaldi has run an automotive aftermarket business in Whittier, CA, for 35 years. Six years ago he took on a line of HID off-road lights. "HID lights are not cheap, but they are cost effective," he says. Rinaldi brought the lights in-house and made some improvements, including reducing the defect rate to less than 1% and expanding the product line.
"In the United States a lot of people don't yet know about ACRO Lights. We offer HID lights with internal ballast, quality housing, and 12-24v capability at a price point and level of service many OEMs don't already see," says Rinaldi. ACRO Lights have been popular with law enforcement in Latin America and the U.S. military tested them extensively before installing them on 50 caliber gun turrets mounted on Humvees in Iraq.
World Ag Expo put ACRO Lights and Ramsay together. "I have been a fabricator for years," says Rinaldi. "Ramsay builds high-end pieces of equipment, with hundreds of hours in fabrication. Their machines are built to last."
Offerdahl specified ACRO's rectangle A-1875W HID lights with a protective laminate to keep a shattered lens from falling into the lettuce. Rinaldi also designed a stainless lock to ensure the valuable lights stay on the machine.
Transforming leafy greens
Mechanical harvesters like those produced by Ramsay Highlander are changing the way crops are grown. As recently as the late '90s, most spring mix and baby leaf spinach was hand harvested by people on their knees. Ramsay Highlander introduced a spring mix/baby leaf harvester using band saw technology (also used on the Headrazor) to cut the leaves.
"The only way to make that machine effective was for the grower to do bed shaping," says Offerdahl. "After they did the listing, they would come in and roll the beds to make sure the top was flat so our band saw could come through and have a nice surface to cut against."
It took a while for the change to occur, but the potential labor savings made it worth it.
There is a similar situation with the Headrazor, as many romaine growers don't have the necessary equipment for field preparation. "Change is never easy, and it's usually not cheap. It requires a lot of equipment to be a grower," says Offerdahl. "They are going to have to invest in new equipment to take mechanization to the next level."
Change is difficult because of the way business is done among growers. "Some of our customers do their own growing and harvesting, but many companies simply grow the crops and hire harvesters," says Offerdahl. "For a grower to buy new equipment to make the harvesting team happy is not common. You'll hear, 'I got my job done, you figure it out on your end.' We have to get everyone talking. A custom harvester might work with four growers in one season. The change has to be industry wide. With labor the way it is going, they're not going to have a choice."
Where does salad come from?
New system allows consumer to see field online.
A system available for the Headrazor identifies the exact location in a field that a particular bag of lettuce came from. Traceability is one of the six key food safety areas identified by the California Leafy Greens Marketing Agreement. While most processors had a system in place before the 2006 E.coli outbreak, they have greatly expanded their traceability programs since then.
Frank Maconachy, president and CEO, Ramsay Highlander, has partnered with T3 Technologies Inc., Three Rivers, MI, to place bar coding technology in the field. "We have taken our tracking technology and put it on the Ramsay machine," says Patrick Trail, product/sales manager, T3 Technologies. "It has the capability to print out labels using 300 million codes and put it on a product."
Using GPS, the bar code tells the exact location where the head is picked and bagged. Down the road, Mom can use that bar code to look up the field on the Internet, and find an aerial image of where those romaine hearts were growing.
Besides the food safety aspect, there are marketing opportunities for such a feature, with more emphasis being placed on knowing where your food comes from.
Ramsay has also worked with T3 to develop Mobile Tracker, which can monitor the payroll for the crew as the machine works the field.

Companies in this article