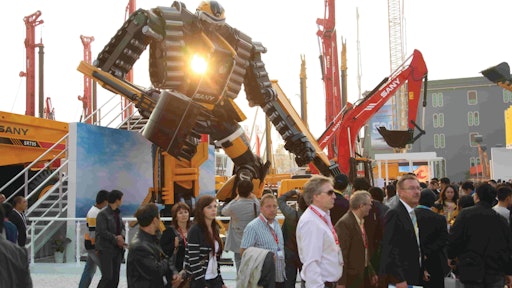 Check out OEM Off-Highway's Facebook Page for photos from the BICES 2011 Show!
The BICES show was held from October 18 to the 21 at the Beijing Jiuhua International Exhibition Center, North of Beijing, China. The biennial show covered a total of 1.3 million sq.-ft., both indoors and outdoors, and held exhibits from 1,200 companies. Although BICES has traditionally been a show for equipment users from China and a few surrounding countries, this year showed a marked increase in Western companies and individuals displaying their products.
The Five Year Plan
Since the Chinese revolution in 1949, the government has established goals for the country in five-year increments. Each five-year plan sets annual goals for all segments of the Chinese economy. Detailed plans are a main feature of a centrally controlled economy such as China. The current plan (2011 to 2015) sets very ambitious goals for the construction equipment sector.
Mr. Su Zimeng, Secretary-General of the China Construction Machinery Assn. (CCMA) spoke to BICES attendants about the current five-year plan and some of its goals.
According to the plan forecasts, China's construction machinery market is expected to be more than $131 billion annually by 2015, an average annual growth rate of 17%. The goal for exports is $26 billion per year. That $26 billion is comprised of 30,000 hydraulic excavators; 40,000 wheel loaders; 6,000 bulldozers; 3,000 motor graders; 10,000 construction cranes; 80,000 forklifts; 11,000 compaction rollers; 16,000 truck mounted cranes; 1,500 crawler mounted cranes; 10,000 ready-mix trucks; 1,500 concrete pump trucks and 800 rotary drill rigs.
The plan calls for manufacturers to shift from expanding capacity to emphasizing technological innovation with a focus on improving quality, reliability and durability. The plan acknowledges that China lags behind products built in other parts of the world. Furthermore, it calls for Chinese manufacturers to upgrade their marketing, after-sale service and management systems in order to build an international presence. The plan also calls for improving industry wide standards.
In the past, the standards were set by Chinese research institutes. The standards must now be developed by industry associations such as CCMA.
Zimeng went on to say that the plan called for the industry to manage used equipment in China. There are presently four million secondhand construction machines in China, most of which are not suitable for use in the mainstream equipment market. As a result they are sold in private transactions and often pose a safety risk. The current secondhand market is not regulated or monitored and lacks policies and the means to evaluate and test the equipment. Information about secondhand machines is inadequate which has slowed its development.
The 12th five-year plan recommends that the industry establish a transaction management system to promote the formation of an open, standardized market. This would not only stabilize the domestic Chinese market but would also promote sales of secondhand Chinese machines in the international market.
It is interesting to see how Chinese government plans are transformed into new products by the equipment manufacturers. For example, on display at BICES were more than six electric-drive mining trucks. The development effort stems from the government's desire to reduce its country's reliance on foreign-built mining trucks.
The Chinese government recognizes that in order for its products to be world-class, the domestic manufacturers require imported hydraulic systems and sophisticated control systems, most of which are sourced from Japan, Korea, Europe and the U.S. But, importing those products increases the cost to manufacturer of those products in China. As a result, there is a concerted effort to form joint ventures and partnerships with foreign companies that includes an exchange of technology.
Company announcements and product introductions
Terex Corp. and JLG Corp. have teamed up in China to work with the Chinese government about worker safety when workers are elevated on scaffolds. Scaffolding has been a hot topic in China following several accidents, including in Shanghai where a scaffolding fire on a high-rise housing caused the deaths of 58 people. In September of this year, a scaffold collapse killed 10 workers in Xi'an.
Terex and JLG are promoting best practices through the use of aerial work platforms. The two companies have teamed up with the American Chamber of Commerce (AmCham) in Beijing to form a Work Safety Committee. A total of 14 manufacturers have signed up to form a committee. The committee plans to submit a white paper to support China's worker safety goals within its recently issued 12th five-year plan.
JLG Industries introduced its 'Asian' scissor lift, a low cost, basic machine built in China and for sale in Asian markets. Equipped with a 10-meter platform height the unit wes redesigned from the ground up for the Chinese market.
Ritchie Bros Auctioneers has applied to establish a wholly-owned Chinese subsidiary and hopes to be granted a license to hold auctions in the country, with the aim of holding its first Chinese auction in the second half of 2012. The effort will be lead by Chris Edwards who has been Ritchie's chief representative in China since 2004. Up until now, auctions have been relatively unheard of in China.
Komatsu featured its range of hybrid excavators. Its first 21 metric ton model HB215LC-1 was displayed along with a new, lighter model HB205-1 weighing at 20 metric tons.
Shantui displayed its model SD52-5 dozer rated at 392 kW (525 hp). The new Shantui machine is powered by a Cummins QSK 19 diesel engine and has a blade capacity of 18.5 cubic meters. The company's exports have risen more than 60% this year. The Commonwealth of Independent states is the biggest market for Shantui's exports followed by Africa, the rest of Asia and South America. At a press conference, the company's management said they have sold virtually nothing in Europe and North America due the strict emissions regulations.
Sunward featured its foundation machines — down the hole (DTH) hammers and rotary drill rigs. New additions include an updated auger rig mounted on an excavator carrier. Sunward's static pile hammer was new as was its anchor drilling machine. Also on display was a new DTH drill rig, aimed at the heavier end of the market. It can drill diameters from 90 mm to 255 mm to a depth of 48 meters. Sunward also unveiled a range of 50-ton crawler-mounted hydraulic cranes as well as a 55-ton rough terrain crane and a 55 ton truck-mounted crane. The RT crane is equipped with an Italian control system and an Allison transmission.
Sinomach. BICES was the launch for the new Sinomach brand, a new brand formed through the merger of three state-owned companies. Tiangong is known for its graders, pavers, compactors and specialist wheeled loaders. Changlin builds wheel loaders and has added a range of road building equipment. The third company is Yitou known for it agricultural tractors that also manufacturer wheel loaders and compactors. The official name of the company is China Heavy Machinery Corp Ltd. (CHMCL), but the brand will be known as Sinomach. The company is expected to maintain its three manufacturing plants but will eliminate overlapping models in its wheel loader, compactor and grader ranges.
Liugong. Just before BICES, Liugong announced the acquisition of a 42% share in mining truck manufacturer Beijing Capital Steel Heavy Duty Truck Co. Ltd., which is a subsidiary of Beijing Capital Steel Mining Company. On display was a 100-ton electric drive mining truck. Liugong said the deal is a strategic partnership that will allow it to add off-highway construction and mining trucks.
XCMG also displayed a prototype of its model DE170 mining truck. The company claims it has been issued 150 patents for the truck.
Check out OEM Off-Highway's Facebook Page for photos from the BICES 2011 Show!